"I really like the dashboard, it is easy for me to flag questions I am unsure about, so I can come back to them later"
"I have used a couple of Medibuddy resources now and I am always really impressed, thank you!"
Introducing the Medibuddy Online MRCS Part B Exam Question bank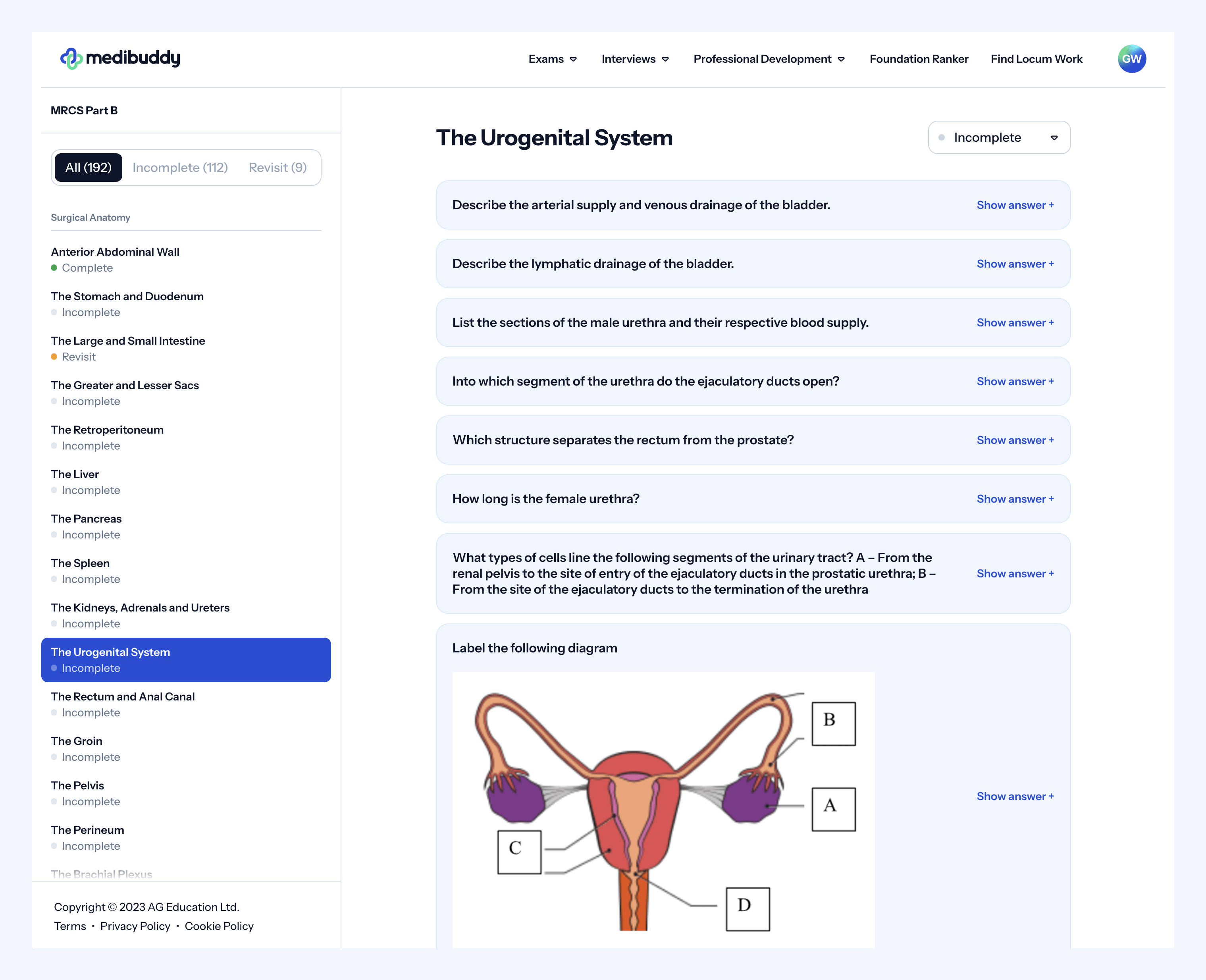 The MRCS Part B exam tests your:
Knowledge of Anatomy and Surgical Pathology
Knowledge of Applied Surgical Science and Critical Care
Clinical and Procedural Skills
Communication Skills
The MRCS Part B exam is difficult, but with the right preparation it is passable. Whilst you can retake the exam, it is expensive (currently £1047 with the RCSEng)! We recommend that you start your preparation early, ensuring you are covering the complete syllabus and not neglecting your communication skills!
We provide over 1800 questions and answers across 190 scenarios, covering all aspects of the exam syllabus, including mark schemes and station summaries, to aid your revision.
All of our questions have been written by surgeons specifically for the MRCS Part B exam, and our easy-to-use dashboard will help you navigate through them so you can see which questions you have completed, and which you need to go back on.
Our goal is to make sure you are thoroughly prepared for your exam and to help you get the maximum score you can!
MRCS Part B: Exam Structure
The OSCE is split into 17 examined stations, of 9 minutes each. It is the second and final examination required to gain membership of the Royal College of Surgeons (MRCS). It assesses whether a surgical trainee has the correct knowledge, skills and attributes to progress beyond basic training, to higher levels of specialist surgical training.
To keep things simple, we have split our question bank into the following sections; working through these will ensure you have covered all sections of the syllabus:
Surgical Anatomy
Surgical Pathology
Critical Care and Surgical Science
Physical Examination
Procedural Skills
History Taking
Giving and Receiving Information
This section of our question bank will aid you in revising for the Anatomy and Surgical Pathology stations. There are 5 of these within the MRCS Part B, and we will help you prepare, ensuring you can demonstrate your "Knowledge of Anatomy and Surgical Pathology".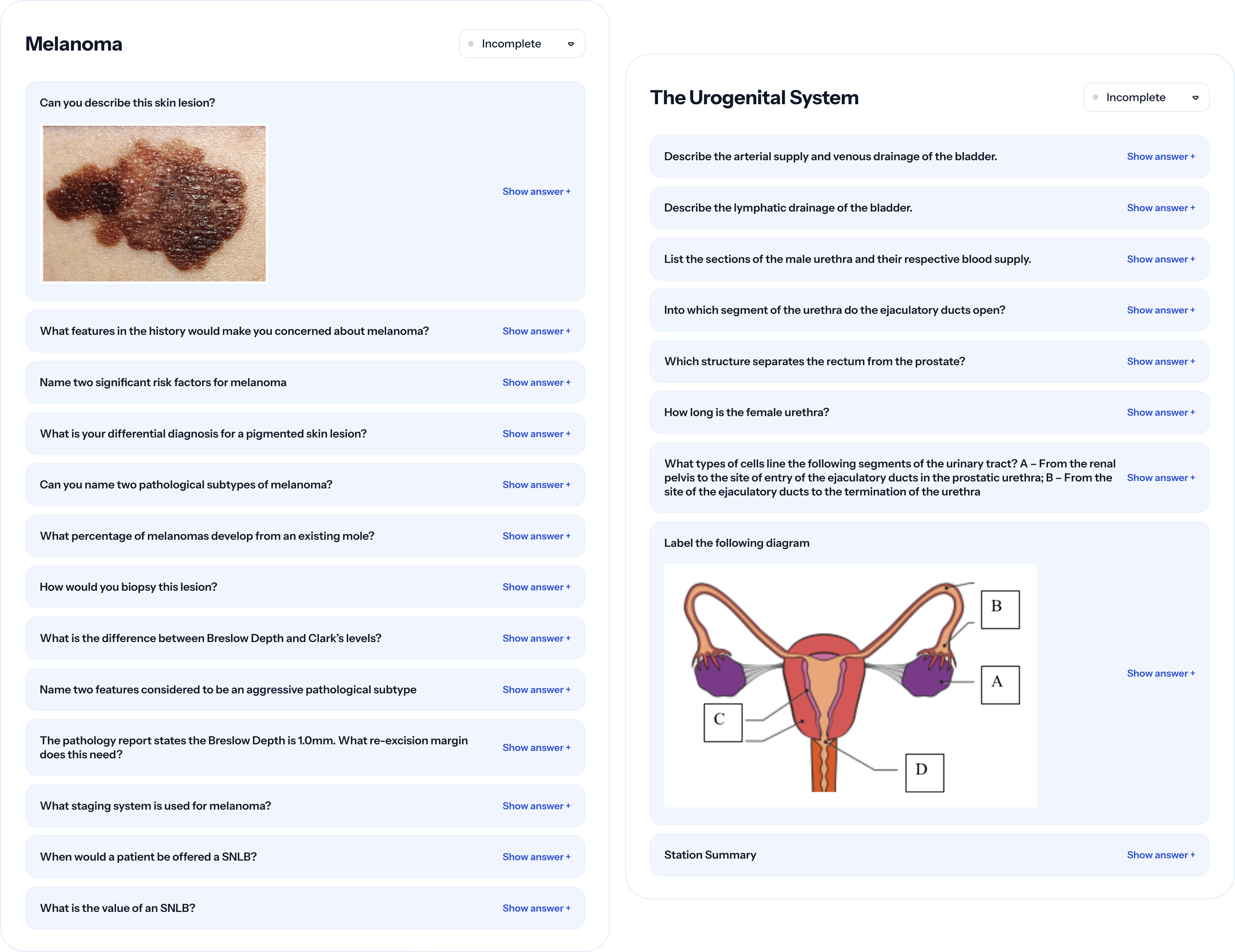 There are 3 stations on Applied Surgical Science and Critical care within the MRCS Part B exam. We provide 25 stations, with clear questions, answers and explanations, as well as a mark scheme so you can keep track of your progress. These questions will help you demonstrate your "Knowledge of Applied Surgical Science and Critical Care".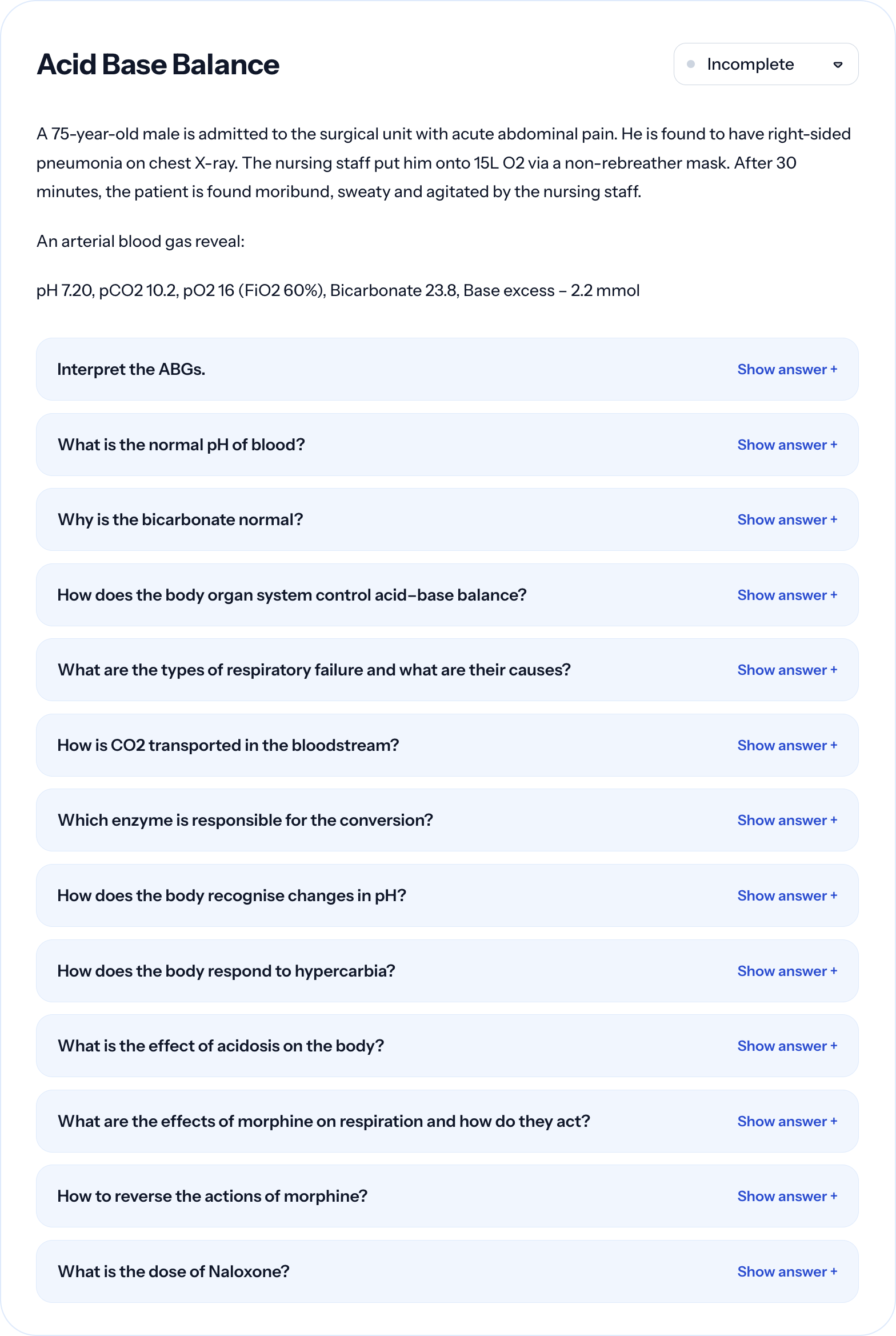 Clinical and Procedural skills make up 5 stations of the MRCS Part B exam. We provide over 40 stations for you to work through so that you can demonstrate your skills within these stations.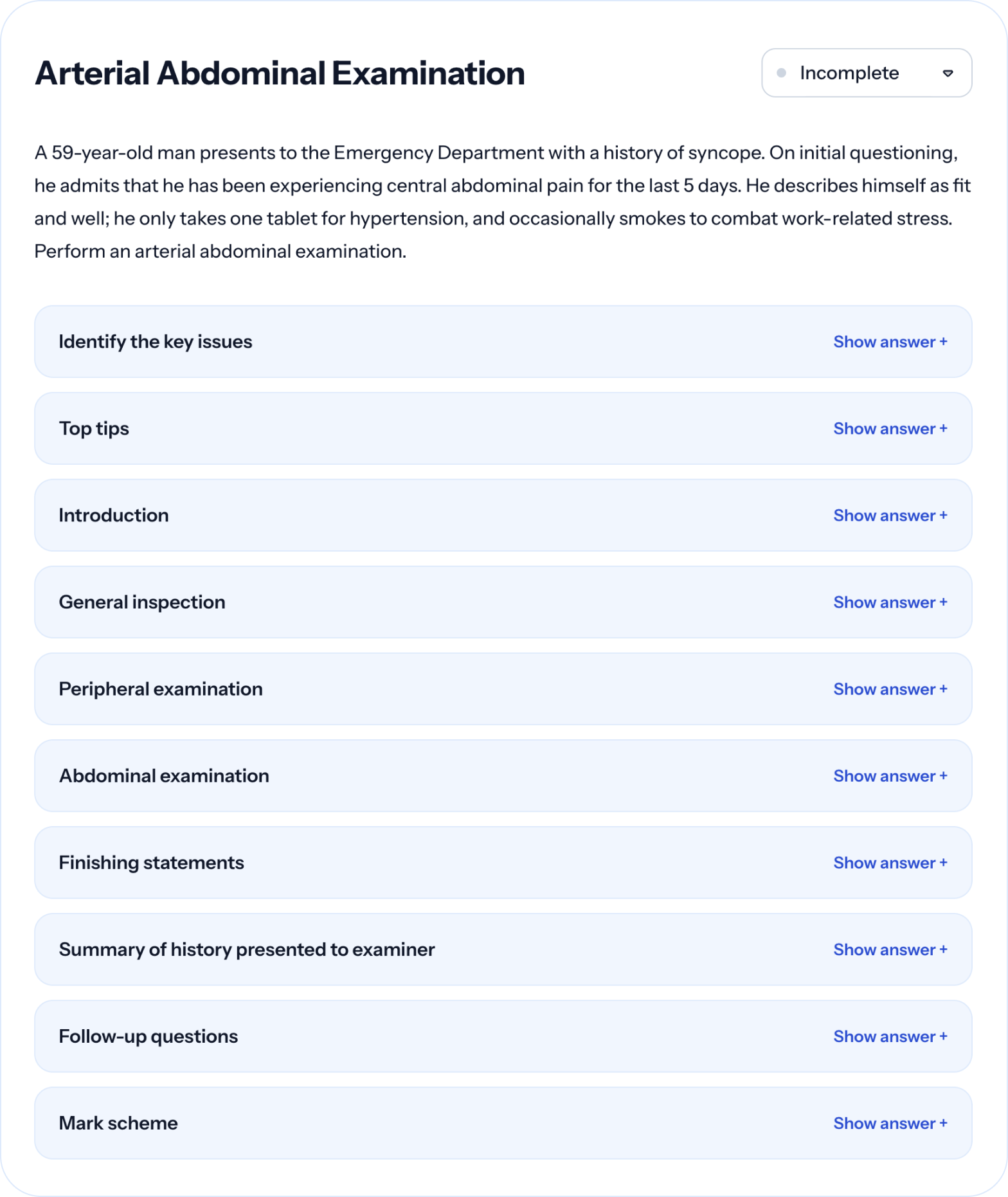 Communication Skills make up 4 stations of the exam. Remember, your communication skills will be assessed in all stations, not just the communication skills station, so it is important to practise these as much as you would the other areas of the exam to ensure these come naturally. We have split communication skills into History Taking and Giving and Receiving Information, to ensure you are ready for any type of scenario. Our scenarios cover numerous clinical concerns, providing guidance on what questions to ask and what information to give.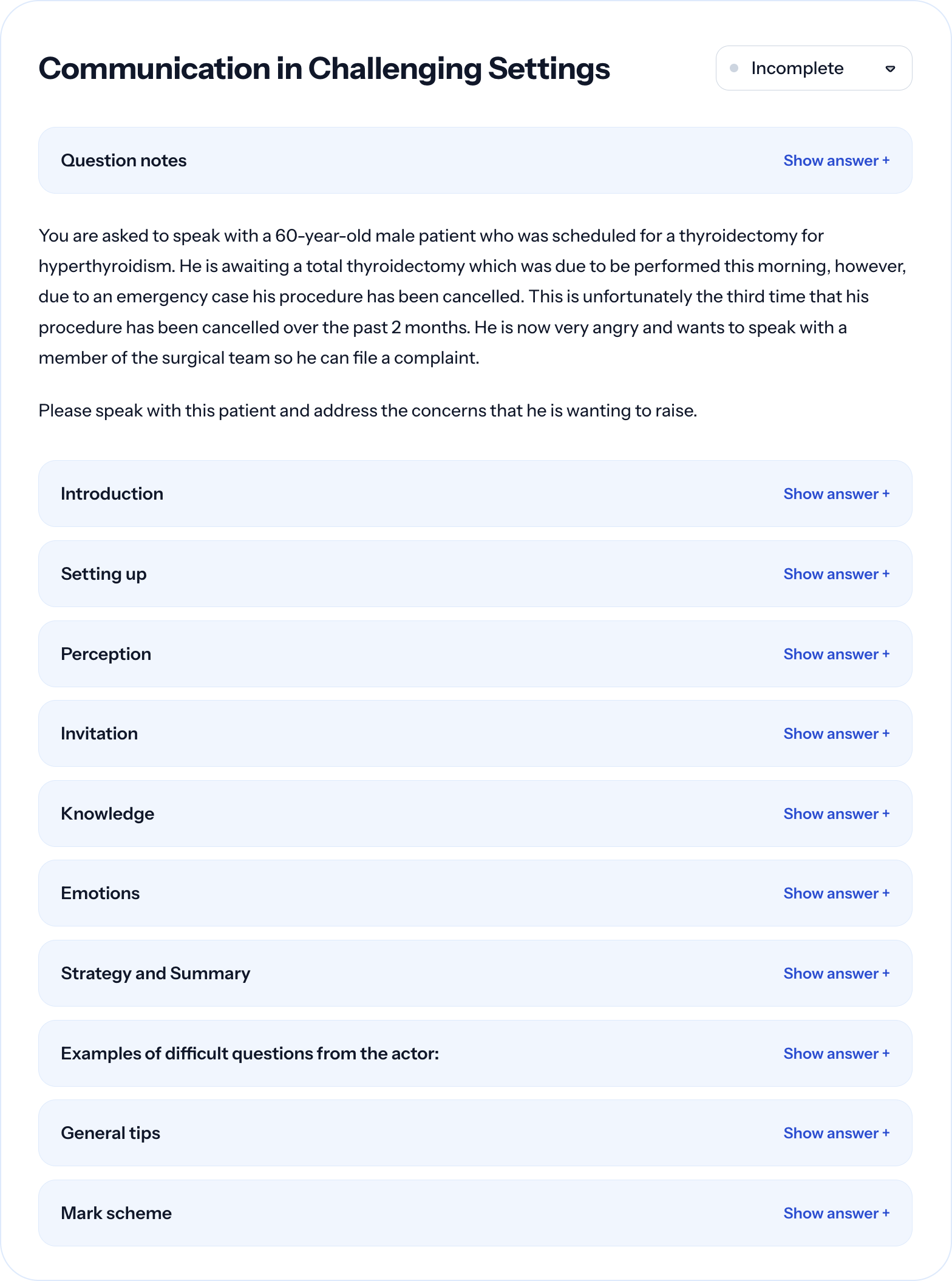 Revise for your MRCS Part B on the go!
As Junior Doctors ourselves, we know that balancing working and studying, as well as life, can be difficult! That's why we have created the Medibuddy app, so you can access your MRCS Part B revision on the go, allowing you to revise when you can!
A resource you can trust
The Medibuddy team has been creating educational resources for medical students and doctors for years. We've helped thousands of students score highly in exams and interviews, and we've put all of that experience into our MRCS Part B question bank. We stay up to date on all the latest educational science, so you can be sure that the techniques we use are state of the art.