"A really useful resource. The only thing I used. The notes were really helpful, they were really at the right level for the exam."
Dr. Victoria Hodges
8th Ranked (315 CPS, 325 SJT)
The MSRA exam is really annoying. There, we said it!
You're probably halfway through FY2 or sunning yourself somewhere on FY3, 4, 5…
You can write discharge summaries in your sleep and can cannulate with a grey from across the room.
You're in the process of applying to your training programme of choice and were probably hoping they would have a clever way of checking your aptitude for the specialty.
Something like an X-ray exam for the radiologists, an eye exam for the ophthalmologists, or even a communication exam for the GPs.
But no…. The National Selection Committees have decided that the cheapest way to differentiate candidates is through an exam that is essentially a re-run of medical finals (and don't even get us started on the SJTs!)
We feel your pain. We've been there ourselves, and it wasn't fun.
Unfortunately, there's no getting away from it. If you want to succeed in your training application, you need to dedicate a large chunk of your free time to preparing for the MSRA.
That's where we come in…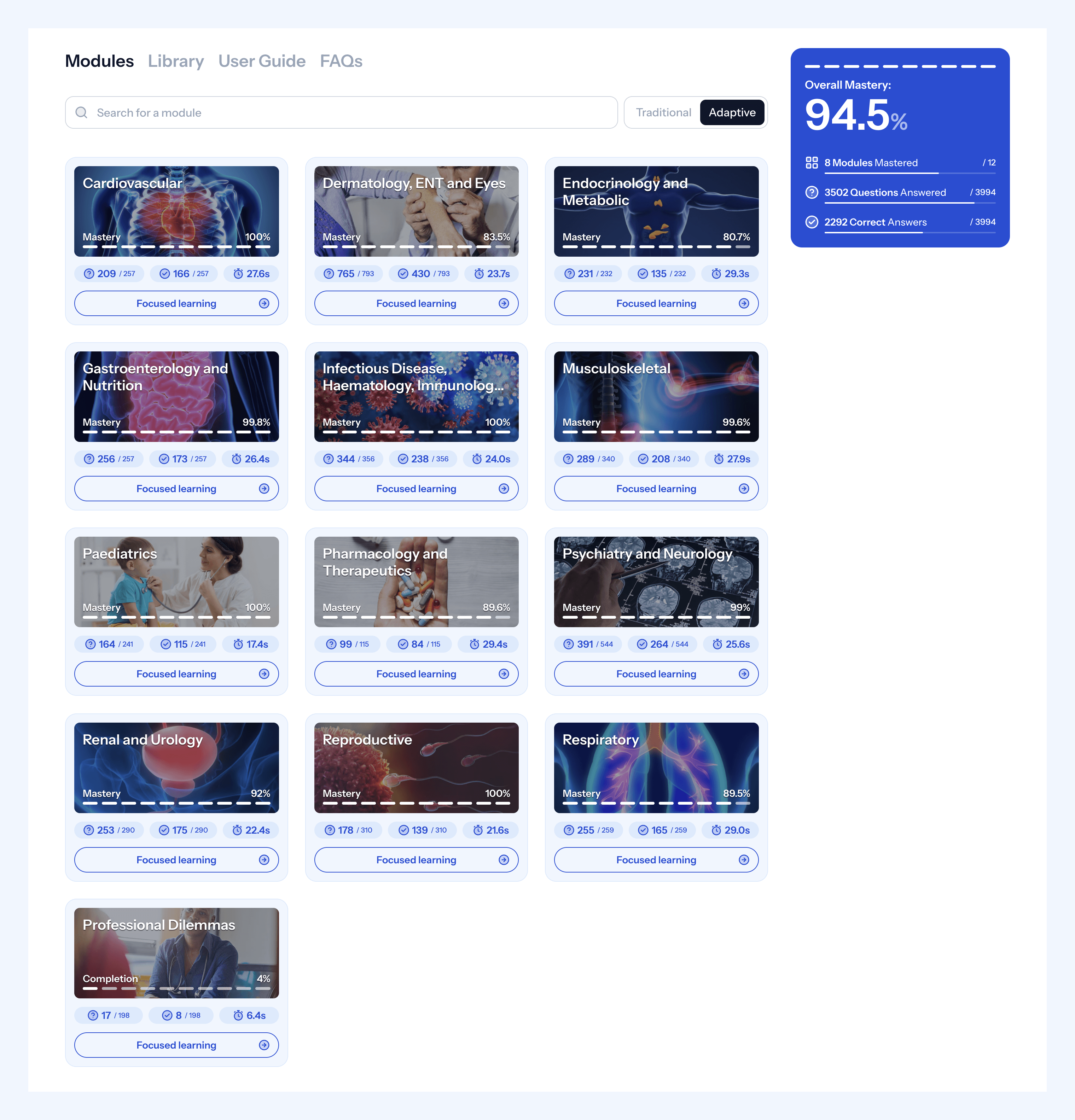 Like most of you, we prepared for our undergraduate and postgraduate exams using question banks.
We used the same providers that everyone else uses, did the same number of questions and had the same issues.
We couldn't help feeling that things could be better. You'll see what we mean when you consider how most post-graduate exams have failure rates >50%.
The Medibuddy Adaptive, Artificial Intelligence-powered MSRA Question Bank is designed to be different from a traditional question bank.
Our state-of-the-art AI algorithms will identify your strengths and weaknesses and create a personalised learning journey specifically for you.
With over 4000 questions, including 190+ professional dilemma questions specifically written for the MSRA, the Medibuddy adaptive MSRA question bank has all you need to score highly.
How do we compare to other MSRA question banks?
| | | Passmedicine | Pastest | MCQBank | eMedica |
| --- | --- | --- | --- | --- | --- |
| Number of questions | 4,000+ | 2,750+ | 1,950+ | 1,700+ | 2,200 |
| Price | £40 - £60 | £25 - £30 | £35 - £55 | £48 - £92 | £49 - £119 |
| AI Personalised Learning | | | | | |
| Mastery Level Calculated | | | | | |
| Spaced Repetition | | | | | |
But everyone in the year above used a different question bank…
We get it. Our MSRA question bank is the new kid on the block. Our competitors have been around for decades, and although our interview question banks have been on the market for years, our exam question banks were only launched recently.
We're not the ones for you if you want a question bank that's been around forever.
However, these are the things we think we do better than our competitors:
We've worked incredibly hard to ensure our questions are as close to the exam as possible. Authored by experienced doctors, our questions cover all the topics in the syllabus, from the basics to the random left-field questions that you can't believe the examiners even thought of, let alone included!
The MSRA changes every year. They are constantly adding and removing questions to keep it up to date. We take the same approach with our question bank.
After every exam cycle, we email all our users asking for feedback on how closely our questions matched the exam style. (Please reply; it really does help us out!)
If we find we're missing anything, we add it. If they stop asking a specific style of question, we remove it.
Spaced repetition is vital to doing well in any exam. To ensure you don't forget key concepts, questions you get wrong will be intermittently re-asked to check your understanding. If you get them right the second time, your mastery level will increase, and the algorithm will adapt accordingly.
Our platform is flexible, so you can use it in whatever way works best for you. You'll have the option to switch between the adaptive and traditional style question banks whenever you want. This means that if you want more control over your revision and to focus on specific areas, you can.
Our traditional mode is set out just like a regular question bank, where you can filter questions based on specialty, incorrectly answered, unseen etc.
Best of all – any questions you answer in traditional mode are automatically factored into adaptive mode, so your mastery level will continue to increase as you improve.
We've written detailed overall explanations and turned them into a library. This is for those of you who like to progress slowly through a question bank and get comprehensive overviews of each topic.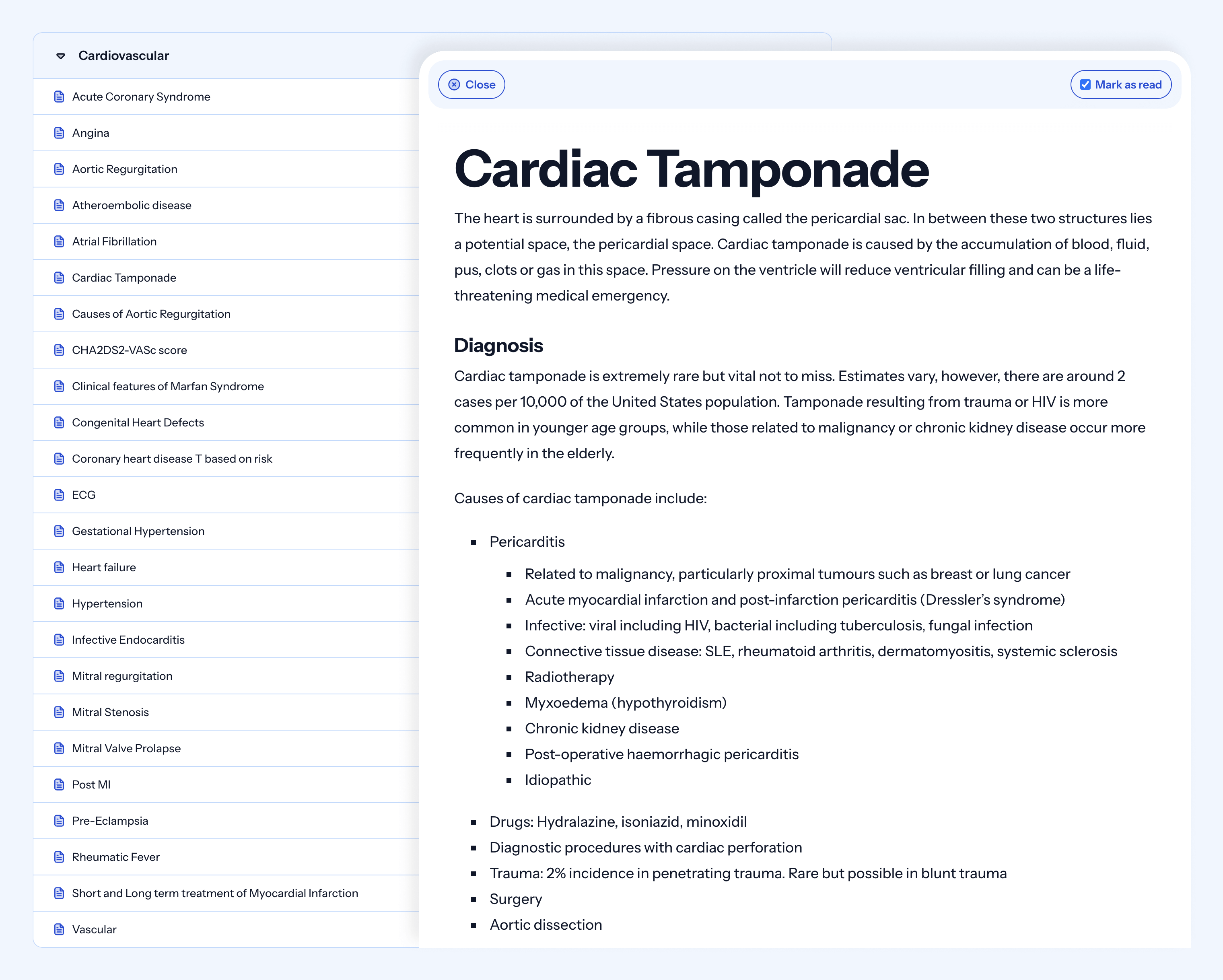 For those of you who prefer to do 100s of questions a day, we've written bite-sized explanations for every question.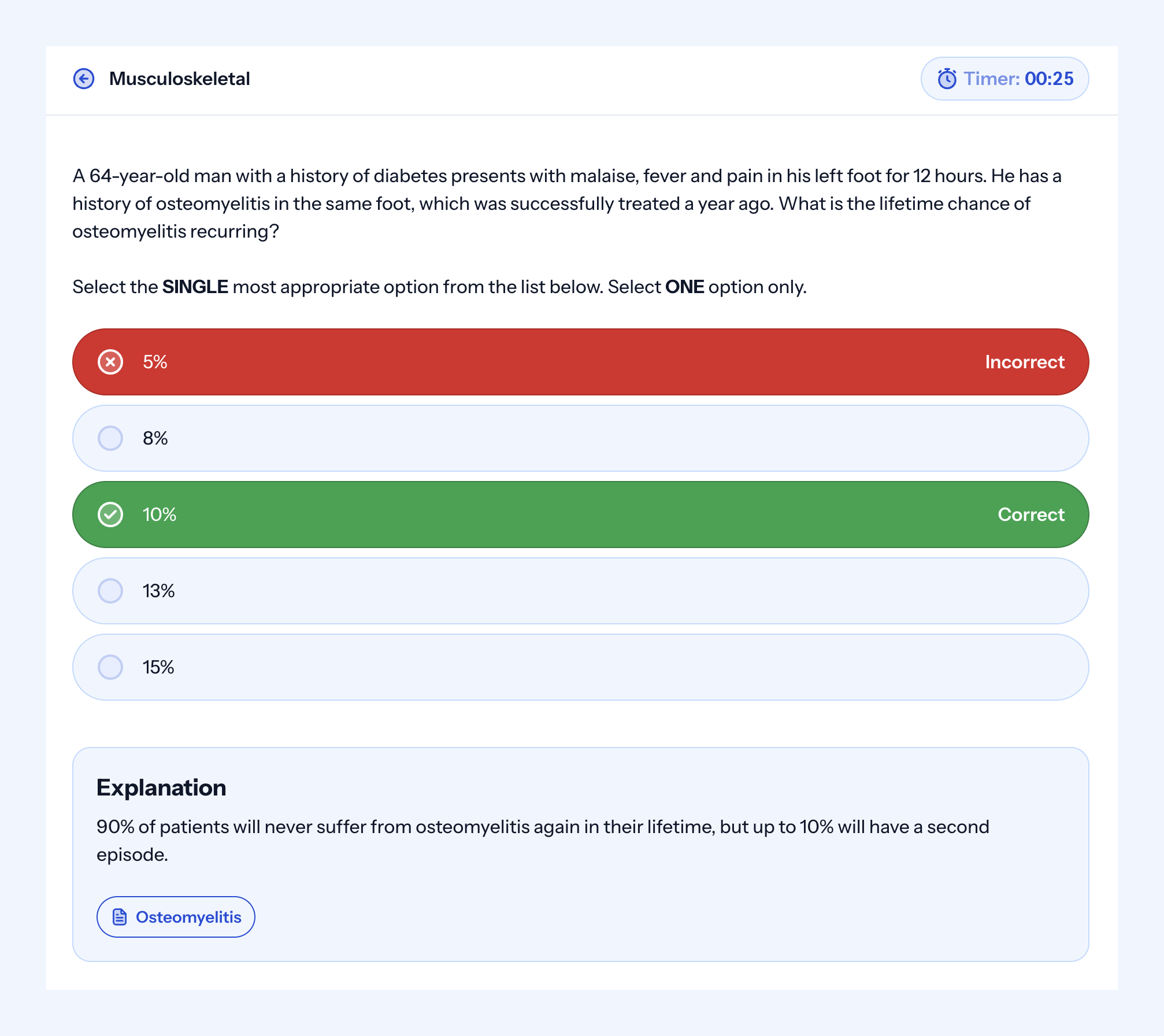 All that money spent on coding for medics courses was not wasted! We have an app on both Android and iOS. This means you can access the question bank on any device.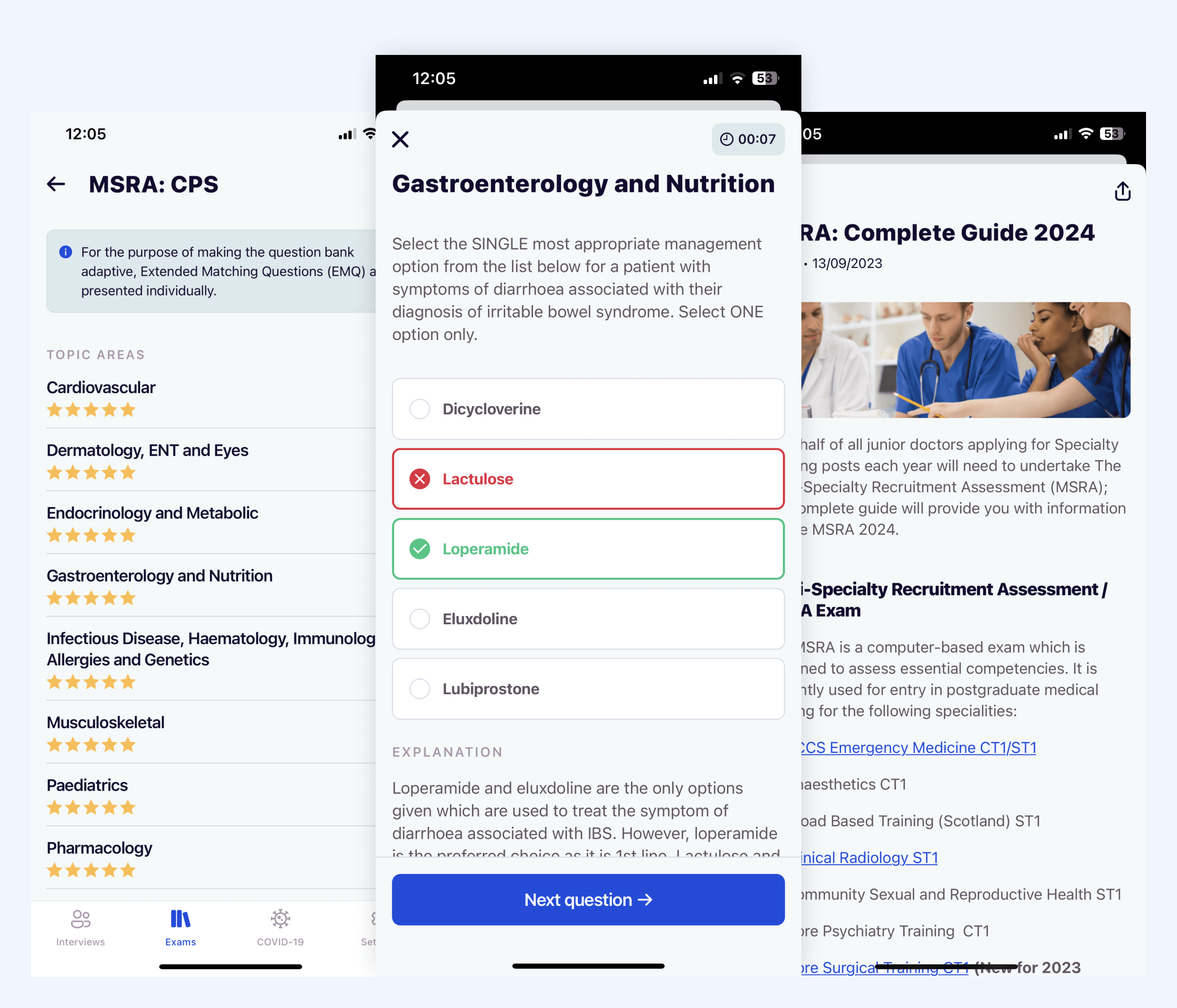 We listen to what you say and respond to feedback. If you don't like an explanation, we'll change it. If you think a question is a dud, we'll delete it.
We even go the extra mile and respond to each bit of feedback directly.
"The question bank was amazing. I scored 93%! I felt really prepared and obviously the question bank reflected the exam well. Would highly recommend."
But what about the professional dilemmas?
Ahhhh, the professional dilemmas. Everyone's favourite part of the MSRA… 👀
You might run a crash call like a consultant, but if you don't know how to manage the drunk ward clerk who left their handover on the bus, you aren't getting a training number.
We must admit that when we first started writing professional dilemmas, we thought we'd done everything right. We got five senior doctors to say what they would do in each scenario and used that as the basis of our answers. How naïve we were…
To quote one of our high-scoring users (who shall remain anonymous), 'I basically decided what I would do in real life for each scenario and then selected the opposite.'
This is a bit extreme, but it has an element of truth. Professional dilemmas are notoriously subjective. Highly experienced and capable doctors often have differing views on the best action.
So, we've now changed our approach. We found three applicants who scored in the top 10% for the PDs and asked them how they would have responded to each of our scenarios in the MSRA.
Where there were disagreements, we went with the majority.
Since these applicants had scored highly in the PDs, we felt their decision-making was most likely to reflect the decision-making of the examiners.
However, if you disagree with any of the reasoning, email us, and we'll be more than happy to discuss it further with you.
Take your MSRA preparation to the next level!
If you want to give yourself the best chance of ranking highly in the MSRA, then the Medibuddy adaptive MSRA question bank is the best place to start!
Frequently Asked Questions
How does the algorithm work out what my ability level is?
As you progress through the question bank, our algorithm will perform complicated statistical analyses of how you answer questions. All of our questions have been tested on hundreds of medical students, so the algorithm knows precisely how difficult each question is.
The algorithm looks at how you answer questions across a range of different difficulties to work out what your current ability level is.
How does the algorithm know what questions to give me?
Every question in our database has been tagged based on the skills required to answer it and its difficulty level. Once the algorithm has worked out your ability level and the areas you need to target, it ensures that the questions you receive focus on these areas. As you get better, the algorithm adapts, moving you onto new areas based on your needs.
How similar to the MSRA are the Medibuddy questions and explanations?
Every question in our question bank is written specifically for MSRA preparation and is reviewed by our editorial team to ensure it is as close a match as possible to the MSRA standard. We don't borrow questions that have been written to prepare for other exams.