"I am pleased to say that I passed MRCS Part A with the help of the Medibuddy question bank. I have previously used both eMRCS and Pastest and have been unsuccessful with these but I found the Medibuddy question bank filled in my knowledge gaps and got me over the line to pass. Thank you for that."
Katherine D.
"I was very impressed with the MRCS Part A question bank. The question difficulty as I progressed answering the questions as well as the question structure provides adequate preparation for the exam."
Samuel
Introducing the Medibuddy AI-powered MRCS Part A question bank. The only one on the market that uses artificial intelligence algorithms to deeply analyse your ability levels and create a personalised learning journey specifically tailored to boost your MRCS Part A score.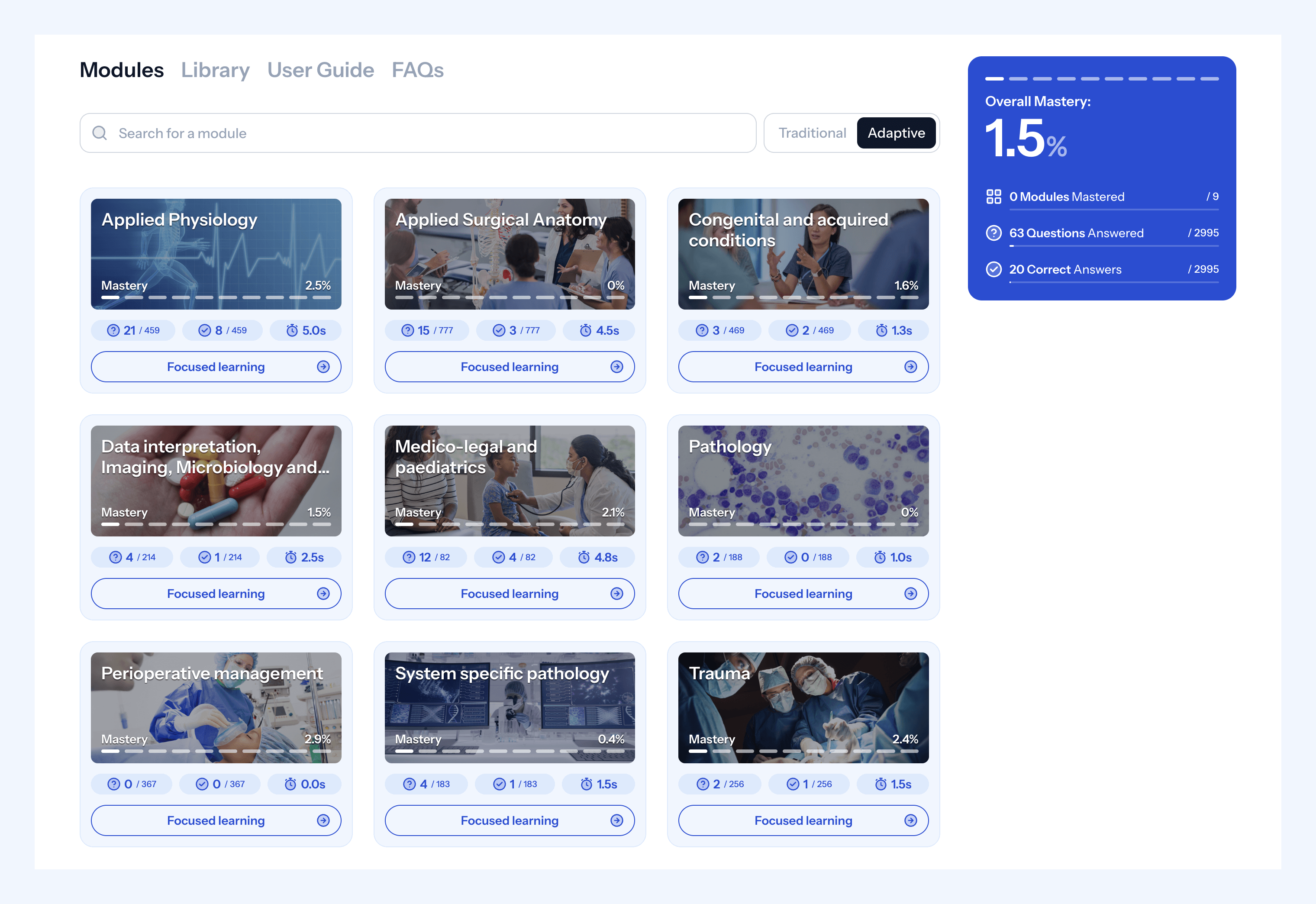 The days of randomly answering questions from traditional question banks are over.
Medibuddy's state-of-the-art algorithms will identify your strengths and weaknesses, and create a personalised learning journey, specifically for you.
There's never been a more efficient or effective way to prepare for the MRCS Part A.
With over 3000 questions specifically written for MRCS Part A, the Medibuddy adaptive MRCS Part A question bank has all you need to score highly.
Preparing for an exam while working a full-time job is incredibly challenging. Every minute counts and it's vital that you focus your time on the most important topics for you.
Our adaptive question-bank will identify the areas of the MRCS Part A syllabus that will have the biggest impact on your exam score. You'll then be asked the questions you need, right when you need them.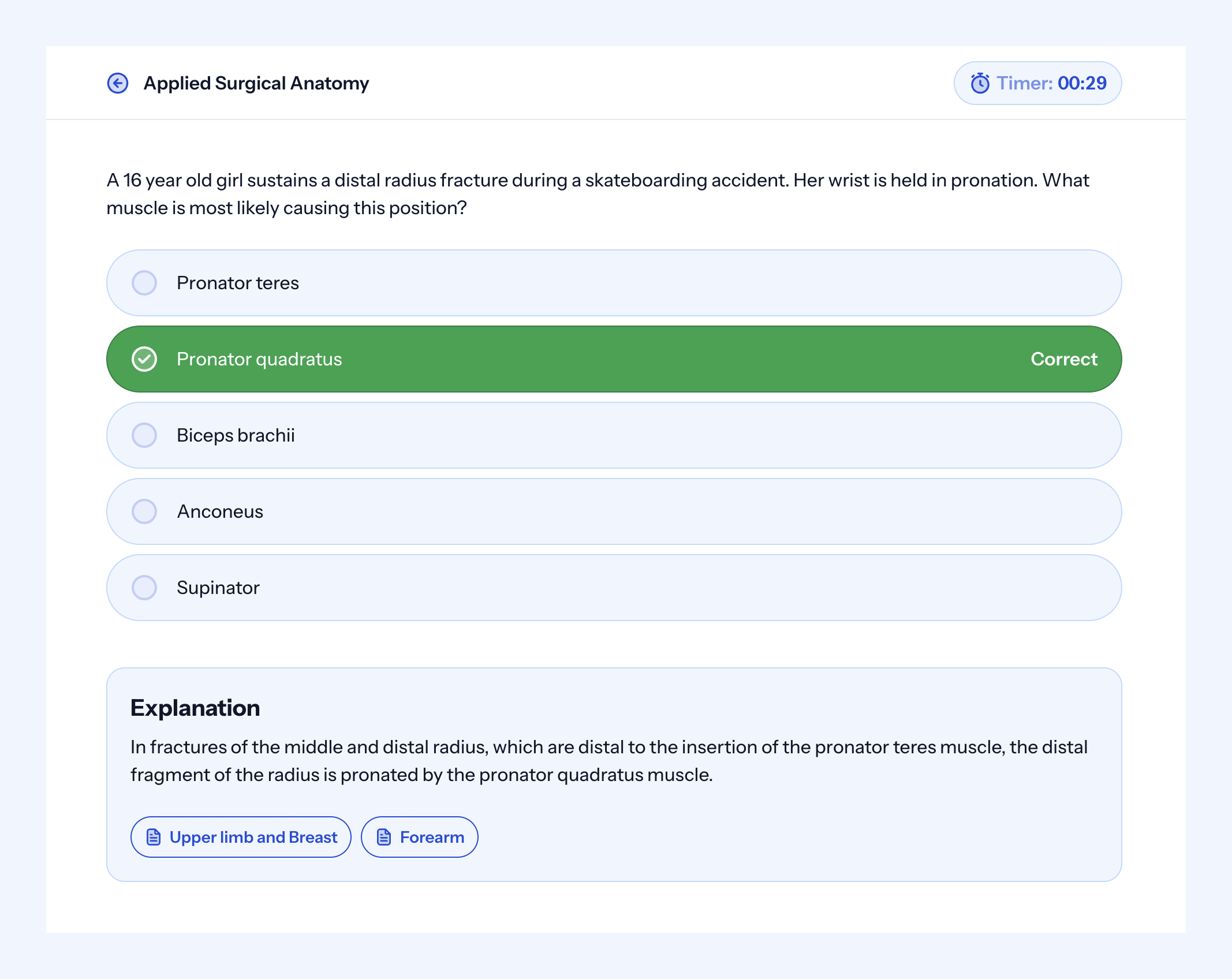 "I passed MRCS Part A on this sitting and scored about 80%."
Daphne C.
More than a just question bank that tells you the correct answers
The Medibuddy adaptive MRCS Part A question bank personalises your learning journey in real-time. Sophisticated algorithms will continually calculate your mastery level for each topic as you progress through the question-bank. As your mastery level increases, so too will the difficulty of the questions.
As you progress through the question bank, you'll be able to see a sophisticated estimate of your current mastery level for each subsection of the MRCS Part A. When other question banks give you a performance review, they are simply telling you how many questions you've got right or wrong.
We do things differently.
Our algorithm will tell you exactly what your mastery level is for each area of the MRCS Part A. We calculate this based on the actual difficulty of the questions you are answering and the topics you've covered, so you can be sure that the work putting in is actually translating into real gains in your MRCS Part A score.
The Medibuddy MRCS Part A question bank is the only one available which shows you how much of the syllabus you've actually mastered.
| | | Passmedicine | Pastest | eMRCS | OnExamination |
| --- | --- | --- | --- | --- | --- |
| Number of questions | 3,000 | 1,300 | 4,300+ | 2,000+ | 2,020+ |
| Price | £20+ | £15+ | £84+ | £35+ | £69.99+ |
| AI Personalised Learning | | | | | |
| Topic Mastery Level Calculated | | | | | |
| Spaced Repetition | | | | | |
Entirely flexible learning
Our platform is flexible so you can use it in whatever way works best for you. You'll have the option to switch between the adaptive and traditional style question bank whenever you want. This means that if you want to have more control over your revision and focus on specific areas, you can.
Our traditional mode is set out just like a normal question bank, where you can filter questions based on specialty, incorrectly answered, unseen etc.
Best of all – any questions you answer in traditional mode will be automatically factored into adaptive mode, so your mastery level will continue to go up as you improve.
Never forget what you've learned
Spaced repetition is key to doing well in any exam. To ensure that you don't forget key concepts, questions that you get wrong will be intermittently re-asked to check your understanding. If you get them right the second time, your mastery level will go up and the algorithm will adapt accordingly.
A resource you can trust
The Medibuddy team has been creating educational resources for medical students and doctors for years. We've helped thousands of students score highly in exams and interviews, and we've put all of that experience into our MRCS Part A question bank.
We stay up to date on all the latest educational science, so you can be sure that the techniques we use are state of the art.
Take your MRCS Part A preparation to the next level!
If you want to give yourself the best chance of ranking highly in the MRCS Part A, then the Medibuddy adaptive MRCS Part A question-bank is the best place to start!
Frequently asked questions
How does the algorithm work out what my ability level is?
As you progress through the question bank, our algorithm will be performing complicated statistical analyses of the way you answer questions. All of our questions have been tested on hundreds of junior doctors so the algorithm knows exactly how difficult each question is.
The algorithm looks at how you answer questions across a range of different difficulties to work out what your current ability level is.
How does the algorithm know what questions to give me?
Every question in our database has been tagged based on the skills required to answer it and its difficulty level. Once the algorithm has worked out what your ability level is and the areas you need to target, it ensures that the questions you receive focus on these areas. As you get better, the algorithm adapts with you, moving you onto new areas based on your needs.
How similar to the MRCS Part A are the Medibuddy questions and explanations?
Every single question in our question bank is written specifically for MRCS Part A preparation and is reviewed by our editorial team to ensure it is as close a match as possible to the MRCS Part A standard. We don't borrow questions that have been written to prepare for other exams.