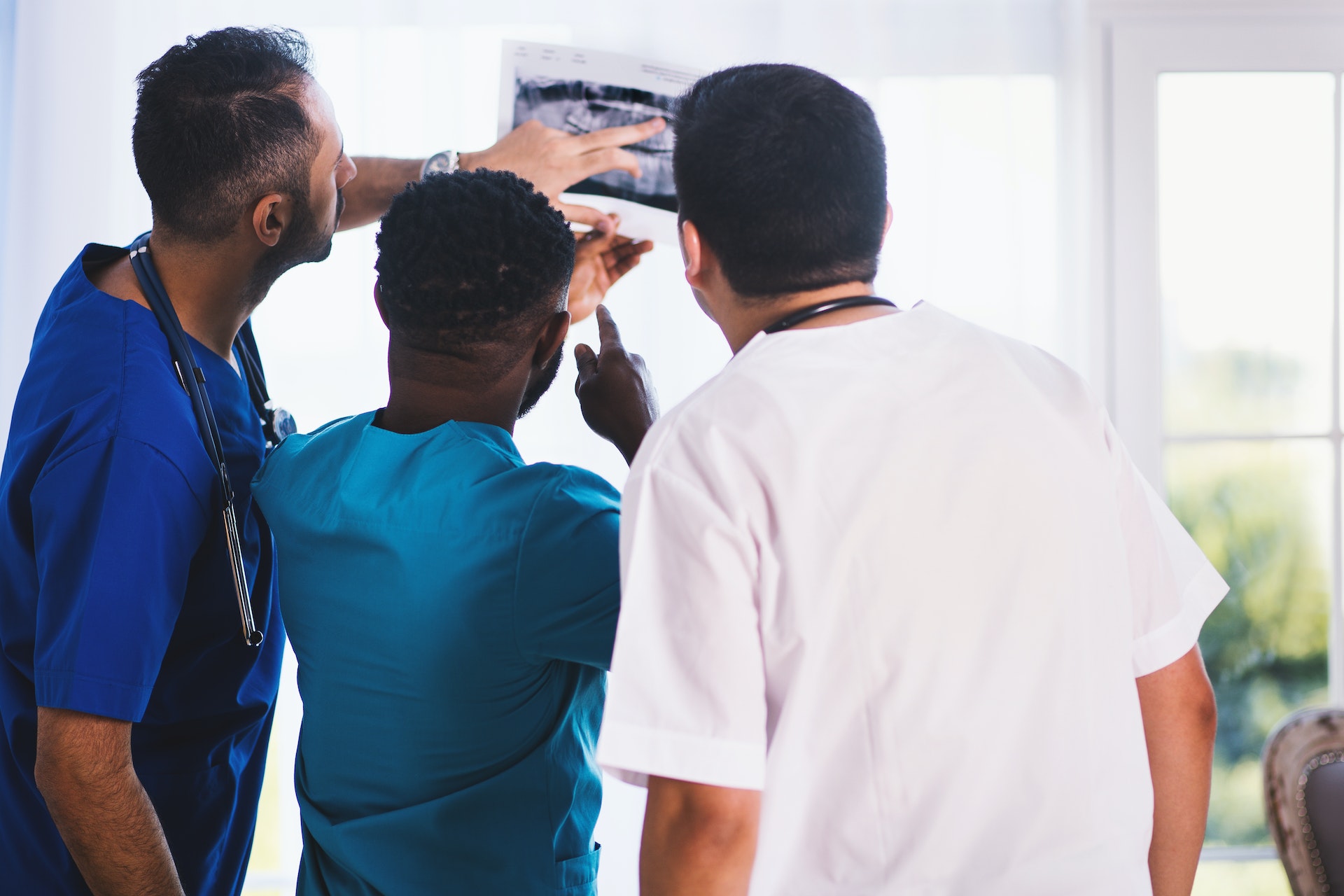 MSRA
12th September 2023
MSRA Question Bank
If you're required to undertake the Multi-Specialty Recruitment Assessment (MSRA) as part of your Specialty Training (ST) application, no doubt you'll be considering MSRA question banks and how they can support your exam preparations. This guide will provide advice on what to look for to ensure you're accessing the best MSRA question bank, how many questions you should answer to prepare thoroughly, and how to pass the MSRA.
The MSRA is used by a wide range of specialties as part of the ST recruitment process and plays an important role in the ranking of applicants; therefore, it's essential that you prepare well to ensure you give yourself the best possible chance of achieving highly. Our MSRA complete guide provides details on the specialties that currently require completion of the MSRA; you'll also find information relating to the exam dates, how the MSRA is scored, and further tips on how to do well.
What is the best question bank for the MSRA?
Choosing an MSRA question bank can be a bit of a minefield; with a huge variety available, knowing which one to select can be difficult. You may want to take into account the following considerations to help you choose the best MSRA question bank for you:
The

cost of the question bank

but also what you actually get for your money. You may want to explore what's on offer and if it's good value. We offer two price points for our MSRA question bank subscription, so you can choose the most relevant subscription for you. 
Linked to this, it's particularly important to consider the

volume of practice questions

you'll be able to access. You should aim for one which offers a

wide range

of practice questions to expand your understanding of the MSRA and support your preparations. Our question bank has over 4,000 clinical problem solving questions and 200 professional dilemma questions.

An MSRA question bank which provides

quality explanations

following the questions will be more beneficial and further your learning. Every time you answer a question in our MSRA question bank, you will be provided with a detailed explanation that will help you to understand why it's correct and provide an opportunity to develop your knowledge further.

Does the question bank include

feedback on how you're doing

? A question bank which provides an insight into how well you're doing – particularly if this is broken down into performance against each topic area and each of the test papers – allows you to track your progress and identify areas where you need to dedicate more revision time. Our dashboard shows you how well you have "mastered" each of the topics required for the exam, based on how much you have shown the algorithm that you know.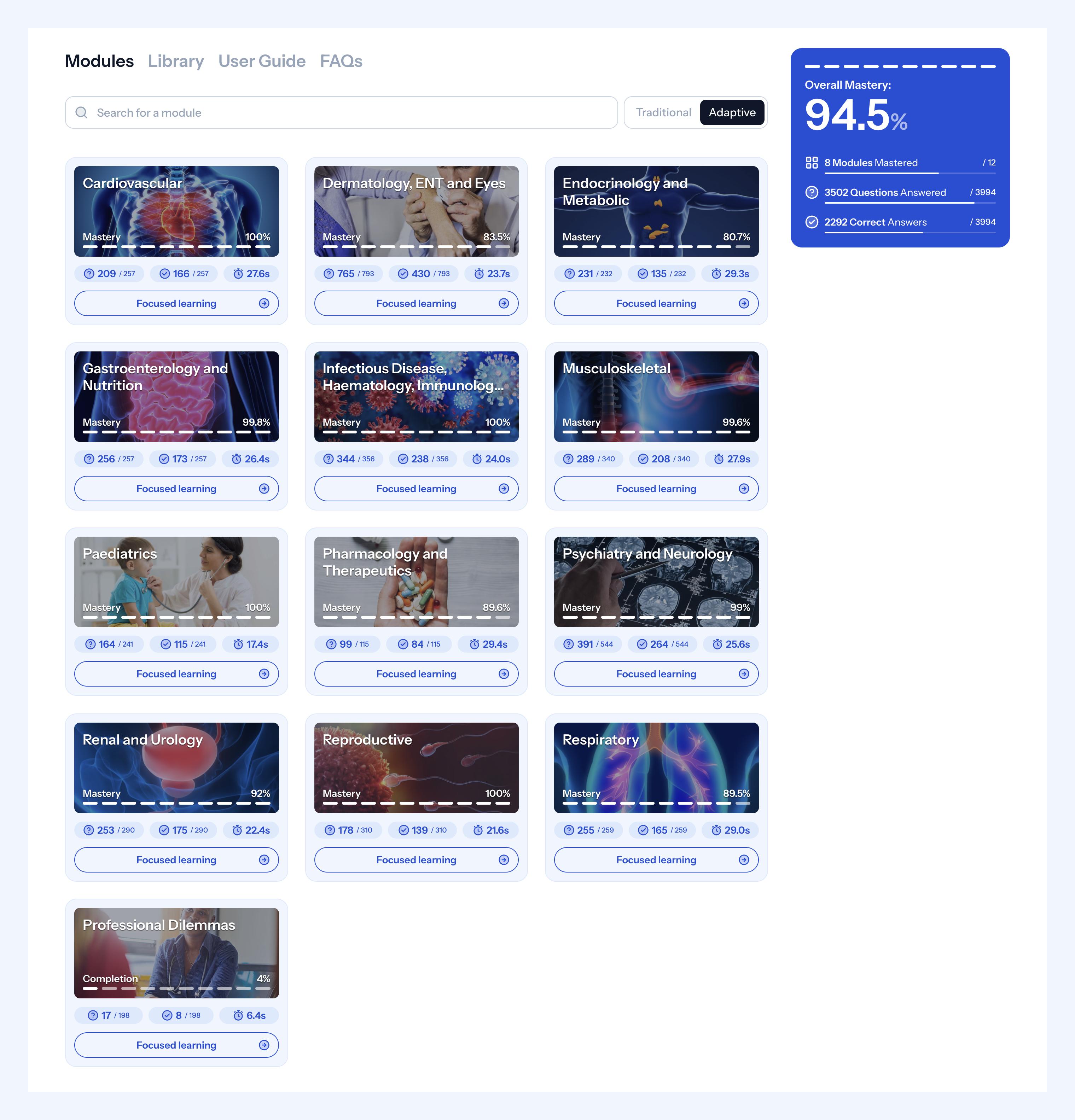 Personalised learning is a learning method which is revolutionising medical education. A personalised question bank will identify areas that you need to improve and direct your learning to meet those needs, making your revision more purposeful and effective. You should decide whether your learning style is better suited to textbooks and traditional question banks, which treat everyone the same despite differing abilities, or personalised question banks, which will adapt your learning experience based on your strengths and weaknesses.
Naturally, we are big fans of our adaptive MSRA question bank, which offers all of the above! It provides you with access to thousands of professionally written MSRA practice questions, with high-quality explanations for each question, providing opportunities not just to practise questions but to learn from your mistakes. Our sophisticated algorithms will continually calculate your mastery level for each topic, so you're aware of how well you're doing at all stages as you progress through the question bank.
But that's not all it offers! Using state-of-the-art algorithms, it automatically monitors your progress and identifies your strengths and areas for development. From this, it adapts to your personal learning needs, ensuring that you focus on the topics which will have the biggest impact on your MSRA score. Unlike traditional question banks, which offer everyone the same questions at the same time, our adaptive MSRA question bank will ensure that you're given the right questions at the right time, so you can make the most effective use of your valuable revision time.
If you think personalised learning is for you, check out our adaptive MSRA question bank here.
How do I pass the MSRA?
For specialties which require the MSRA, passing the exam is essential to be shortlisted for an interview. However, simply passing the exam may not be your goal when you consider the advantage that achieving a high score can give you. For the majority of specialties, with the exception of Community Sexual and Reproductive Medicine, your MSRA score is combined with your interview score for 'ranking and offering' and, therefore, has an impact on this. Furthermore, some specialties, such as Obstetrics and Gynecology ST1, allow you to bypass the interview stage altogether if you achieve a top score in the MSRA. Additionally, for the 2024 recruitment window, General Practice ST1 and Psychiatry CT1 will rank you based solely on your MSRA performance. Therefore, it can be hugely beneficial to score highly in the MSRA, regardless of your chosen specialty.
Preparing well for the MSRA will give you the best possible chance of not only passing the exam but also of performing well. Effective MSRA preparation should ensure that you build your knowledge of the types of questions you'll be asked and your experience in answering these questions. Put simply, you need to:
Ensure that you're aware of what the exam entails (i.e. the content and what's being assessed)
Without this, you won't know what to expect from the exam or what to include in your revision. Our MSRA complete guide and practice questions blogs are useful starting points for understanding the different test papers within the MSRA, the exam structure and assessment areas.
Revise / revisit your weaker subject areas


From examining the test structure and assessment areas, you may immediately identify areas which you need to revise or revisit before the exam. You can do this by going over old notes and re-reading textbook chapters, or if using our MSRA question bank, this will happen automatically. Ensure you dedicate time to developing your knowledge and skills within these weaker areas to improve your MSRA score.

Dedicate time to MSRA practice questions


Not only will practising questions help you become familiar with the types of questions and scenarios you'll encounter, but they'll also allow you to practise applying your knowledge and problem solving skills, which will be tested during the exam.
As you revise MSRA subject areas, you may find it useful to revisit the following documents, which have influenced the exam questions:
The GMC's generic professional capabilities framework
The Professional Dilemmas paper relates directly to the GMC's generic professional capabilities framework, as it aims to assess your professional behaviours and judgements in relation to clinical scenarios.
The Foundation Programme curriculum
The Clinical Problem Solving paper is based on the Foundation Programme and assesses your ability to apply clinical knowledge and problem solving skills to make appropriate clinical decisions.
For further advice and tips on how to revise for the MSRA exam, visit our MSRA exam revision guide, which also provides information on how difficult the exam is and what's a good MSRA score. Our MSRA practice questions blog also provides details of the exam structure and how to prepare, plus free MSRA example practice questions for you to explore.
How many questions should I answer to prepare for the MSRA?
Although it's tempting to want a set number of questions to aim for, everyone has different levels of experience, so there's no set number of questions a candidate should answer to guarantee a pass. Instead of focusing on how many questions you've done, especially in comparison to others, aim to focus on the quality of your MSRA preparation and ensure that you use your time wisely. That's not to say that you shouldn't plan to complete a wide range of practice questions, as more exposure will provide more experience of the types of questions you'll have to answer. However, it's important to ensure you absorb the valuable learning experiences you will get from each question and explanation.
When completing practice questions, you may find it more productive to incorporate the following to ensure you're getting the most out of your practice questions:
Identify areas / topics that you need to improve

Do some background reading to develop your understanding of these topics

Repeat questions that you've got incorrect and assess if you have now mastered these topics or if there is any further reading you need to do.
Most question banks will allow you to view how many questions you have answered incorrectly, so you can go back and review these. If you are using our question bank, this will happen automatically, by identifying topics which you need to focus on, providing explanations and feedback to support your learning, and ensuring that you revisit questions which you answered incorrectly to check that they've now been mastered.
Furthermore, you should ensure that you're aware of what's expected in both papers – Professional Dilemmas and Clinical Problem Solving – and the different topics in the Clinical Problem Solving paper. Please see below an example of a question from each section. 
For a comprehensive overview of what's expected in each section of the MSRA, visit our MSRA complete guide. Aim to dedicate time to adequately prepare for all areas, enabling you to perform well and score highly. 
Good luck! 
Resources:
MSRA AI-powered adaptive question bank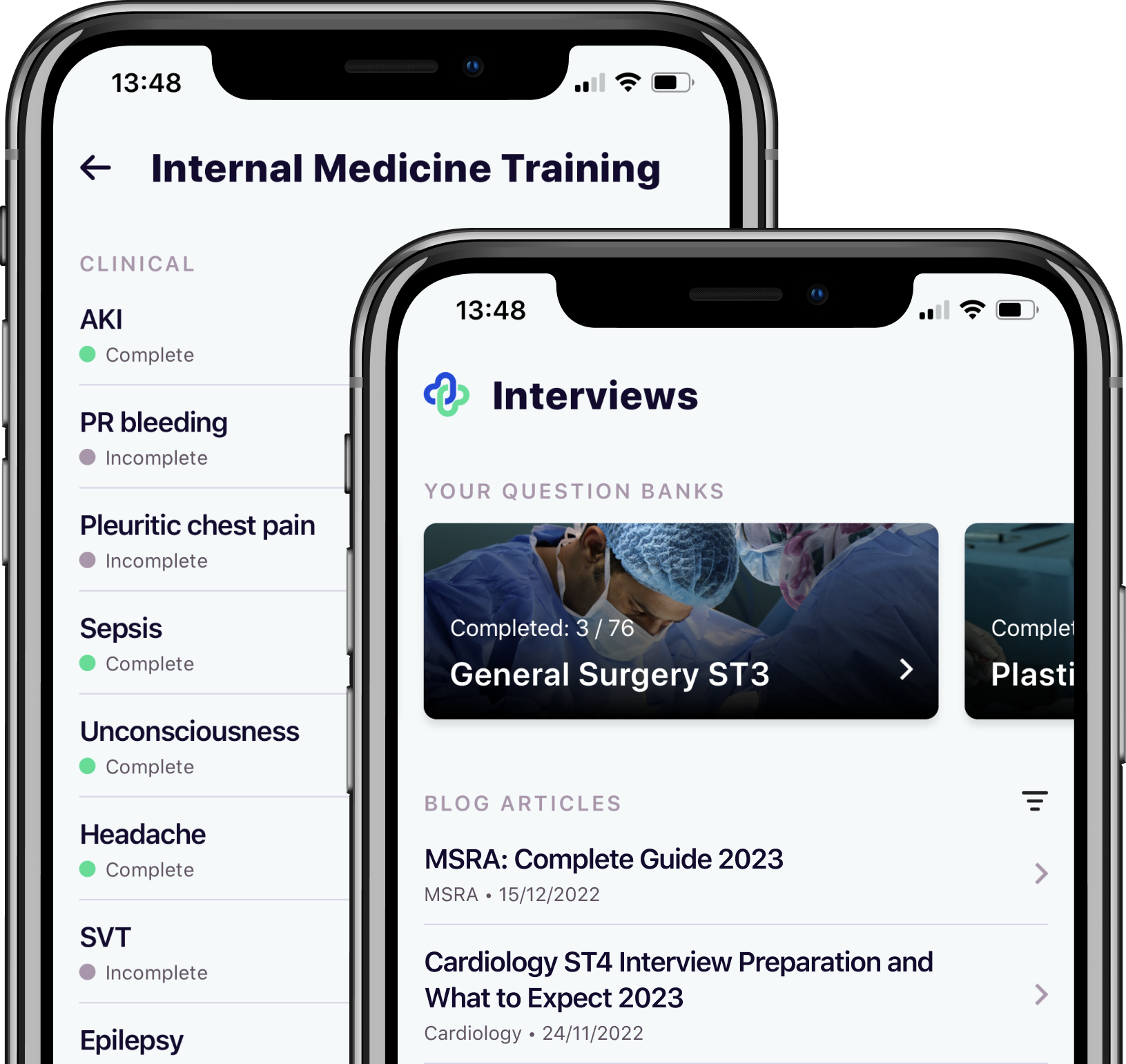 Take your subscriptions with you
Our mobile app allows you to access your interview and exam question banks wherever you are.