"Thank you to Medibuddy for providing a comprehensive list of interview questions and a structured way to approach them. I definitely felt more prepared after using the resource, and managed to secure my first choice deanery!"
Jack
"I found the question bank really good! It was very helpful - I practised them with a colleague and found that everything that came up was on the bank and I felt more knowledgeable about the specialty."
Georgina
Competition for Radiology ST1 is high, and this year, the interview format has changed. As well as the format change, the interview now makes up 50% of your overall application, this is an increase from 33%, making the interview more important than ever.
We have updated our question bank for 2024, in line with these updates.
To score well and get your first choice job, you need to prepare for the interview like you would your exams.
So how do I prepare for my interview?
Your interviewers won't be testing your clinical knowledge. Instead, they will be looking to see whether you have a thorough understanding of the career path. They will also judge your enthusiasm for the specialty and your ability to pass the radiology exams.
This makes the interview much more subjective than a standard clinical exam. Your answers need to be polished to perfection to score well.
Our Radiology ST1 question bank will provide you with both the content and the structure to ensure you get maximum points at interview.
This is where we come in…
The Medibuddy Online 2024 Radiology ST1 Interview Question Bank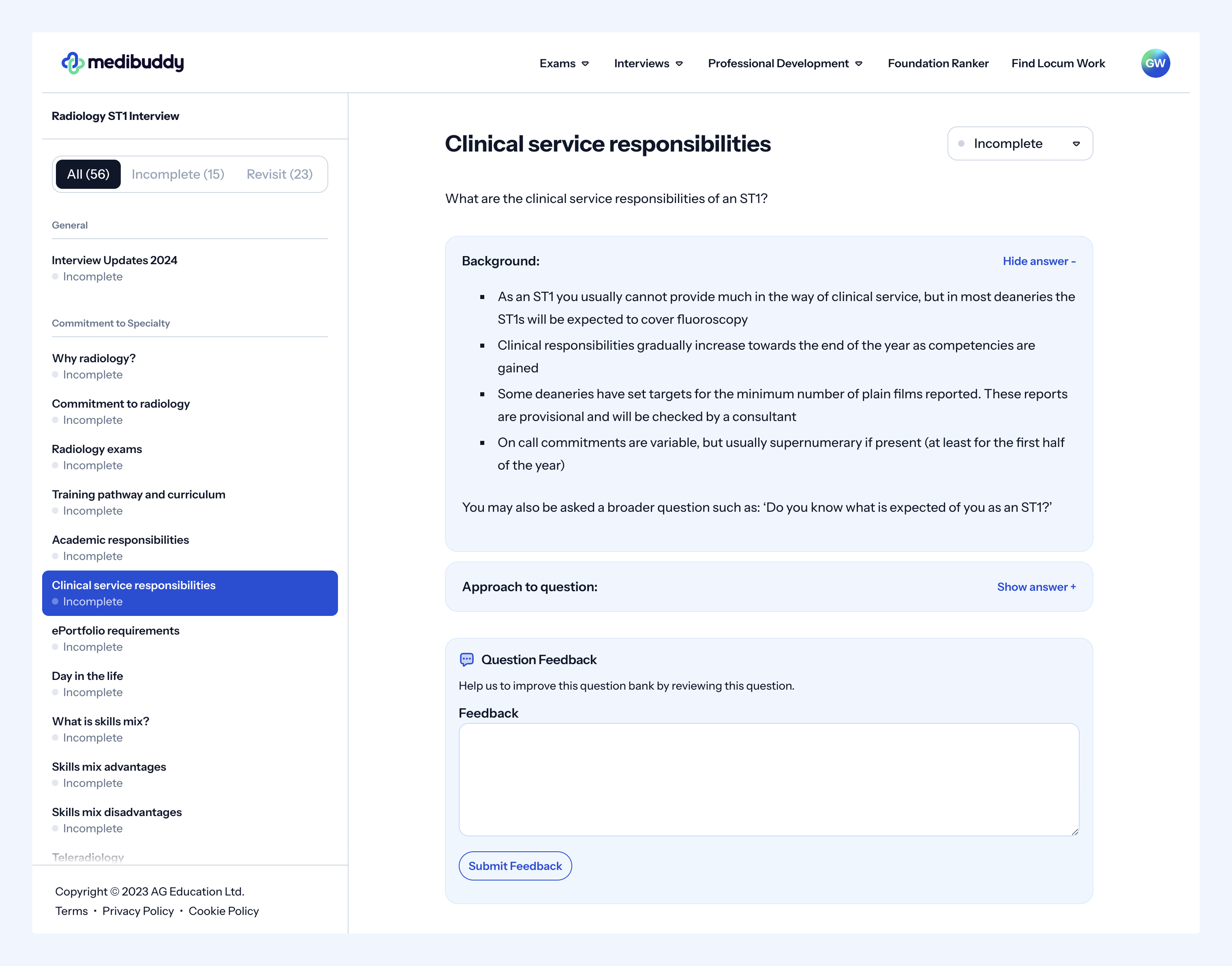 We are proud to have developed over 50 carefully crafted questions that mirror the interview, to help you prepare and maximise your chances of scoring your dream job. We've been doing this for a while now and know how important it is for the question bank to be up-to-date. Each year, our high-scoring editors make changes to the question bank to ensure it reflects the most recent interviews. Our team has secured some of the most competitive training jobs in previous rounds, and we want to help you do the same!
Best of all, we've presented it in an easy to understand format, on a platform that you can access anywhere.
What will I learn from the Radiology ST1 Interview Question Bank?
The 2024 interview is broken down into two parts, each lasting up to 10 minutes each.
In the 'personal skills' station, the interviewers will likely want to assess skills that make an effective radiologist and examples of when you have exhibited them. Additionally, they may give you an ethical scenario and identify how you would manage the situation appropriately. We have provided examples of various questions to help you prepare for this station.
This may be as simple as 'why do you want to be a radiologist?' or it may require some prior reading on radiology specific topics like skills mix, teleradiology and REALM meetings just to name a few. These have always been fair game for radiology interviews and the new format is no different. We provide example questions and answers to help you maximise your score.
Why have we done this?
When we were preparing for our specialty interviews, getting accurate and helpful advice felt near impossible. The recruitment websites only provide you with so much information, and whilst asking those who have done the interview is useful, sometimes all it did was make us more nervous, instead of actually helping us to prepare.
Since then, we have been filtering through all the good and bad resources, so you don't have to, and our high-scoring core trainees have put it all together in one place, the Medibuddy Online Radiology ST1 Training Interview Question Bank.
Sign up now to start preparing!