Congratulations on applying for the UK Internal Medicine Training (IMT) Interview! You'll soon start your interview preparation and we've written this post in combination with our IMT Interview Question Bank to help you get the best score possible.
Just making the decision to apply means you have started on the path to a career in clinical medicine. Take a moment and think about it. It's scary but exciting. The rest of your career lies before you. With the application completed your mind turns to the next hurdle, the interview, the most important point of the application process, and the bit that needs practising.
The interview is often the stage that applicants find most stressful. Understandably there is pressure that comes from sitting in a room with three or four consultants asking you questions, but it shouldn't be stressful.
The most important to thing to remember is that the people sitting on the other side from you want you to succeed. They are on your side. What they are asking isn't difficult but the stress of the situation can do funny things to your brain. Remind your self of that when the bell goes and your time begins. Take two deep breaths, clear your mind, you've got this!
Key things to remember for the Internal Medicine Training Interview
Before we even think about the internal medicine interview and the different stages, remember a few simple rules. To sail through the interview you need to do three things:
Be safe – the people interviewing you are consultants and the people you will be working for. They are looking for candidates they can trust to be on-call and look after their patients. They want to know that you can think under pressure and make decisions whilst not over reaching yourself. They want to see that you know your limits and understand when it's the right time to call for help. The candidate who can answer all the questions but cannot recognise when they are out their depth is not the doctor the consultant will want working for them!
Be polite – in addition to being safe the consultants want to find candidates that they would like to work with. Medicine is a team game and finding players that buy into that is important to your bosses. Being dressed appropriately, being courteous as you enter the room and thanking your interviewers as you leave are all important. Make sure you listen attentively and look the interviewer in the eye when answering. Looking at the floor or around the room certainly wont help you get the job!
Be prepared – you know what is coming so don't be surprised when you get there. Make sure you arrive on time so you don't add any extra stress to your day. Know where the interview is and what's waiting behind the door. Practising the sort of questions you are going to get will help you to feel comfortable with the style and layout of the interview and get you prepared for that tricky question at the end. If you know what is coming you can be calm and collected, and points one and two above will come naturally.
Key Dates for IMT 
The deadline for your IMT application was at 4pm Wednesday 1 December 2021. If you are looking to apply for the next round, thinking about the interview, its lay out and structure are all important when putting together your application as discussed in other posts so start thinking about it from the beginning.
Short-listing for interviews took place on the 21st of December, with invites to interview sent out on the 23rd December. Keep an eye on your email during this period as once invites are sent out it is down to each applicant to book their own slot. Interviews are being run from January 17th to February 18th 2022. The booking process is first-come-first-served so making the booking at the earliest opportunity will ensure you get a time and location that suits you, and remove another layer of unnecessary stress (particularly important if you already know that you are away for some of this period). Early booking will also mean you can warn your clinical team in advance of when you will be away. You should be able to take this leave as study leave if you are in a programme, and don't forget to ask for a few days off before for interview preparation!
Offers after interview will be sent on the 17th March!
The exact time line for the 2022 application can be found here in our applying for IMT blog post.
Preparing for your IMT Interview
As your putting together your application, its worth finding out who amongst your colleagues is also thinking about applying for IMT as they are going to be your best friends during your interview preparation. Practising together will let you rehearse your answers out loud.
A good way to practice and help you understand where the interviewers are coming from is to examine someone else's portfolio or application (now the portfolio is virtual) and then ask them questions about it. A simple way to prepare for the interview is record yourself speaking your answers out loud and watching them back. No one else is going to see so don't be embarrassed. It will definitely make you feel more comfortable on the day as your mind and body will know you've done it before.
Spend time using question banks to identify areas of your knowledge that need a little more work. Check out our question bank to find practice questions for the interview. Another good source of preparation is this book: Medical Interviews (3rd Edition): A comprehensive guide to CT, ST & Registrar Interview Skills. It's used by many candidates so worth asking any senior colleagues if they have a copy you could borrow.
The 2022 interviews will be ONLINE. Therefore, make sure you have a suitable place to undertake it from and have checked that your tech is up to the job. It is important for candidates to consider:
Microphone and camera – make sure that you've checked that these are working in advance! Not something you want to be stressing about on the day. Consider the position of the camera – often its better to use a webcam that can be positioned ahead of you, rather than a camera on your laptop for example. Ultimately, find what works best for you so you can be seen and heard clearly.
Internet connectivity – goes without saying, you will need to make sure that you are somewhere with good internet connectivity.
Background – be aware of your background and try and make sure your backdrop is clear. There are functions to blur your background, but definitely better to think about this in advance.
Environment – you will need to be in a well-lit and quiet space. If there are others in the house, give them a heads up as to when your interview will be so there will be no interruptions!
The IMT Interview
The format of the IMT interview has recently changed, having previously been three stations of ten minutes, it is now one interview, with the same interviewers, of approximately 25 minutes.
First half:
Clinical scenario – 8 minutes + 1 minute. The scenario will be given to candidates three minutes before commencing the interview. Questions will focus on assessment/diagnosis/management followed by communication and appropriate escalation questions. The scenario is likely to be short with limited information. Candidates should use the time available to them to consider the salient points and in most cases start thinking about a list of differential diagnoses as this will help shape the first part of the question. Marks are initially awarded based on the investigations and diagnosis you supply based on the initial information. The second set of marks will be determined by your subsequent management of the patient in addition to your communication skills – this could be with the patient, relatives or colleagues – the interviewers will tell you who they want you to communicate with.One change to the interview process being brought in this year is the candidate's ability to hand over clearly and concisely at the end of the scenario. Candidates will be given 1 minute to hand over the patient to a 'colleague' (played by one of the interviewers). Given you know this is going to happen, it would be worth familiarising yourself with common hand over techniques such as SBAR. Scoring for this section is now weighted heavily towards your ability to handover and communicate information, so spend time on this! With each clinical scenario you undertake on Medibuddy, finish with a timed 1-minute summary. You'll soon have this part of the scenario well practised and have no problems come the interview.
Ethical Scenario – 5 minutes. You will be given this immediately following the clinical scenario (so no preparation time). It may be related to the previous scenario or may be completely separate. The interviewers will want to see you consider the moral, ethical or legal implications of the scenario given. 5 minutes is not a long time, so this is not a deep dive into medical ethics! Be sure you know your stuff on issues an IMT trainee would be expected to deal with: i.e mental capacity; decisions relating to DNACPR; patient confidentiality; patient safety incidents and reporting (DATIX); conflicts/issues with colleagues and how to escalate appropriately.
Suitability and Commitment – 3 minutes. This is the opportunity for the interviewers to understand what makes you tick and why you are a good fit form IMT training. You'll have the opportunity to expand on your commitment to speciality section of your application (so make sure you've read this again before the interview). Its only a short section, but you may also get the opportunity to talk about interests outside of medicine.
Application and Training – 3 minutes. Following straight on from suitability and commitment, interviewers will ask you questions about your career and achievements that led you to apply to IMT and how you have engaged with training and progressing your learning. Think about what points in your career have really influenced your decision to apply for IMT – don't just list the jobs you have previously held. The interviewers want to see that you understand how your training influences your progression through the ranks – i.e talk about your Work Based Assessments (WBAs) undertaken during FY1/2 and the feedback you got from colleagues patients etc. Demonstrating an understanding of reflection and how this aids personal development is also important for this section. Try and think of something challenging you have been involved in during your training and demonstrate how you reflected on this and why that was important.
When answering these types of questions in sections 3) and 4) its worth thinking about what qualities you have that make you suited to a career in clinical medicine. Come up with a list of them and try and weave them into your answer. These could include things like:
Knowledgeable
Team player
Good communication
Willingness
Adaptable
You'll have your own skills and values that you'll want to show off, so write them down and think about how you can work them into your answers (much better than just providing a list).
Timings
As you can see, there is not a lot of time to fit in a lot! The key therefore is not to panic. The interview is not a race. You likely have lots of things you would like to talk about, but the key here is to talk up the most important elements that show why you're a great fit to be an IMT trainee. Therefore, be selective! The interviewers will give you the opportunity to lead them to topics that you would like to discuss in sections 3 and 4 with open questions. Therefore be prepared and select a few topics that you would like to highlight.
Scoring for the IMT Interview
There are six areas during the interview that are scored. You receive a score from each interviewer from 1-5 which means a maximum of 60 points are on offer. Once the scores are collated, a weighting is applied which as you can see from the sections below gives a greater emphasis on sections 2), 3) and 4) – so worth keeping in mind that nailing these bits is just as important as the clinical scenario.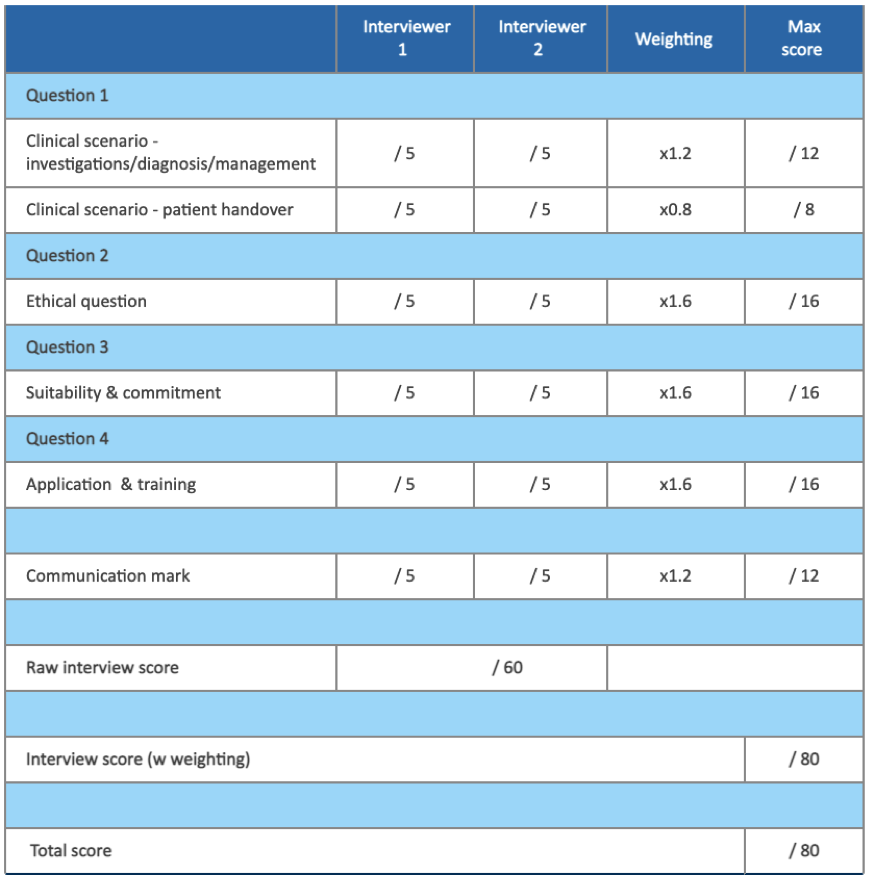 Individual scores are applied using the following assessment: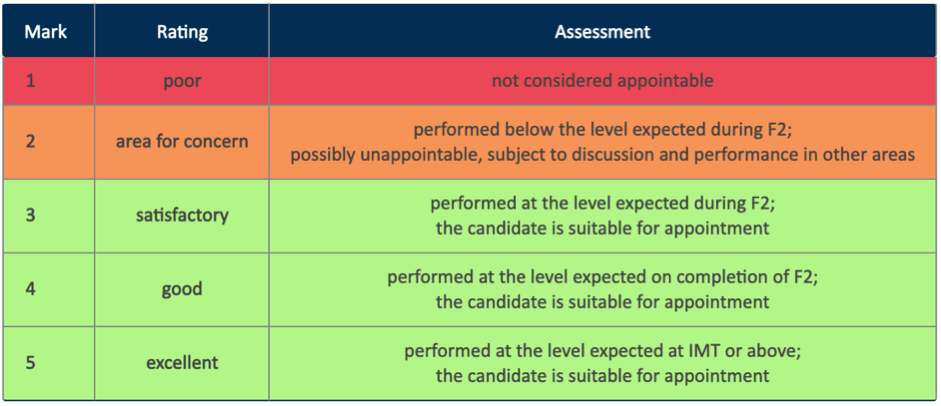 3/5 is considered satisfactory and should be the minimal that you get on each section. As you can see, a score of 1/5 unfortunately means that the candidate will be marked as not appointable. Further information on scoring, appointability and scores from previous years can be found here on the IMT recruitment website.
Additional Tips for the IMT Interview
Dress to impress. Your interview starts the moment you click on the link so its worth thinking about your appearance for this formal interview setting. Whilst you are not marked on what you are wearing, the interviewers will be looking for you to demonstrate professionalism and this starts with what you are wearing.
Be on time. The interviews run to strict times, enforced by the local administration team. This is due to the large numbers of applicants that need to be interviewed, and also the time that is being given up by the interviewers. It is unlikely that if you are late and miss your slot they will be able to fit you in. Also, being late is likely to cause you considerable stress which will negate all the preparation you have done, so don't chance it, give your self plenty of time to be in place before the interview.
Prepare all your additional documents the night before (if not days before). Don't leave your self with anything to do on the day of the interview it self. unless requested otherwise, the only documentation you will need to bring is proof of your identity.
Make sure you have considered your interview environment and tech that you will need to use. If in doubt, try practising this with a colleague and getting their feedback on it.
Hopefully, this has given you some useful information on the interview process and structure of the interview. Now its time to prepare! Check out the links below to access our IMT clinical and ethical scenario questions as well as tips about preparing your application and portfolio. Good luck!
Further reading:
Internal Medicine Training (IMT) Interview Question Bank
Internal Medicine Training (IMT) Interview Portfolio Preparation
Internal Medicine Training (IMT) Portfolio 2022 Guide
Internal Medicine Training (IMT) Interview Tips
Applying for Internal Medicine Training (IMT)
Check out all our Internal Medicine Training (IMT) Interview Resources.