Internal medicine training (IMT) interviews are moving to a virtual format this year because of the pandemic and the portfolio station has changed. It is still, however, a very important part of your IMT application. There are a total of 68 points on offer for your application. With only a few points usually separating candidates, an extra point can make a significant difference to the outcome of your interview.
Because of the switch the virtual interviews, most candidates will not have to provide evidence to back up their claims in the self-assessment section. However, you must have access to documentation proving every claim you make as you could be asked to supply evidence as part of a randomised audit. In the event that interviews DO NOT go ahead because of the pandemic all candidates will be asked to submit their evidence to back up their claims, therefore, you need to make sure you have all the evidence to back up your self-assessment available on your computer so you can upload it if required! For further information check out the IMT website.
The application is divided into 8 sections and we'll explain how to maximise your points in each one!
Section 1 and 2: Undergraduate and Postgraduate Degrees
This section covers any degrees obtained alongside your medical degree and any additional degrees you may have obtained since. There are no easy ways to maximize the points in this section in a short time scale. If you are an applicant for 2021, you either have them or you don't.
The scoring is straightforward and relates to your final mark. Make sure you have your degree certificates in your portfolio!
Undergraduate degree scoring: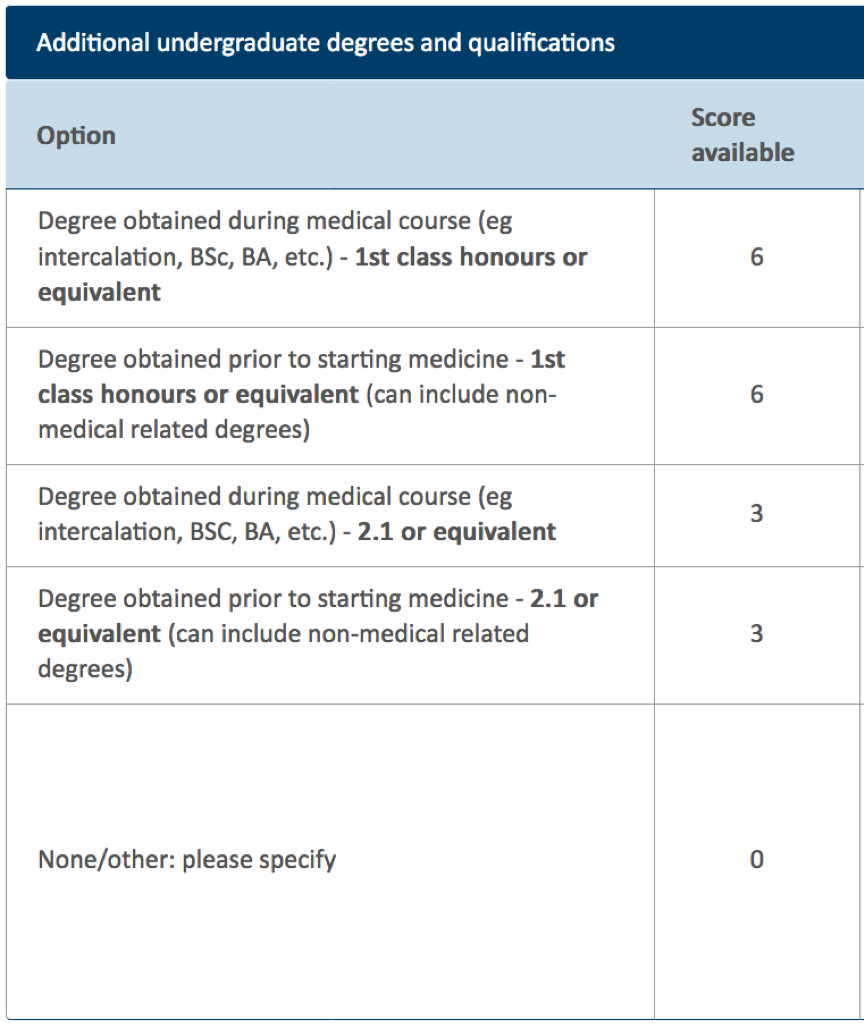 Postgraduate degree scoring: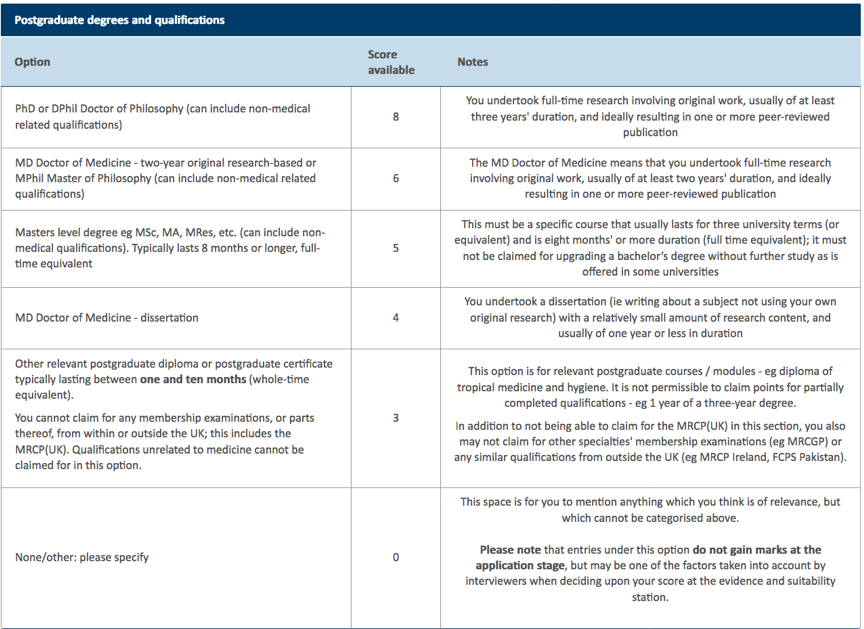 If still at medical school or in a position where you would like to take an additional degree the shortest option to max out points would be an MSc or intercalated BSc (with 1stclass honors). However gaining points in this area is certainly the most expensive and time consuming, and you may be better of focusing on other areas of your portfolio.
Section 3: Prizes/Awards
This relates to awards and prizes obtained during medical school or after graduating. These can be challenging to achieve in a short space of time if you do not have them already. Potential areas include:
Essay competitions from medical societies. These often have poor submission figures with less competition than you may think. Submission details are easy to find with a quick search on google.
Conference poster or presentation prizes – try to submit to as many as you can but consider:
Small conferences or regional meetings may be less competitive to win prizes while larger meetings may offer a range of prizes – have a look at what is offered!
Prizes related to Quality improvement projects/ audits (can score points in multiple categories with one project!).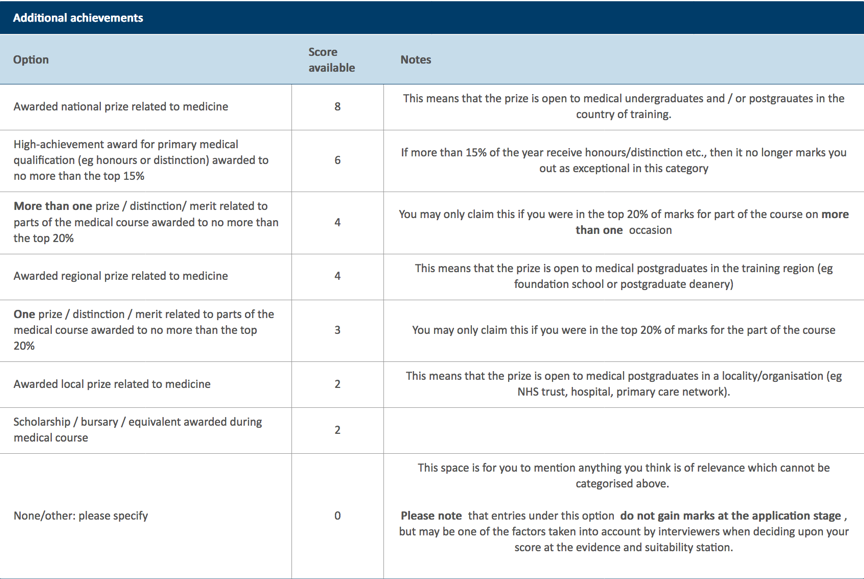 This list also includes people who received honours for their medical degree. Now you may think you don't score here, but it's definitely worth digging out a copy of your medical degree transcript and looking at all your marks over the five years. If you scored a few merits in a few exams then highlight it and get it in your portfolio and you can score points: 'merit related to parts of the medical course'!
Section 4: Presentations
This section is separate to Quality Improvement so don't include posters you have presented for QI projects. If you're struggling here, now is the time to go and talk to your supervisor about what projects they have coming up and whether you can help with an abstract submission for any conferences on the near horizon. You don't have to present, but get your name on the poster and you get the points!
Many applicants are unaware of the low rejection rates for posters in small conferences, particularly regional and national. It can be much easier to get accepted than most people think!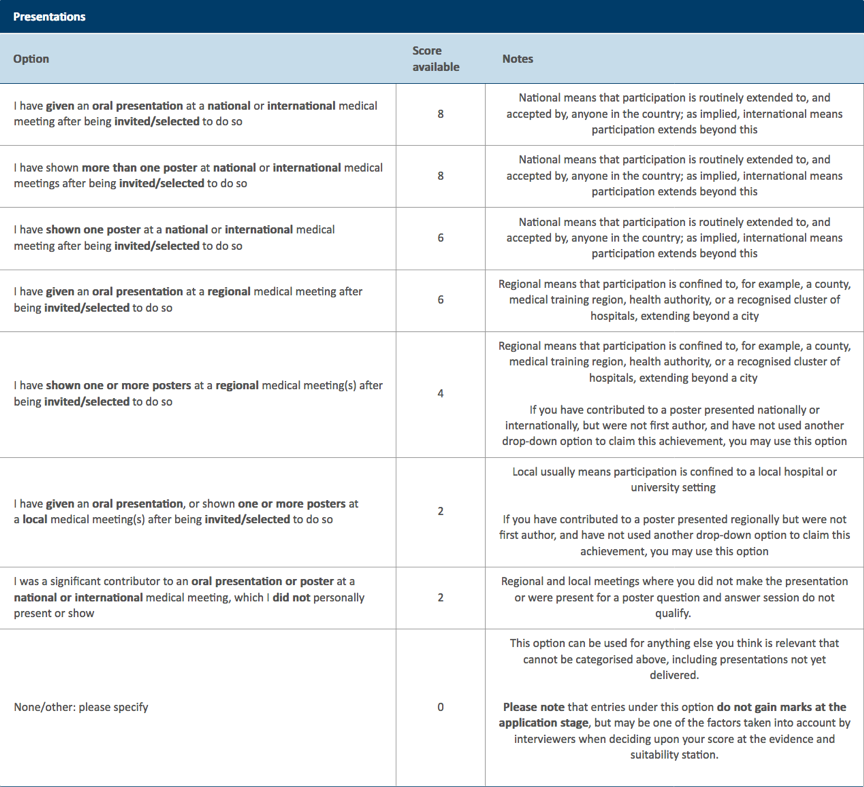 Section 5: Publications
You score the most points for being first author on two or more PubMed cited papers. But points can be picked up for any publications you have been involved with so hang on to them and get them in your portfolio. If you don't have any then talk to your consultant about writing a case report, as these pick up points. You could even write a piece for a journal such as a conference review as this still scores! Be prepared to talk about any publications that you include!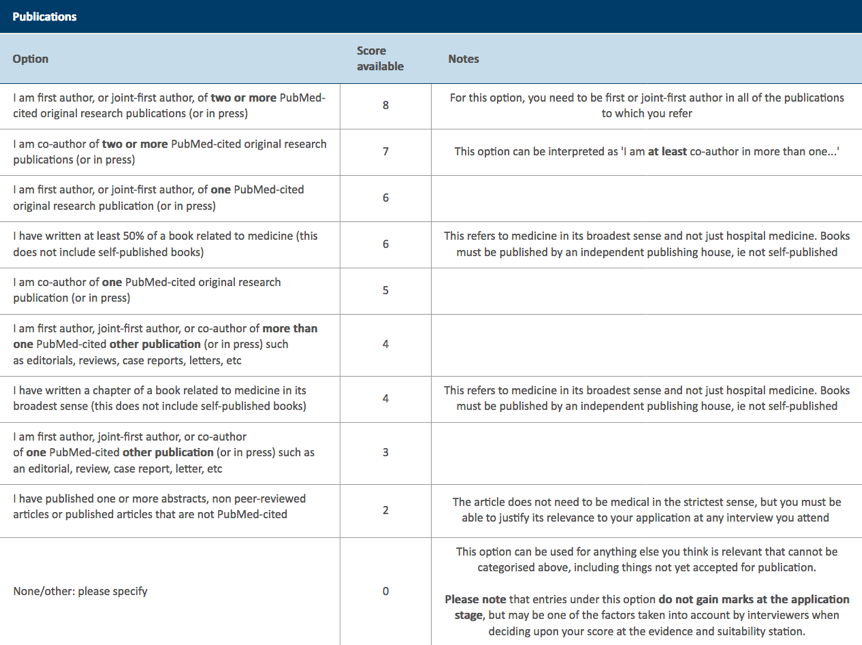 Section 6: Teaching
Teaching is splint into two sections: 'Teaching experience' and 'Training in teaching'. The points in the first section are gained for showing that you can develop and deliver your own teaching program and are split as follows:
2 points – Teaching medical students or other healthcare professionals occasionally: All applicants should have this and it can be done as volunteering to do a departmental teaching session or a teaching session for medical students. Many hospitals also offer twilight teaching sessions for students, which you can get involved with. Don't forget to get your certificate!
4 points – Teaching medical students or other healthcare professionals regularly > 3 months. As above – this is a very achievable goal.
6 points – Organised a local teaching programme & provided teaching for 3 months or longer – Requires you to be very proactive and consider the hospital which you work in, looking for areas where medical student or other MDT teaching is lacking. Ask the students if you are unsure. Speak with the nurses on your unit as they always have teaching and it may be something you can get involved in. If you are aiming for this category, it would not require much extra effort to go for the maximum marks.
8 points – Worked with local tutors to design and organise a teaching programme (a series of sessions) to enhance locally organised teaching & provided teaching for 3 months. As above, but liaise with other tutors to implement new changes into a teaching programme. Contact the education leads for medical students in your hospital or the education leads for the different nursing departments. They will be happy for the help!
Examples of teaching programmes include:
Structured bedside teaching
Clinical skills in early years
OSCE preparation +/- examination
Communication skills
How to set up a program
Start as early as possible e.g. in induction week
Briefly plan a program e.g. session titles, audience, setting, teaching style, teachers e.g. others colleagues/ junior doctors.
Discuss the plan with your education supervisor during the first meeting as they may be able to assist.
Discuss with the medical education department and arrange meetings with the head of medical education to discuss your proposal.
If approved, you will need to plan the program in more detail
Following this, the medical education department will usually email junior doctors asking for volunteers to prepare and deliver teaching based on your topics, offering certificates and formal feedback.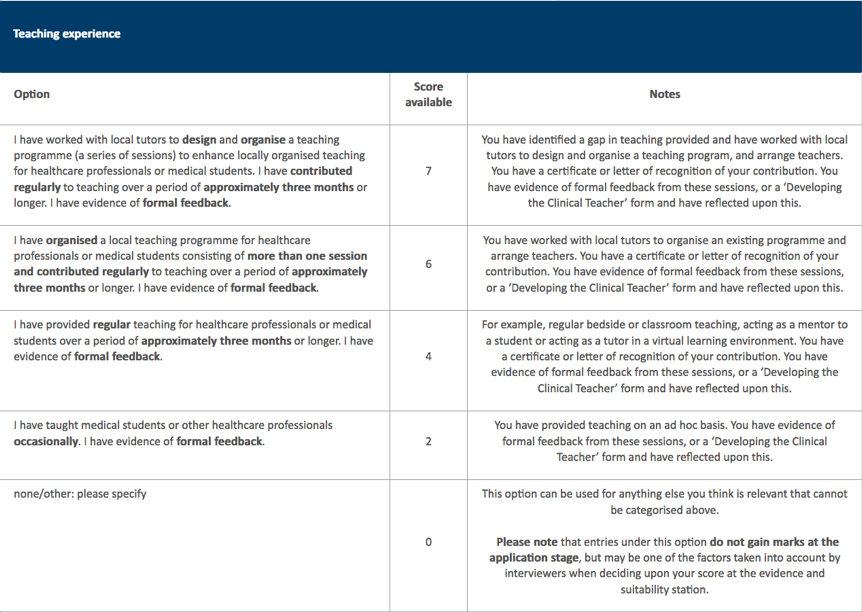 Training in teaching
Whilst it may not be feasible to achieve higher qualifications in teaching before the interviews (maximum), it is definitely achievable to score 2 points for brief training in teaching (online modules or in person). There are plenty of online course available from institutions such as the Open University. Many of these courses are free, so don't feel you have to spend lots of money just for a few extra points!
Another tip is to look at what was covered in medical school. Some Undergraduate MBBS courses provide dedicated training in teaching – which can get you 3 out of 4 points it this section, with no extra work. Try and find your certificates/ proof of attendance.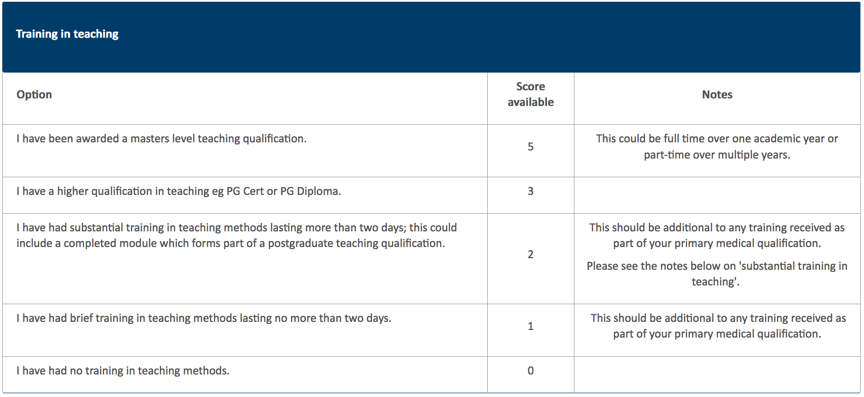 Section 7: Quality Improvement
This section used to be called 'Audits'; but now it's QI and getting full marks should be straight forward. You can design a QI project tomorrow – follow the PDSA Methodology and capture two cycles, present it and you're done. The mark scheme does not specify where it should be presented. It will look better when it comes to interview if you have presented it at a regional or national meeting/conference but ultimately it doesn't matter!  No excuse for not hitting the 10 points on offer! If you're looking for ideas then a good place to present your project is the RCP Trainees Conference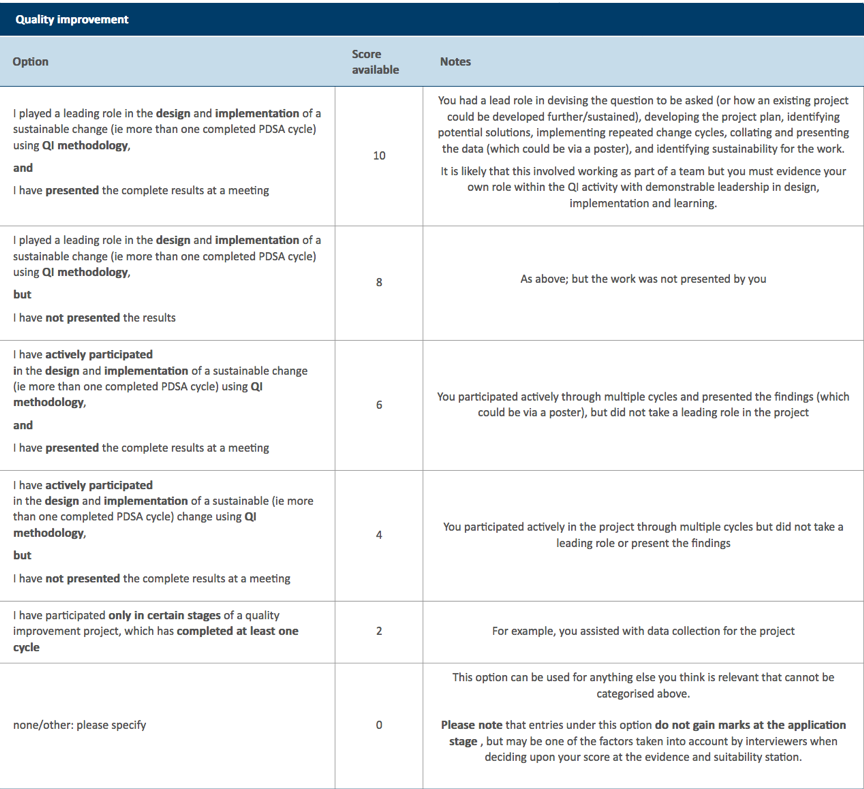 Section 8: Leadership
The points are scored for being a trainee representative on a committee and the number of points on offer goes up depending on the level of the committee. Being on national committees scores the most but of course not everyone can do that. Put your hand up when they ask for local training reps or members for the Junior Doctors Forum and you'll easily score points here that others won't. Just remember to get your letter/certificate as evidence!
Leadership roles that you can score points for include:
Trainee rep: this is potentially an easy point. Consider applying for this position if available at your trust during induction
FY2 representative – If not available you may suggest this should be a position.
Role in the doctor's mess: probably the easiest point in the portfolio and something to apply for during induction. You may just organise drinks once a month but this is worth points!
Rota Coordinator: ask your consultant or registrar if you can help with this. They will be delighted!
Organising a journal club
Organising teaching
Evidence of Leadership Development and Management Courses sadly won't score you points but are good things to include and will be great to talk about!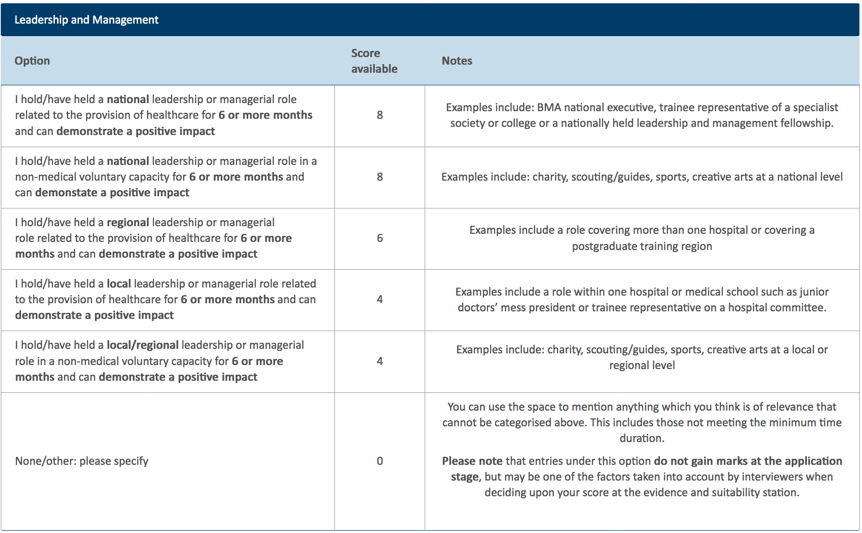 Good luck!
Further reading:
Internal Medicine Training (IMT) Interview Question Bank
Internal Medicine Training (IMT) Interview Tips
Internal Medicine Training (IMT) Portfolio 2021 Guide
Applying for Internal Medicine Training (IMT)
Check out all our Internal Medicine Training (IMT) Interview Resources.