The 2021 Internal Medicine Training (IMT) applications are upon us so it's time to start thinking about how you will prepare!
Due to the on-going COVID-19 pandemic the process for 2021 recruitment may change, so make sure you keep a close eye on the IMT recruitment website!
IMT applications are run through Oriel and it's worth setting up an account before it opens so you receive updates and don't miss the date! The application period lasts for around a month; but its best to start early as it can take a bit of time to complete the whole thing.
Its worth familiarising yourself with the timetable for this year so you don't miss any important dates!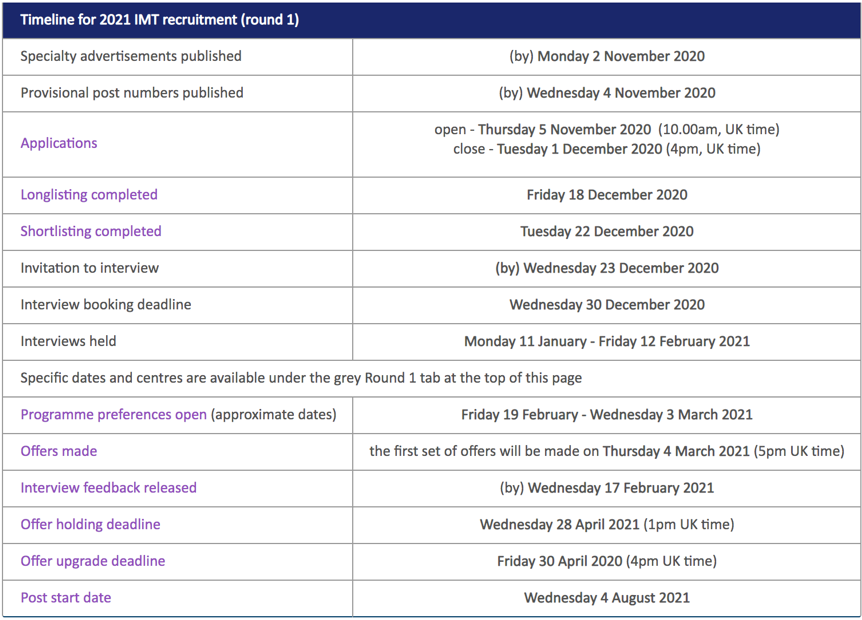 Further information on these dates can be found here on IMT recruitment page.
Because of COVID-19 there will not be an in-person interview process that requires you to attend a physical interview centre. Interviews are due to be held online using Microsoft Teams – so worth being familiar with how this works if you aren't already! You can create a free account on Microsoft teams using your NHS webmail.
The application is split into several sections, but these can be split essentially into the eligibility section and the evidence section (this is where you score your points!).
The eligibility section
This is essentially your right to work in a training program in the UK. If you are applying from overseas you will need evidence of your visa status.
You will have to show in this section that you have completed FY2 or are currently training as an FY2. Again if you are applying from overseas you will need to show your equivalent training completion.
You will need details of your Degree and your GMC registration – these should then be stored in your eligibility folder.
Finally you will need to provide a list of each place you have worked and the level of each rotation. This is the time laborious bit! Once this is all entered you will then need to provide three referees. These referees are simply to confirm that you are a doctor who has no training concerns. One must be your current educational supervisor or equivalent and the other two you can chose.
All of this info can take time to put together so get it sorted now and you'll breeze through the application process, giving you more time to prepare for the actual interview. We've prepared the Internal Medicine Training Interview Question Bank to help you with that.
The Evidence section
This is the bit that counts, and where the score for your shortlisting comes from. Everything that you include in your application you should have evidence for. That's easy when it comes to a paper you have written or a poster you have presented but can get harder when asked to show evidence for teaching that you have done or a leadership course you have attended. Certificates are obviously a good source of evidence, so make sure you collect them after each course and keep them safe! Letters, written and signed by a consultant, are also a good form of evidence, particularly for those harder to prove things – for example setting up a ward based teaching program, or leadership experience. The main thing is that you think about these things early and get them in place.
Sections:
Undergraduate. This relates to whether you have another degree obtained before or during your medical degree. The scoring is straightforward and relates to your final mark. Make sure you have your degree certificate in your portfolio!
Postgraduate: Again, straight forward and you either score here or you don't (Don't worry if you don't – it's definitely not essential and you'll claw back the marks later on!). MRCP(UK) does not count in this section.
Prizes/Awards: This relates to awards and prizes obtained during medical school or after graduating. It also includes people who received honours for their medical degree. Now you may think you don't score here, but it's definitely worth digging out a copy of your medical degree transcript and looking at all your marks over the five years. If you scored a few merits in a few exams then highlight it and get it in your portfolio! That gets you points.
Presentations: This section is separate to Quality Improvement so don't include posters you have presented for QI projects. If you're struggling here, now is the time to go and talk to your supervisor about what projects they have coming up and whether you can help with an abstract submission for any conferences on the near horizon. You don't have to present, but get your name on the poster and you get in the points!
Publications: You score the most points for being first author on two or more PubMed cited papers. But points can be picked up for any publications you have been involved with so hang on to them and get them in your portfolio. If you don't have any then talk to your consultant about writing a case report, as these pick up points. You could even write a piece for a journal such as a conference review as this still scores! Be prepared to talk about any publications that you include!
Teaching: The points here are gained for showing that you can develop and deliver your own teaching program. This can be as simple as starting a ward based teaching program for the whole MDT. Start the sessions, collect your feedback (put it in the appendix of you rportfolio) and make sure you get a letter from your supervisor or consultant saying what you've done to score well. Teaching medical students is good but be the one to create the program and you'll score the best! Evidence of teaching courses attended is all useful and good to talk about in the 'Portfolio' Station.
Quality Improvement: This section used to be called 'Audits'; but now it's QI and getting full marks should be straight forward. You can design a QI project tomorrow – follow the PDSA Methodology and capture two cycles, present it and you're done. No excuse for not hitting the 10 points on offer! (Remember: Unfortunately you cannot claim a presentation of your quality improvement project in the presentation section of the application form; presentations relating to audits or quality improvement projects must be detailed here as the scoring system is set up to include this)
Leadership: The points are scored for being a trainee representative on a committee and the number of points on offer goes up depending on the level of the committee. Being on national committees scores the most but of course not everyone can do that! Put your hand up when they ask for local training reps or members for the Junior Doctors Forum and you'll easily score points here that others won't! Just remember to get your letter! Evidence of Leadership Development and Management Courses sadly won't score you points but are good things to include and will be great to talk about!
These 8 topics are what will ultimately make up your application score. Start thinking about them now and where you can pick up easy points.
Because of COVID-19 the rules are slightly different this year. In years gone by, an achievement must have been completed before it can be claimed. However this year, activities, which were started but not possible to be completed due to the COVID-19 outbreak, can be claimed for. For example, if you were due to present a poster at a conference but it was delayed/cancelled because of COVID-19 you can still claim! The guidance for each area of the application specifies where this is the case and the requirements to be able to claim points so check the website and don't miss out!
Because of these new rules, you are now asked to write down why you have selected each point for each section. You only get a few words to write this so be short and to the point! Most trainees will not have to provide evidence to back up their self-assessment, but a selected few will be audited, so make sure you don't take a chance and have that evidence to hand if you are required to present it. To help you know what evidence you have included download and print the IMT evidence summary page.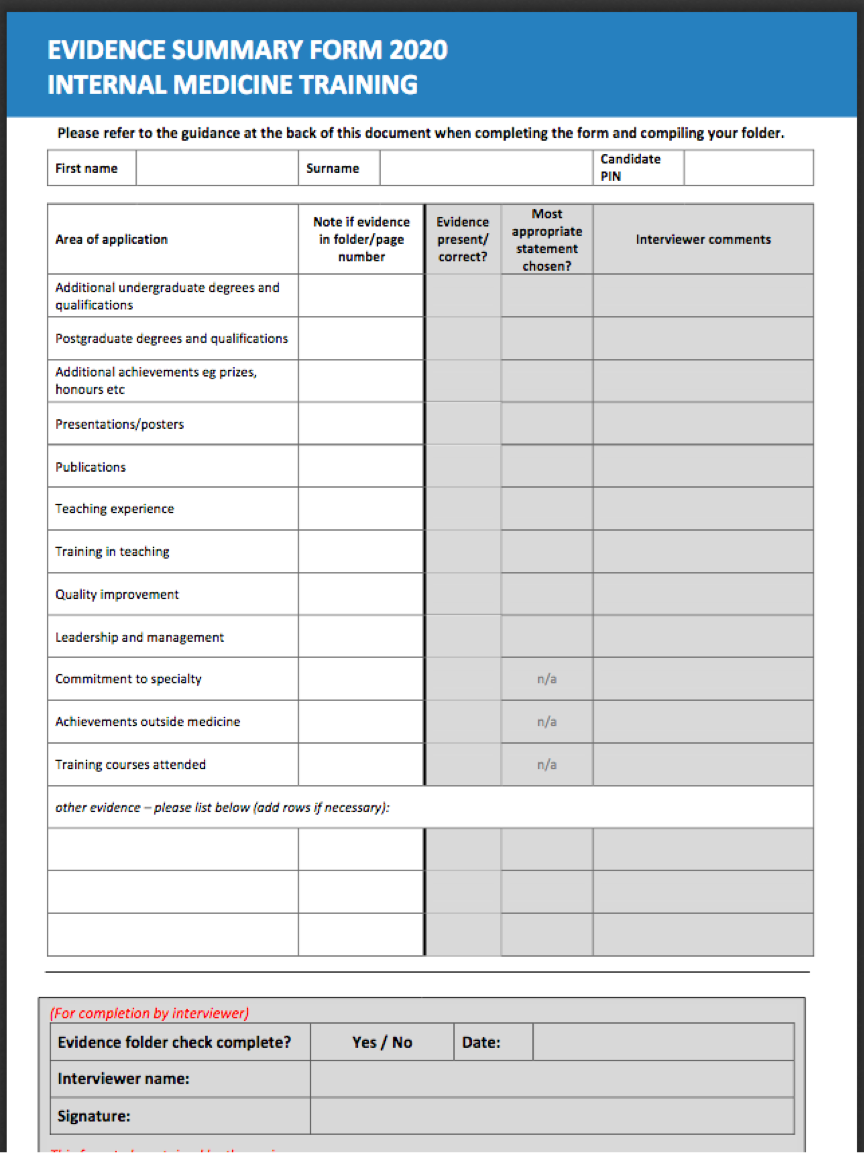 The Extra Section
The 'commitment to specialty' and 'achievements outside of medicine' parts of the supporting page of the application form require written answers that you could prepare before applications open.
Commitment to specialty: In this space you are asked to describe how you believe you meet the person specification and there is a word count limit of 400 words.
Achievements outside medicine: In this space you have another opportunity to demonstrate how you meet the person specification through achievements that are not related to medicine and there is a word count limit of 150 words.
Good luck with you application! Check out our blog post on maximising your portfolio points!
Further reading:
Internal Medicine Training (IMT) Interview Question Bank
Internal Medicine Training (IMT) Interview Portfolio Preparation
Internal Medicine Training (IMT) Portfolio 2021 Guide
Internal Medicine Training (IMT) Interview Tips
Check out all our Internal Medicine Training (IMT) Interview Resources.