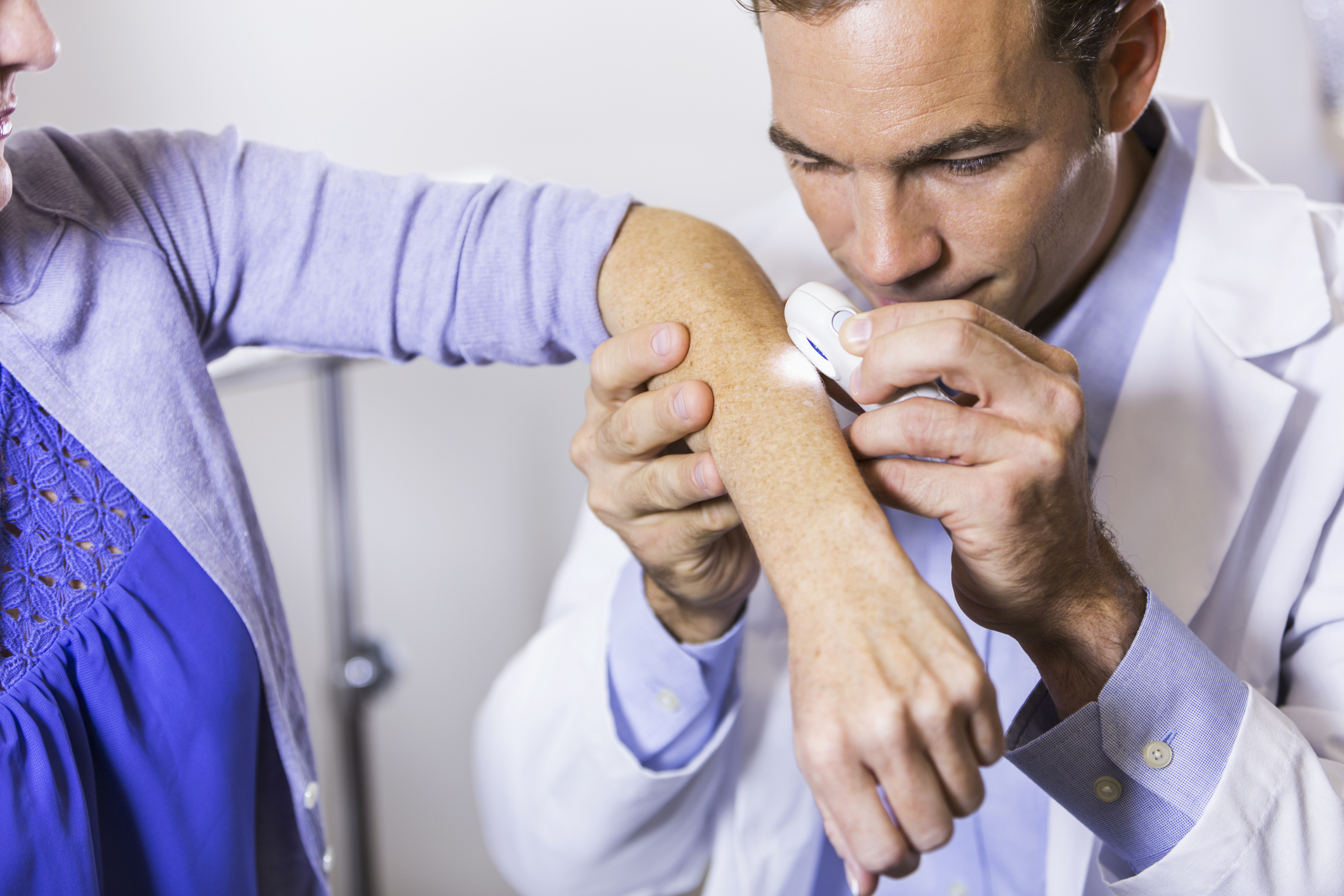 Dermatology
3rd November 2023
Dermatology ST3 Interview Guide 2024
We have created this guide to help you with the Dermatology ST3 application and interview process. Here, we cover the key application dates, what you can expect from each part of the interview and how your performance is assessed. 
Dermatology is a varied specialty, covering skin diseases, surgery and cancer in adults and children. Because of this, it's a competitive pathway, which demands high standards from applicants. 
To provide an insight into how competitive Dermatology ST3 can be, we have compiled the competition ratios from 2023. There were 241 applications for 32 posts, leading to a competition ratio of 7.53. This meant more than 7 people applied for each post, which is an increase from 2022. Competition is fierce!
Dermatology ST3 Application
The process begins with completing your application form. Within this, you can expect to find sections asking for your:
Qualifications
Eligibility
Fitness to practise
Language skills
Health
Career progression
Assessors will use your responses to determine whether your application can proceed to the next stage – if you meet the eligibility criteria, your application will be 'longlisted'. Next, your application will be marked against various scoring domains to select applicants who will be 'shortlisted' and invited for interview. At the interview, you will be assessed on your critical appraisal skills and academic experiences, clinical acumen, and suitability and commitment to Dermatology. You are also required to complete the MRCP before taking up your post. MRCP Part 1 must be completed before applying, and the full diploma (including Part 2 Written & PACES) must be completed by the offer date.
You can find more details about the Dermatology ST3 application form and the entry requirement in the person specification.
Dermatology ST3 Recruitment Dates
If your Dermatology ST3 application is successful, you will be invited to an interview. For 2024, the key recruitment dates for Dermatology ST3 are as follows:
| Stage | Date |
| --- | --- |
| Advert appears | Wednesday 15 November 2023 by 5pm |
| Applications open | Thursday 16 November 2023 at 10am |
| Applications deadline | Thursday 7 December 2023 at 4pm |
| Evidence upload window | Saturday 3 – Monday 12 February 2024 |
| Interviews | Tuesday 26 – Thursday 28 March 2024 |
| Initial offers released on | Thursday 18 April 2024 by 5pm |
| Hold deadline | Tuesday 23 April 2024 at 1pm |
| Upgrade Deadline | Wednesday 24 April 2024 at 1pm |
| Interview feedback release date | Thursday 25 April 2024 by 5pm |
| Posts commencing from date | Wednesday 7 August 2024 |
It's worth noting that Dermatology ST3 also took part in a second round of recruitment in 2023, with interview dates between 12 – 13 October 2023.
Maximise your performance at the Dermatology ST3 interview by preparing effectively and efficiently with our Interview Question Bank.
Find out more →
Dermatology ST3 Interview Format
The Dermatology ST3 interview is divided into three stations, and we have formatted our Derm ST3 Interview Question Bank like this to ensure you are closely matching the interview structure when practising. There will be multiple questions within every station, each lasting approximately seven minutes. That means you can expect the interview to take around 30-35 minutes when you include the time spent between stations. You will also be marked on your communication skills, giving you a total of four assessment areas.
Below, you can find the details of each station:
Station 1 – Research & Academic Medicine
This stage of the interview revolves around academic medicine. You will receive an abstract before the question. Here, you will have a short while to read through the abstract and consider the main talking points. You will be assessed on your understanding of the academic issue. So, ensure you're aware of the most important findings, and be critical in your analysis. The final couple of minutes may focus on your own academic experiences, including research and/or teaching. 
An example of this from the Medibuddy Dermatology ST3 interview question bank can be seen below: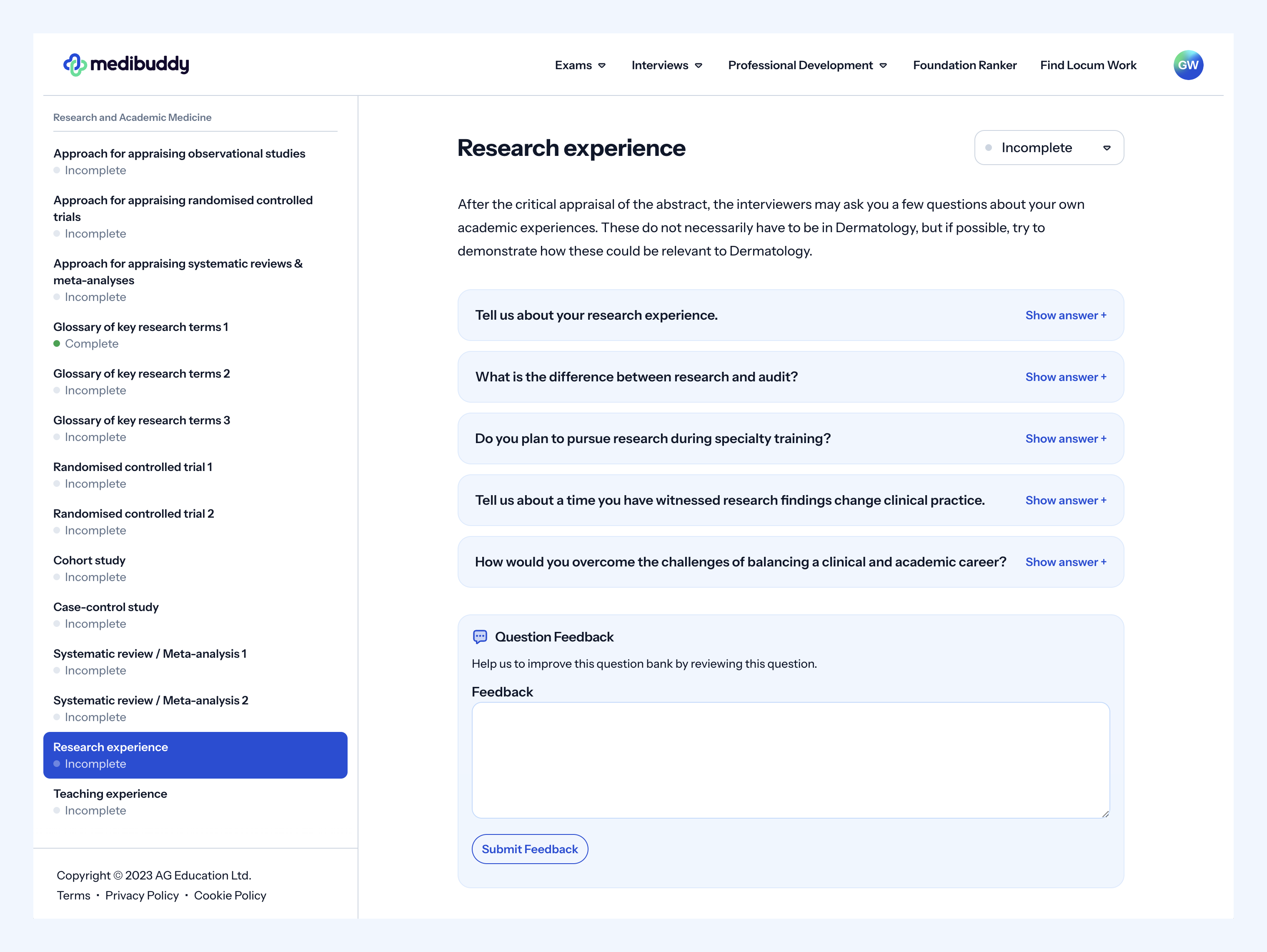 Station 2 – Clinical Scenario
For this station, you will have a clinical situation to consider, this will be dermatology related. The scenario will describe a hypothetical situation that you're involved in. Here, the interviewers will give you a brief vignette about a patient before asking for your initial response. The interviewers will then ask a series of follow-up questions to determine how you would investigate and manage the case. 
To prepare for the discussion, you should consider the following points:
The steps you would take
Potential treatments
The additional information you would gather
How you would go about communicating with the people involved in the scenario
Any other factors you're aware of due to your experience
The following is an example of a clinical scenario from our Dermatology ST3 interview question bank, showing how you would approach the question: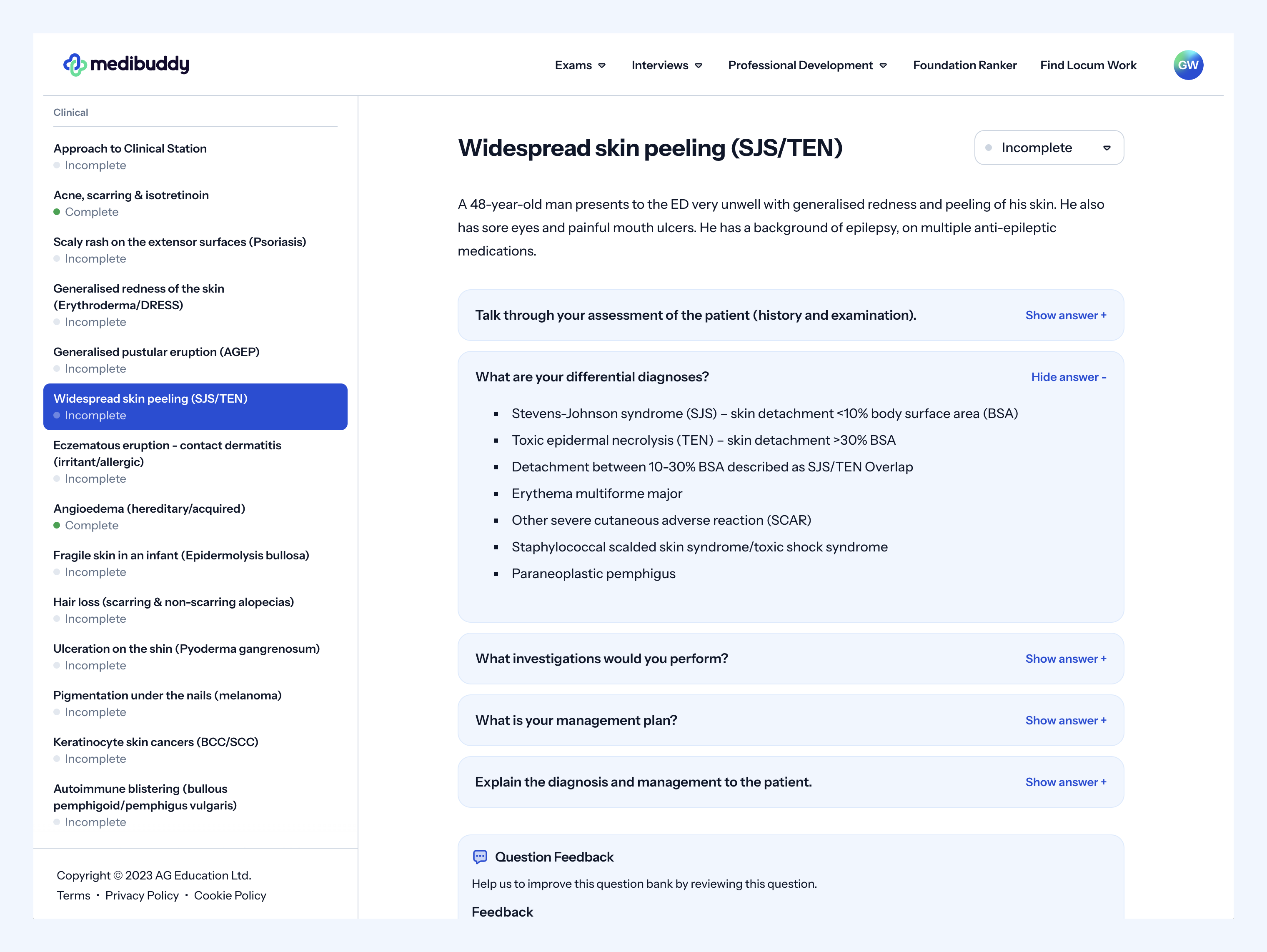 You will be assessed on your responses to the clinical scenario, as well as the communication skills you display throughout the station.
Station 3 – Suitability & Commitment
This station will very much focus on YOU – to assess your suitability and commitment to Dermatology. It will allow you to build on the information you provided in your application form.
Again, example questions and guidance on how to answer "suitability and commitment" questions can be found in our Dermatology ST3 interview question bank. An example of this is shown below: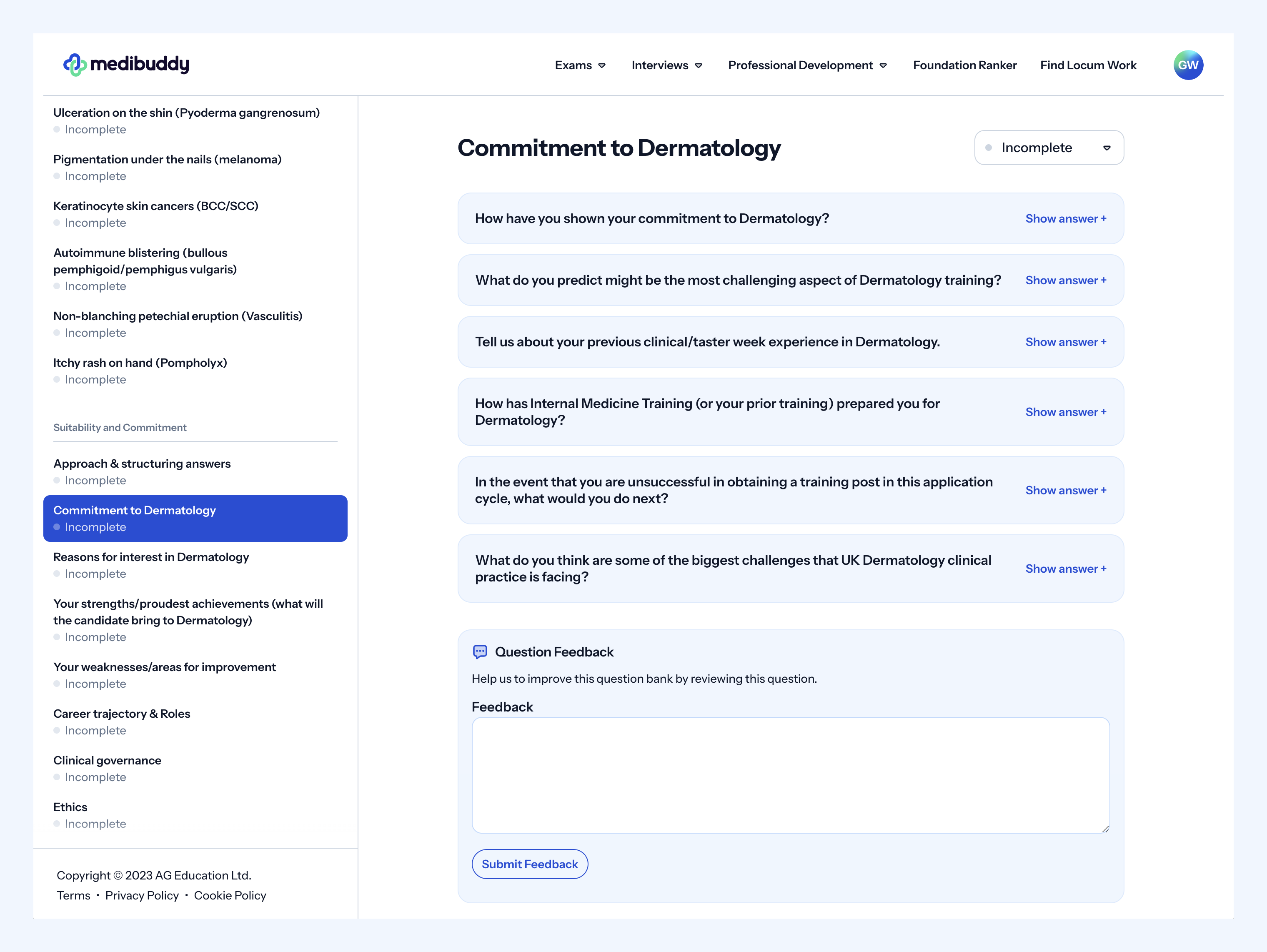 How is the Dermatology ST3 Interview Scored?
Each interviewer will assess your performance independently, so you will receive two scores for each part of the interview. The interviewers will use a specific scoring framework and provide you with a score for each area of assessment. 
The interviewers will award you a 4/5 or 5/5 if they deem your performance to be above the expected level. A 3/5 is a satisfactory score, reflecting the performance level of a trainee who's ready to progress. However, a score of 1/5 or 2/5 means that the interviewers are concerned about an element of your performance. 
The scores from each area of the interview are then combined to give you a raw interview score (RIS) between 8 and 40. To be classed as 'appointable', you must meet the following criteria for your interview scoring:
None of your 8 interview scores can be 1/5
A maximum of 2 of your interview scores can be 2/5
Your RIS must be 24 or more
If you fail to meet any of the above criteria, your application will be deemed not appointable, and you'll be unable to progress in this round of recruitment. However, if you do meet the criteria given above, your application will be considered appointable, and you'll be considered for post offers. This process involves applying weighting to your raw scores for each area, as well as your application score, to give a total score, which will determine your ranking for offers.
Our Dermatology ST3 interview question bank has been designed to provide a broad range of topics across the three interview stations and high-quality explanations to help you succeed at interview. Find out more about the Dermatology ST3 interview question bank here.
Good luck!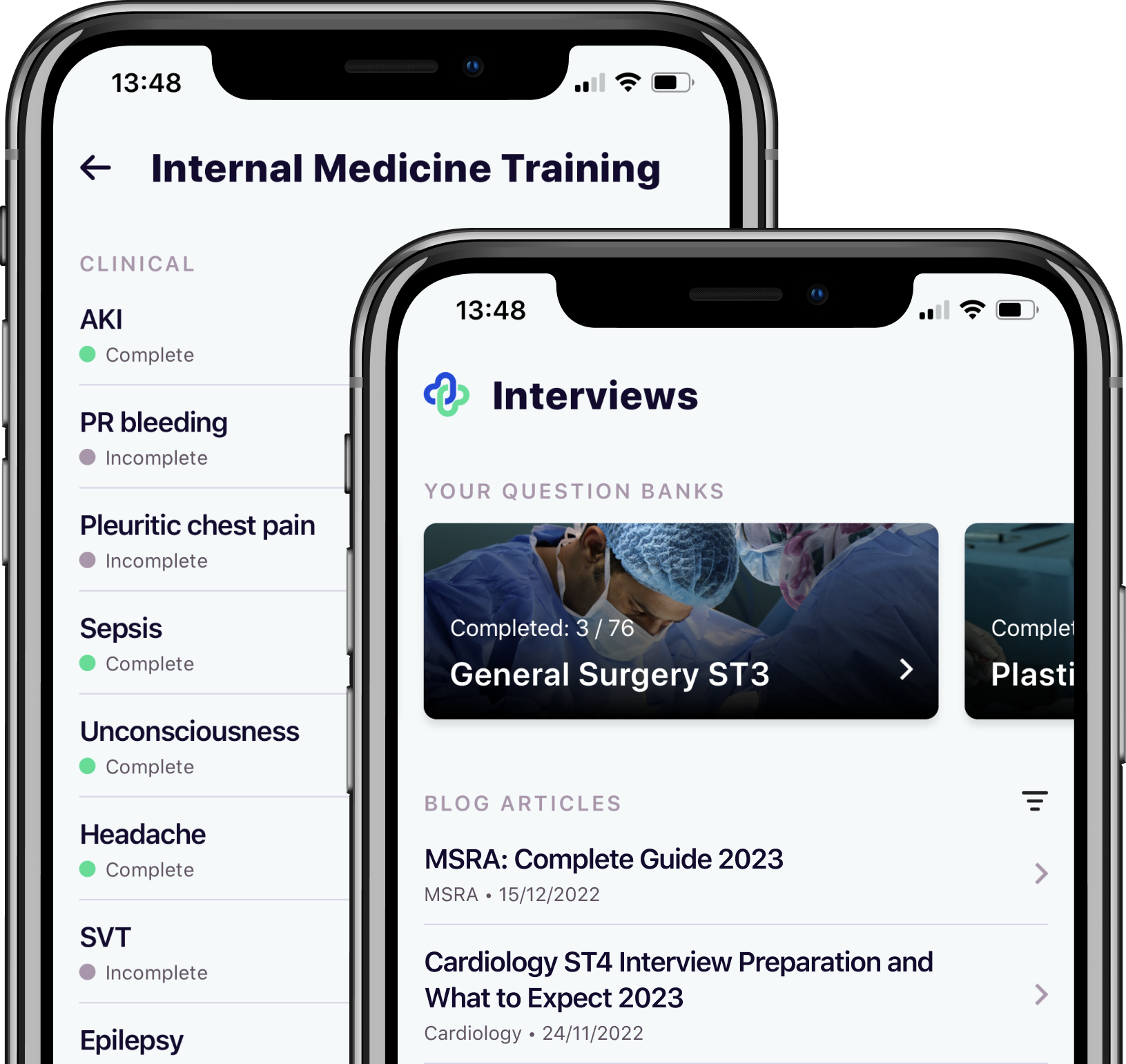 Take your subscriptions with you
Our mobile app allows you to access your interview and exam question banks wherever you are.