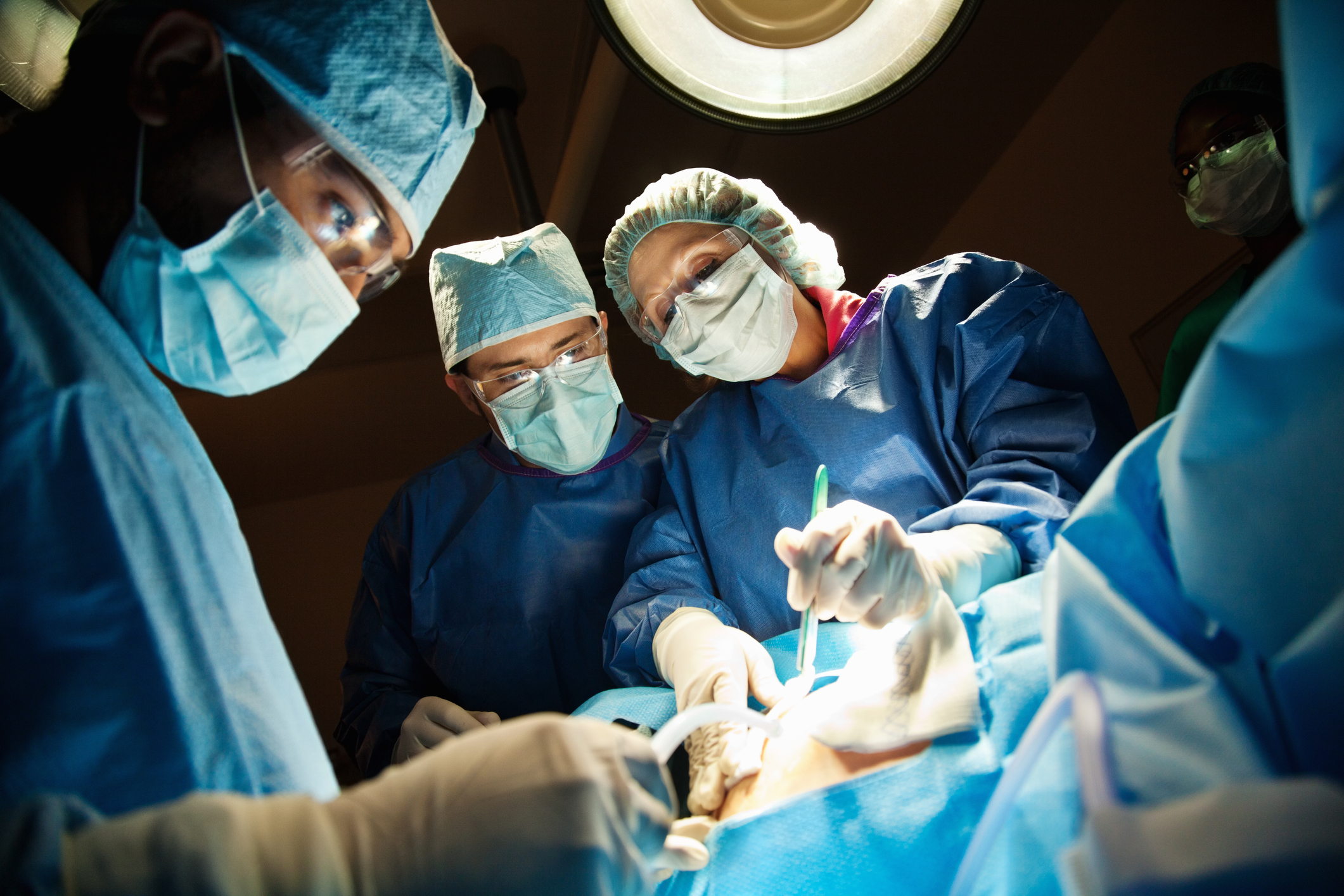 T&O Surgery
29th November 2023
Trauma and Orthopaedic Surgery ST3: Interview 2024
If you're considering applying for Trauma and Orthopaedic Surgery ST3 (T&O ST3), you'll no doubt be aware that it can be a competitive specialty. With this in mind, we have created this T&O ST3 interview guide to help you prepare well for the interview and application process.
Here you'll find everything you need to know about applying for T&O ST3, including the application timeline, format of the interview and the competition ratios, to give you the best chance of a stress-free application process.
Trauma and Orthopaedic Surgery ST3 Interview Timeline
The following is the T&O ST3 recruitment timeline for 2024:
| Activity | Date |
| --- | --- |
| Applications open | 16 November 2023 at 10am |
| Application deadline | 7 December 2023 at 4pm |
| Self-Assessment Uploads | 20 December 2023 – 5 January 2024 |
| Self-Assessment Verification | 11 – 12 January 2024 |
| Interviews | 18 – 21 March 2024 |
| Initial offers released on | 18 April 2024 by 5pm |
| Holding deadline | 23 April 2024 at 1pm |
| Upgrade Deadline | 24 April 2024 at 1pm |
Maximise your performance at the T&O ST3 interview by preparing effectively and efficiently with our Interview Question Bank.
Find out more →
T&O ST3 Applications
Applications for T&O ST3 2024 will open between 16 November – 7 December 2023, giving you a limited amount of time to submit your application. You can only apply through the Oriel recruitment system, and all sections of the application need to be completed.
The ST3 T&O application form has several self-assessment multiple-choice questions. This part of the application form requires you to select responses to the questions while providing evidence to support your answers.
The T&O self-assessment questions cover:
Specialty Experience
T&O Specialty Experience
Related Specialty Experience
Operative Experience
Publications (a)
Publications (b)
Presentations
Audits
Higher Degrees
Leadership
Teaching
As part of the essential entry requirements for T&O ST3, you must successfully complete MRCS Part A and Part B by the offer date. It's also desirable to have:
Completed a minimum of 10 months' experience in Trauma and Orthopaedic Surgery
Acquired CT/ST1 and CT/ST2 ISCP competencies identified within the T&O curriculum within the last 24 months
Gained a minimum of 8 months' experience in two related specialties – for example, Plastic Surgery, Neurosurgery, Vascular Surgery, ENT Surgery, Cardiac/Thoracic Surgery, A&E, ITU, Urology, OMFS and General Surgery.
You can find more information about the entry criteria and person specification for T&O ST3 here.
T&O ST3 Interview Format
If your evidence is verified by the assessors and your application is considered successful, you will be invited to an interview.
The T&O ST3 interview is a multi-station, 60-minute interview. This will be split into the following four 10-minute stations, please note, the Communication station is an addition for 2024, after previously being removed from the virtual interviews:
Commitment to Specialty (previously Portfolio)
During this station, you will be interviewed about various aspects of your career. The two interviewers will be looking to gain insight into your experience to date.
The categories on the mark scheme include:
Career Motivation, Learning and Development
Leadership and Team Involvement
Organisation and Planning
Communication – Information Giving
Academic
All the above categories are given a score out of 5 by each examiner, giving a total of 10 available points per category.
Below is an example question from our Trauma and Orthopaedic Surgery ST3 interview question bank: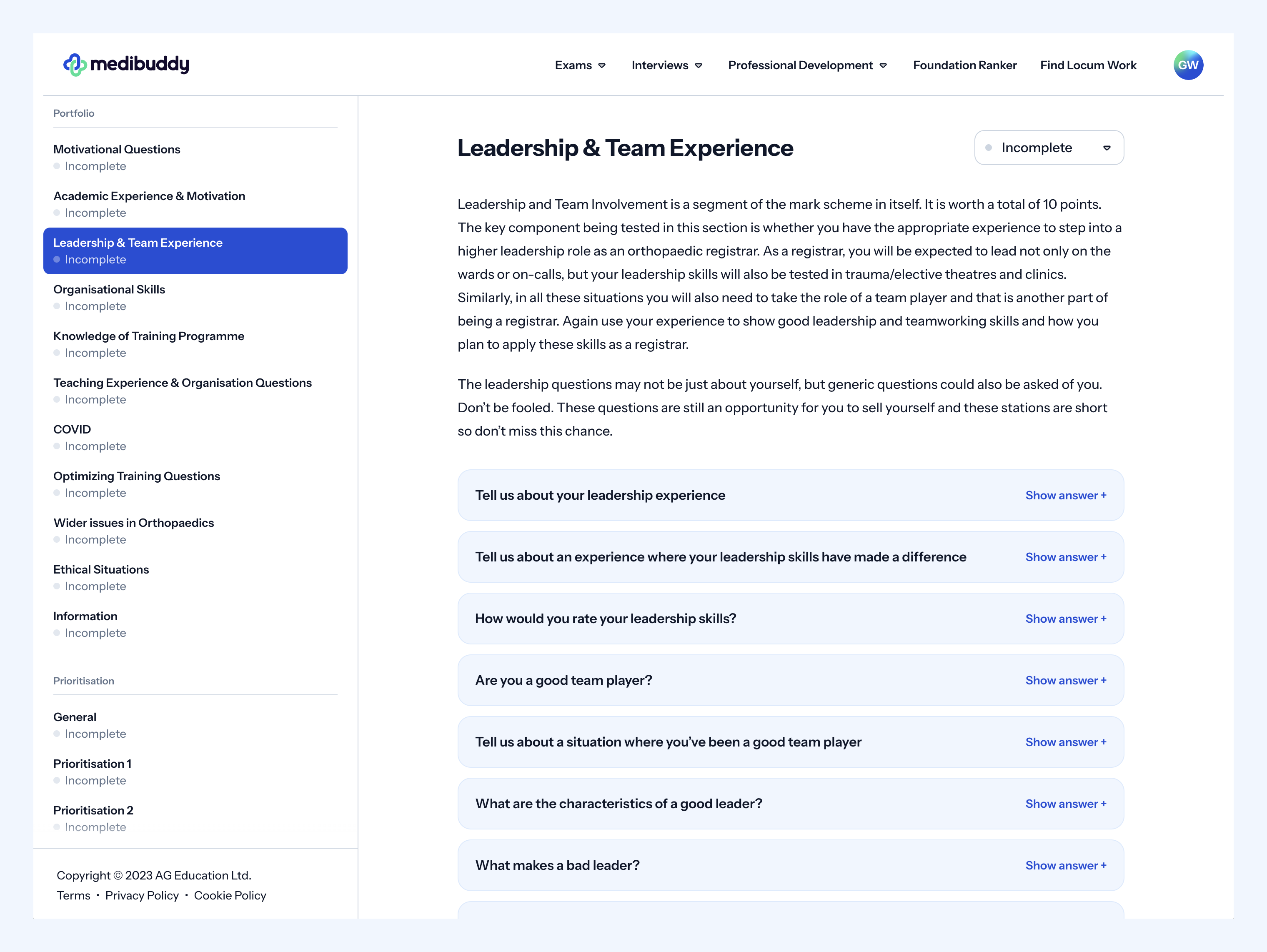 Clinical
The clinical station consists of two halves and two scenarios lasting 5 minutes each. Candidates are presented with XRs or scenarios either from a trauma or elective setting and then asked related questions. The assessors will score you based on the following:
Technical Knowledge
Problem Solving and Decision Making
Situational Awareness
Communication – Information Gathering
Communication – Information Giving
The following is an example of a trauma scenario from our T&O ST3 interview question bank: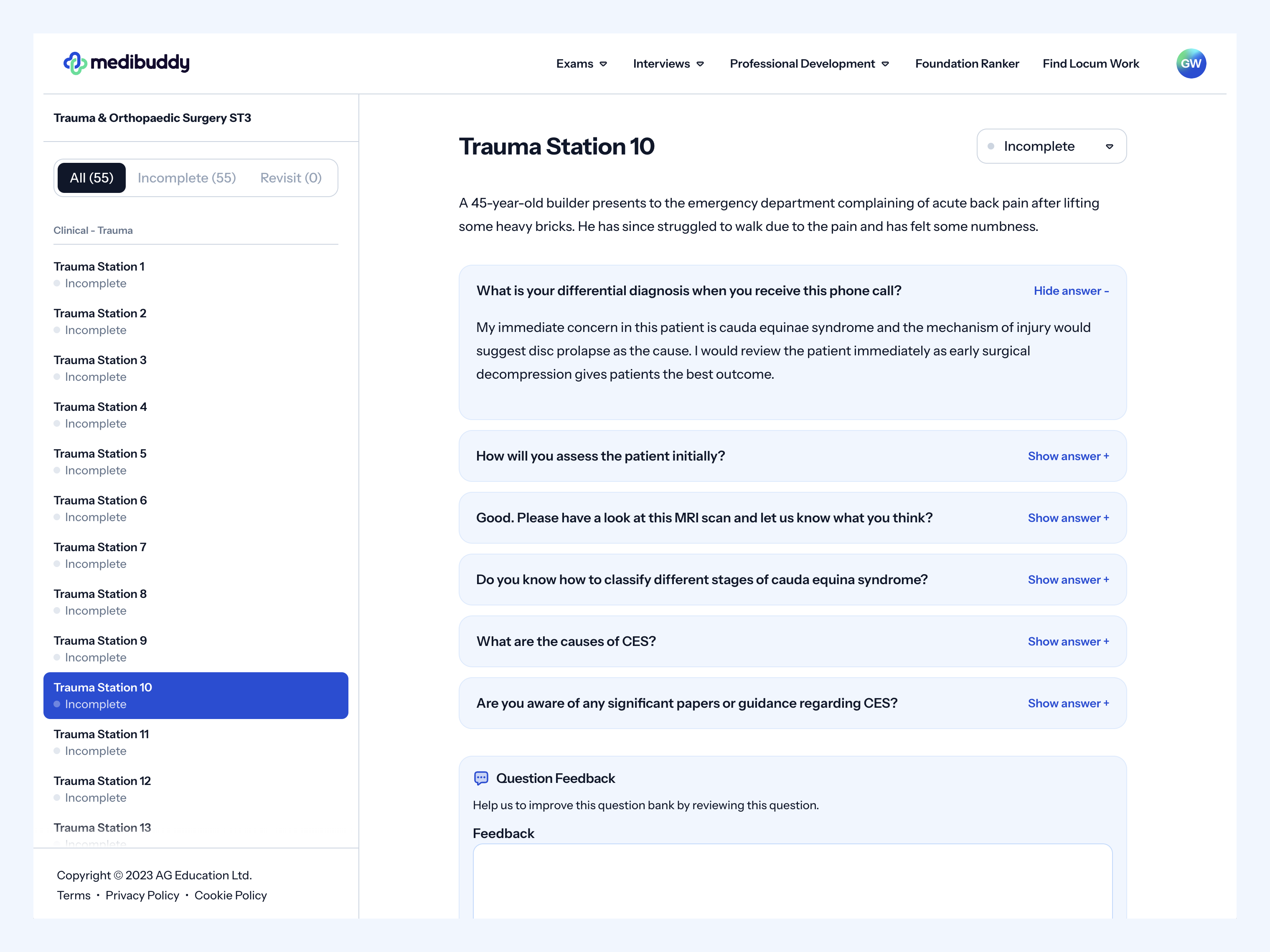 Prioritisation
This station – sometimes considered the trickiest – consists of a prioritisation exercise. It tends not to test any new knowledge that hasn't been covered in the clinical station but requires a certain technique to excel.
The candidate is presented with several cases which they must prioritise in order of urgency. Usually, the setting is that of the on-call registrar organising the next day's trauma list and also deciding which patients to see first in the emergency department.
To give you an idea of the types of prioritisation questions you might face, the following is an example from our T&O ST3 interview question bank: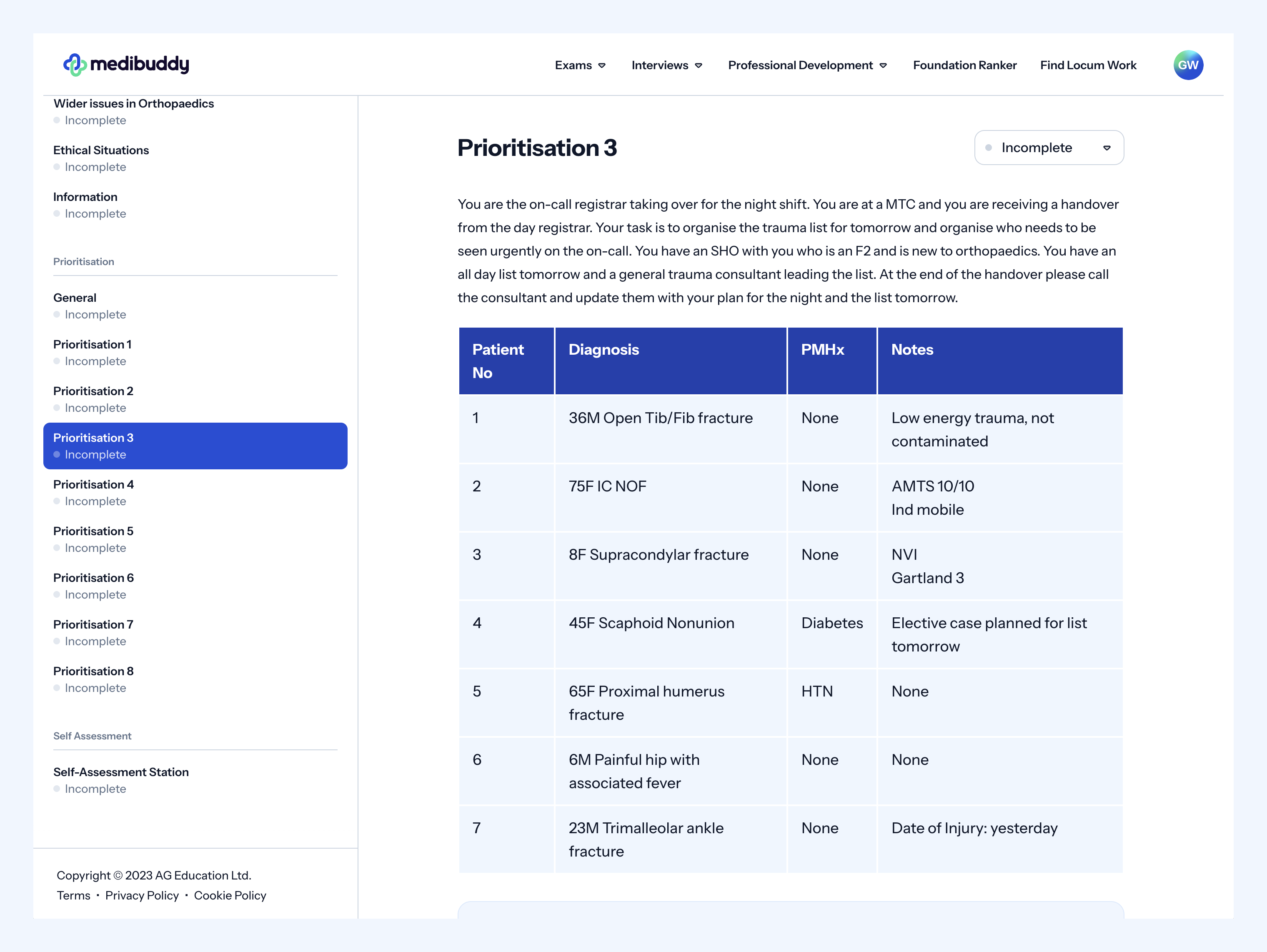 For each prioritisation question in our T&O ST3 interview question bank, you'll be given a possible answer (prioritisation list) and a discussion of each case to understand how this decision has been reached.
The two interviewers, who score you independently, will test elements of your skill set. This includes:
Organisation and Planning
Communication – Information Gathering
Communication – Information Giving
Judgement Under Pressure
Situational Awareness
As with the previous stations, there will be a maximum of 10 points per category available.
Communication (New for 2024)
Previously, communication was assessed across the other three stations (as is still the case). However, for the T&O ST3 2024 interview, it has also been introduced as a separate station.
The communication station is based on a scenario involving communication with a patient. You will be assessed – and scored individually by the two assessors – against the following domains:
Technical Knowledge
Situational Awareness
Judgement Under Pressure
Communication – Information Gathering
Communication – Information Giving
The full scoring matrix for the interview can be found in Appendix 4 of the applicant handbook.
We have added Communication scenarios to our question bank for 2024, and have provided an example below so you know what to expect.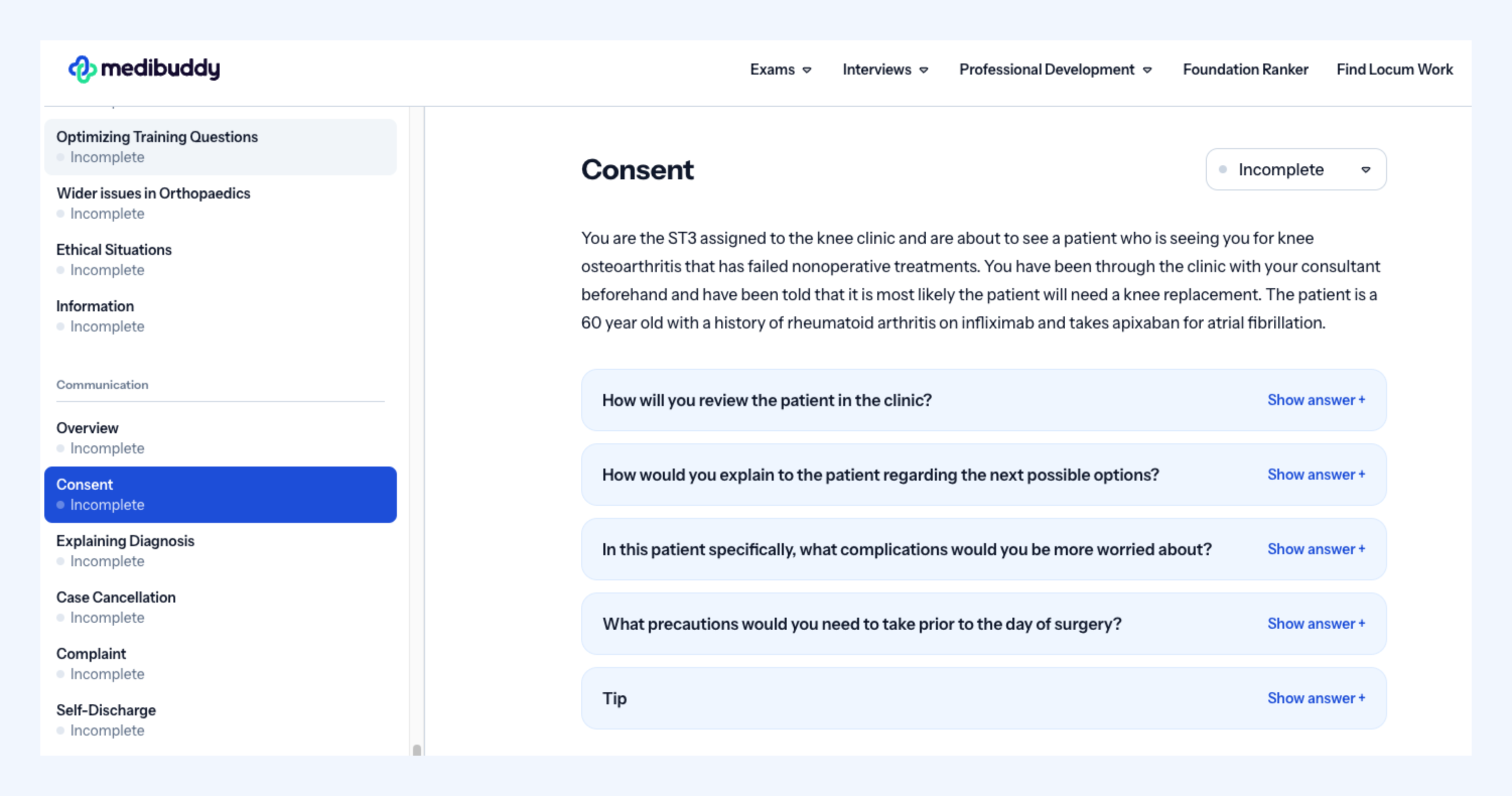 T&O ST3 Competition Ratios
In 2023, T&O ST3 had 483 applications. With only 160 posts, there was a competition ratio of 3.02. This means more than three people were applying for every post. With a high number of applicants battling it out, you need to ensure that your T&O ST3 application is the best it can be.
When preparing your application, we recommend ensuring you are familiar with the self-assessment scoring guidance and the application handbook. We've also designed the Medibuddy Trauma and Orthopaedic Surgery ST3 Interview Question Bank with a broad range of questions covering all elements of the interview and detailed explanations to help you succeed. You can find out more about our new T&O ST3 interview question bank here.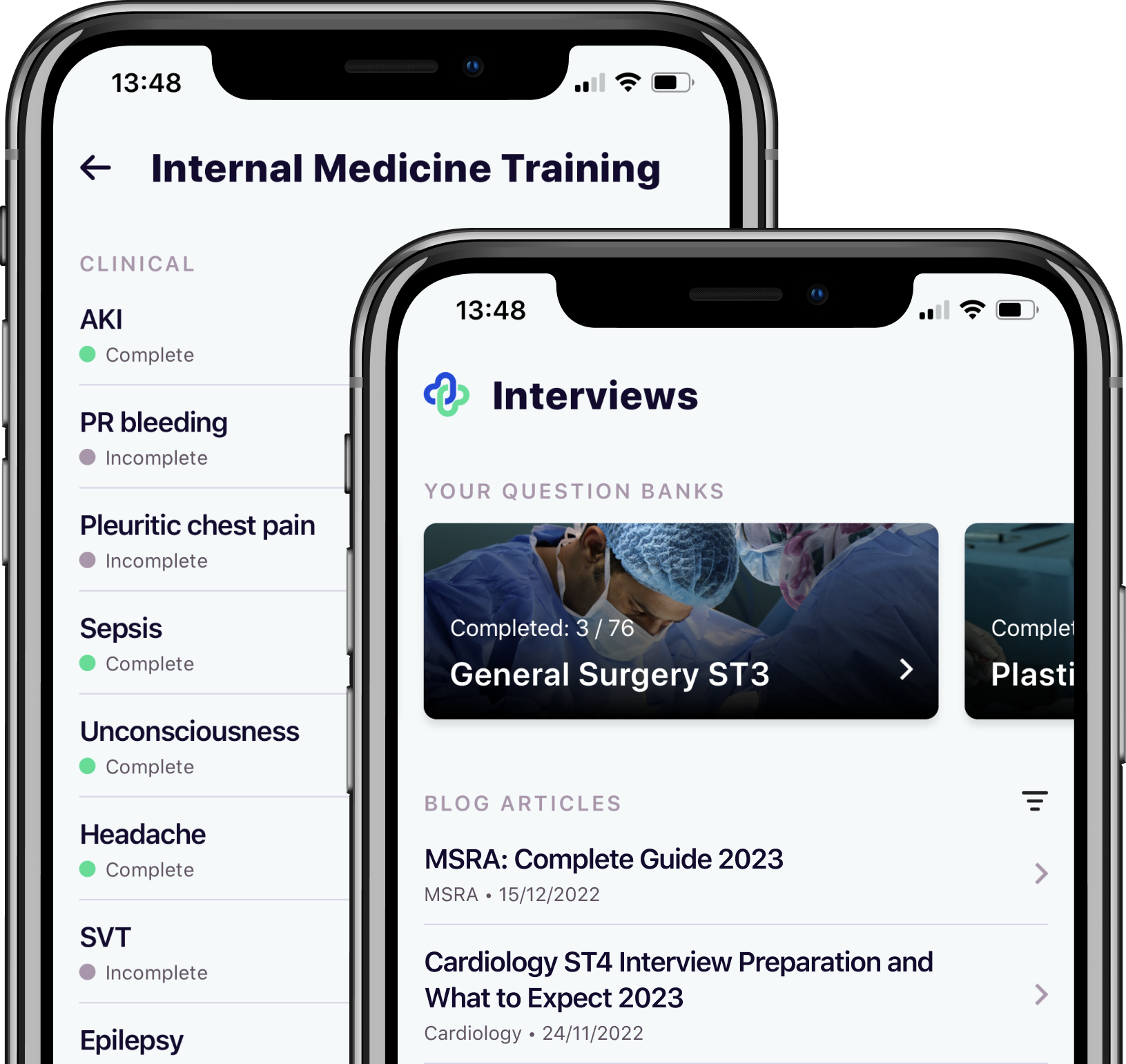 Take your subscriptions with you
Our mobile app allows you to access your interview and exam question banks wherever you are.