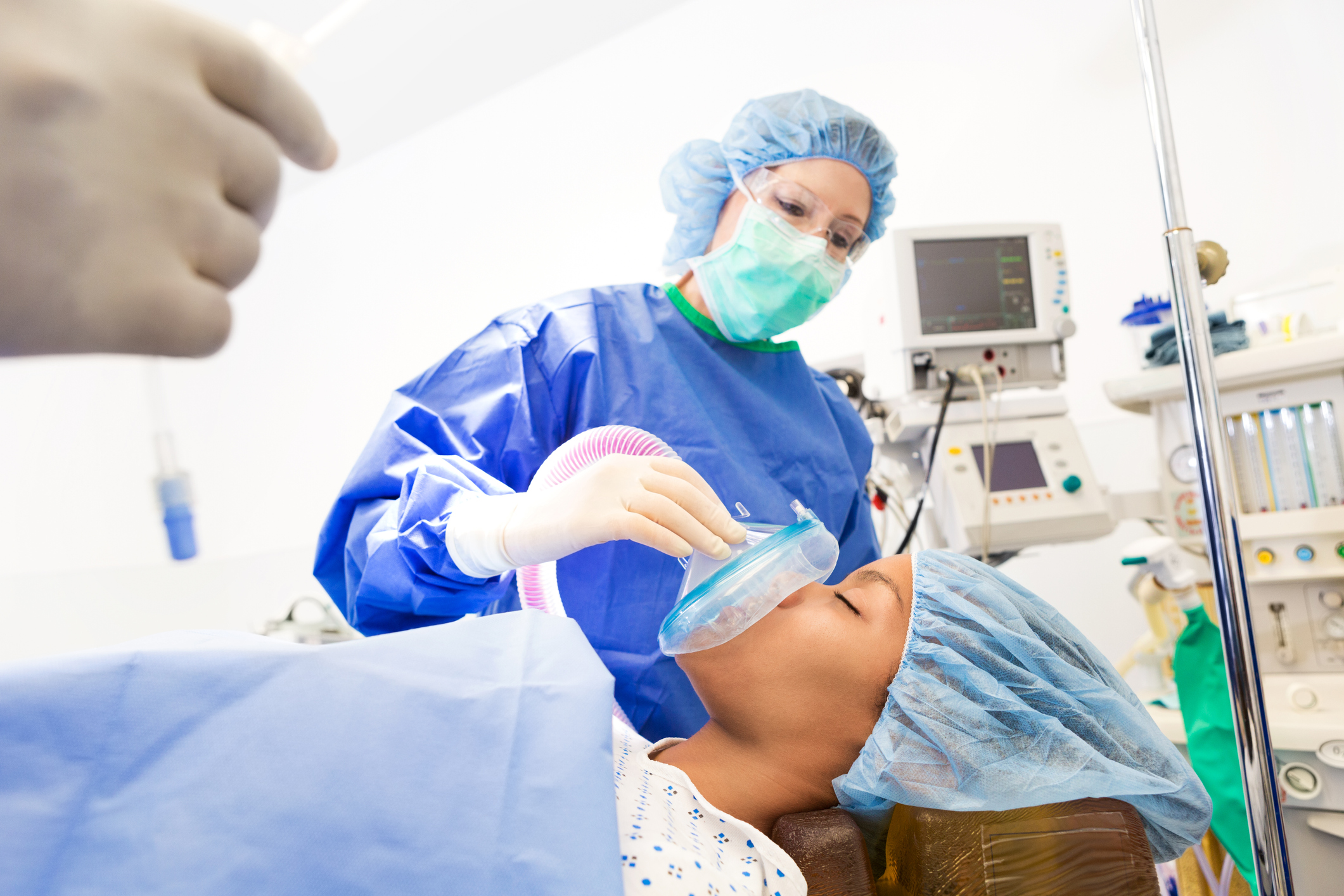 Anaesthetics
10th November 2023
Anaesthetics ST4 Interview 2024
If you're considering applying for Anaesthetics ST4, this guide covers everything you need to know about the application process and interview. This includes the key Anaesthetics ST4 recruitment dates, the format of the interview and how it's scored by the assessors. 
Competition for Anaesthetics is affected by multiple factors including the number of applicants and the number of posts available. You will find historical data on competition ratios on the Specialty Application website. However, bear in mind that the previous competition ratio does not mean your application cycle will be just as competitive, and factors change every year, so do not let that stop you from putting in your best application!
We have created this Anaesthetics ST4 interview guide to help you stand out with your application.
Anaesthetics ST4 Application
The first stage in the Anaesthetics ST4 recruitment process is to submit an application via Oriel.
Recruitment for Anaesthetics ST4 happens twice a year for February and August commencement.
The next recruitment is for August 2024 entry, with the application window running from 16 November – 7 December 2023. As with other Oriel job applications, late applications will not be accepted. 
You can find a full breakdown of the Anaesthetics ST4 recruitment dates in the section below.
As of the time of writing, the Anaesthetics ST4 application will go through a longlisting and a shortlisting process. During longlisting, all applications are assessed based on essential criteria found on the ST4 Anaesthetics Person Specification. Only applicants who meet the essential criteria will be longlisted. They then go on to undergo the shortlisting process.
The shortlisting process consists of self-assessment scoring and an interview. These will be discussed below.
Anaesthetics ST4 Self-Assessment 2024
There are several self-assessment questions throughout the Anaesthetics ST4 application. The self-assessment questions are used to determine your strengths within the field of Anaesthetics. So, you must answer all the questions honestly. 
The Self-Assessment score is made up of a number of categories. These categories may differ slightly between different application cycles. The Self-Assessment categories for the August 2024 and February 2025 commencement are:
Additional degrees and qualifications

Additional achievements, prizes, and awards relative to medicine

Postgraduate clinical experience in other specialties (excluding those done during Foundation Programmes, Anaesthesia, research and teaching)

Quality improvement

Research

Teaching

Academic publications

Presentations and poster presentations

Continuing professional development in stage 1 training or equivalent (CT1-CT3)

Activities demonstrating leadership and/or management inside or outside of work
It is important to carefully read the following documents on the ANRO website when scoring yourself based on your achievements:
You may also use the Letter of Evidence (also found on the ANRO website), signed by your supervisor, to substantiate your evidence for one or more of the Self-Scoring categories.
If you meet the longlisting criteria, you will be able to upload your evidence from 15 – 22 January 2024. However, to ensure a swift process, you should have your documents in the appropriate format (PDF/JPG) before this period.  
Once submitted, your evidence will be verified by a clinical assessor to determine your global rating. All applications start with 5 points for their Global Rating Score. However, points will be deducted if the evidence that is provided is as follows: 
The evidence is unlabelled and difficult to find

There are more than the recommended 4 documents

The documents are poor quality and difficult to read
You can find guidance for Global Rating Score on the ANRO website; it is also important that you read and understand these documents.
Anaesthetics ST4 Key Dates
The Anaesthetics ST4 recruitment process takes place twice a year. Round 2 covers start dates in August, while round 3 covers February start dates. 
For 2024 entry, the key recruitment dates for round 2 (August 2024 start dates) are as follows:
| Stage | Date |
| --- | --- |
| Advert appears | 15 November 2023 |
| Applications open | 16 November 2023 (10am) |
| Applications close | 7 December 2023 (4pm) |
| Self-assessment document upload window | 15 – 22 January 2024 |
| Self-assessment verification scores released | 12 February 2024 |
| Self-assessment verification review window | 12 – 14 February 2024 |
| Invitations to interview & applicant declaration | 28 February 2024 |
| Deadline for interview & applicant declaration | 1 March 2024 |
| Interview window | 12 March – 9 April 2024 |
| Offers from | 17 April 2024 |
| Hold deadline | 23 April 2024 (1pm) |
| Upgrade deadline | 24 April 2024 (1pm) |
The available vacancies for different regions will be advertised on the ANRO website.
Anaesthetics ST4 Interview Format
The Anaesthetics ST4 interview is split into two stations. You will be interviewed by 2 interviewers for each station. Each station lasts 15 minutes, although you can expect the whole interview process to take up to 50 minutes. For 2024 recruitment, the interview will continue to take place online. Hence, it is important for you to have a reliable internet connection and a laptop with a camera and microphone. 
Before your online interview, you will receive information about how to log in to the QPERCOMf system. This will also include a video guide on how to use the QPERCOM system. You will also be encouraged to perform a compatibility test with the device you intend to use for your interview prior to your interview day.
The interview is made up of the following two stations:
Clinical scenario
At the start of the station, you will have 5 minutes to read the scenario. You will be able to make notes on a blank piece of paper. Once the 5 minutes is up, you then have 15 minutes for this interview station. You will be asked questions related to the clinical scenario. The interviewer may add key information as you progress through the clinical scenario.
An example from the Medibuddy Anaesthetics ST4 interview question bank can be seen below: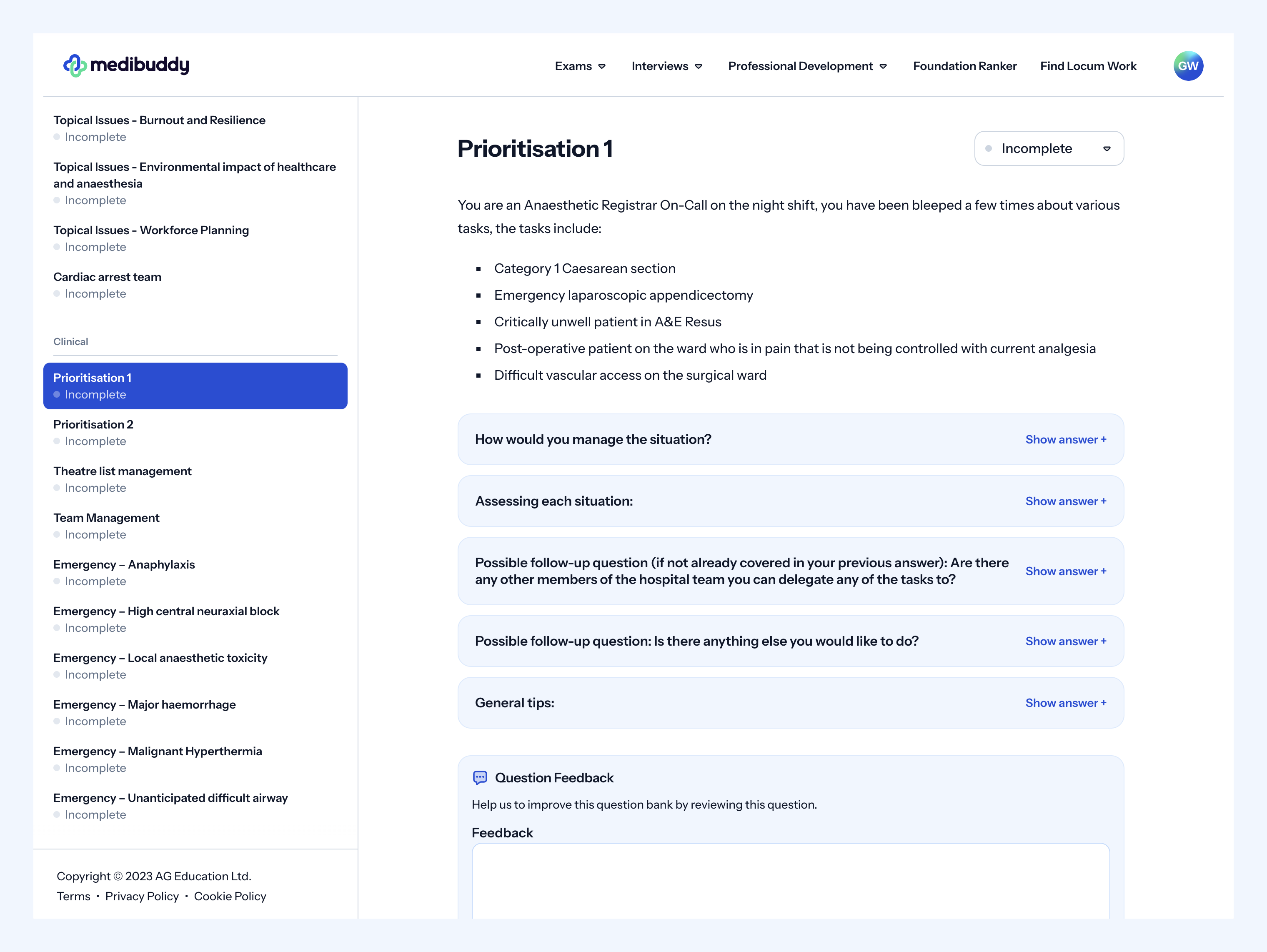 The interviewers will assess your clinical judgement and decision-making, teamwork and ability to work under pressure. There will be 15 makes on offer from each interviewer making 30 marks for this station in total. This does not include the Global Rating discussed below .
General interview
In this station, you will be asked questions about your training so far and your experience within the speciality. Some questions will require you to reflect on specific experiences, while others may include discussion on wide topics related to the NHS and Anaesthesia. 
This part of the interview will be assessing the following domains:
Professional behaviour and communication skills
Reflective practice
Demonstration of either Safety and QI or Research and Data or Education and Training or Health Promotion
Each assessor will score you individually out of 5 for each domain, giving a total of 30 available marks for this station. Again, this does not include the Global Rating which is covered in the next section.
The following is an example of an QI question from our Anaesthetics ST4 interview question bank: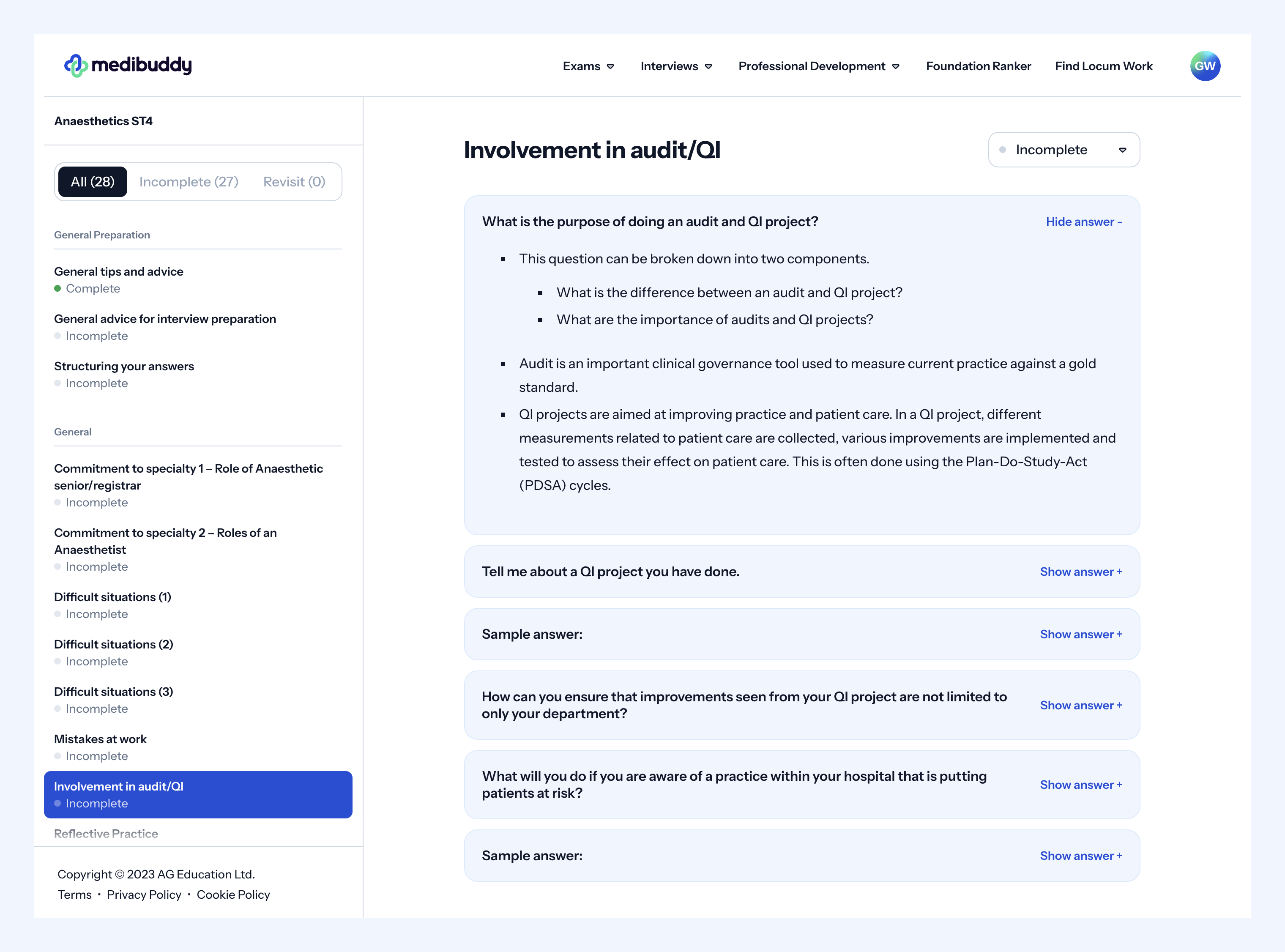 Maximise your performance at the Anaesthetics ST4 interview by preparing effectively and efficiently with our Interview Question Bank.
Find out more →
Anaesthetics ST4 Interview Scoring
With two independent interviewers assessing your performance, there are a possible 60 marks available across both sections of the interview. The scores are then reviewed by the panel, recruitment lead and clinical lead. Once satisfied with the process, each assessor will give you a Global Rating, with up to 40 marks available here, contributing to a possible total of 100 marks.
To be deemed appointable for the Anaesthetics ST4 post, you need to score a minimum of 60 out of 100 in the interview. We've created our Anaesthetics ST4 interview question bank to support you to prepare effectively and succeed in securing a post. You can find out more about what our Anaesthetics ST4 interview question bank offers here. 
Visit the Anaesthetics National Recruitment Office (ANRO) website for the most up-to-date information regarding the Anaesthetics ST4 application.
Good luck!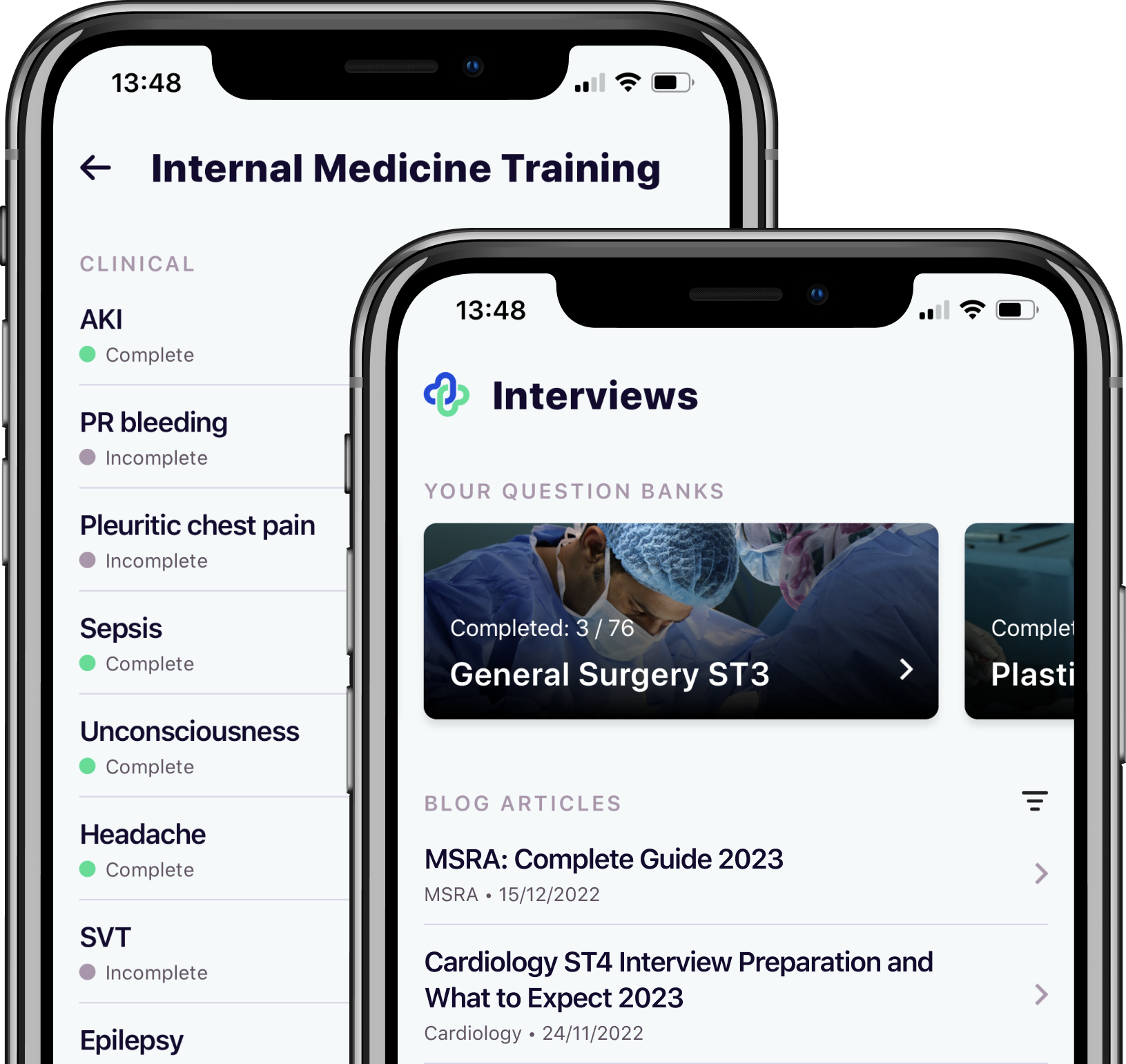 Take your subscriptions with you
Our mobile app allows you to access your interview and exam question banks wherever you are.