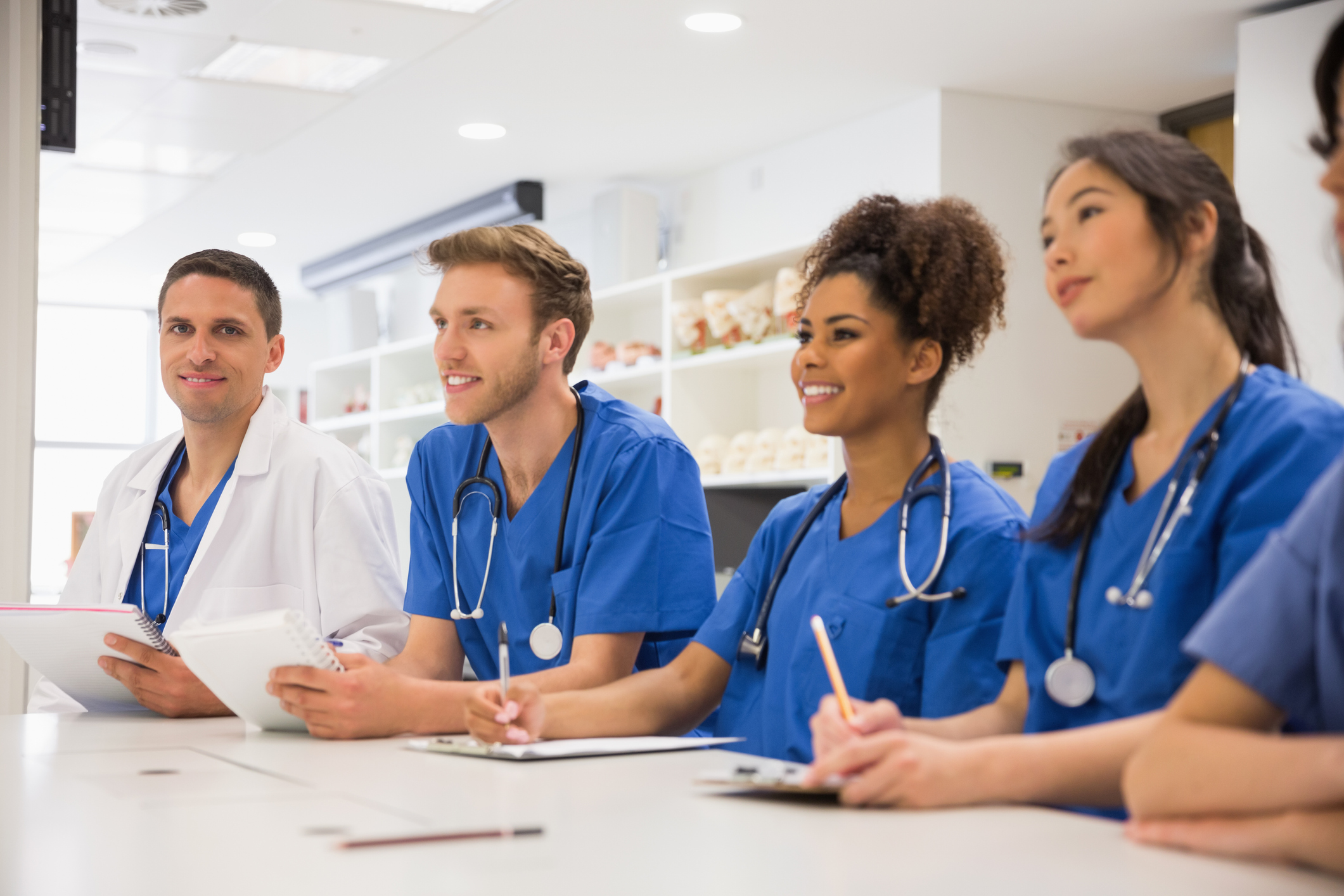 UKMLA
4th October 2023
A guide to the UKMLA AKT exam
The Applied Knowledge Test (AKT) is the first section of the new UK Medical Licensing Assessment (UKMLA or MLA), which is being introduced by the General Medical Council (GMC) for all UK medical school graduates and international medical graduates. The exam will assess the skills needed for safe practice, and is intended to set a common and consistent threshold for all doctors applying for a licence to practise medicine in the UK, regardless of where they studied.
From the academic year 2024-25 onwards, all UK medical school graduates will need to pass the MLA as part of their medical degree before they can join the medical register. However, some medical schools will be completing their finals in the UKMLA format for the academic year 2023/2024.
As a new exam, you may understandably have lots of questions, and we're here to help. This guide will provide you with everything you need to know about the AKT section of the MLA. You'll also find more information in our UKMLA Guide, which we're updating regularly as new information becomes available.
For international medical graduates who currently need to pass the PLAB (PLAB 1 & PLAB 2) before they can register for a licence to practise medicine in the UK, we have more information about how the introduction of the UKMLA will affect you in our PLAB and UKMLA Guide.
Do you need to take the UKMLA?
Our UKMLA question bank, designed specifically to match the exam syllabus, can help!
The UKMLA syllabus differs from old-style medical finals or the PLAB.
Ensure that any question bank provider you use hasn't just changed the name of their old question bank. Medicine is vast, and you may waste considerable time revising topics not in the MLA.
All providers should be able to give you a breakdown of exactly how their question bank matches the UKMLA content map. Find ours here.
What makes up the MLA exam?
The MLA is a two-part assessment, made up of the following:
Applied knowledge test (AKT)
This is an on-screen, multiple-choice exam, which assesses your ability to apply medical knowledge to different scenarios.
Clinical and professional skills assessment (CPSA)
As the name suggests, this assesses your clinical and professional skills. Your medical school may refer to it as an Objective Structured Clinical Examination (OSCE) or Objective Structured Long Examination Record (OSLER). You can find out more about this section of the exam in our CPSA guide.
How big is the UKMLA AKT?
The AKT section of the UKMLA will consist of 200 single-best-answer (SBA) questions, each with 5 answer options. These will be spread across 2 papers (100 per paper) covering the following areas of clinical practice:
| Paper 1 | Paper 2 |
| --- | --- |
| Cardiovascular | Cancer |
| Respiratory | Breast |
| Gastrointestinal | Haematology |
| Medicine of older adult | Palliative & End of Life care |
| Neurosciences | Peri-op medicine & anaesthesia |
| Ophthalmology | Musculoskeletal |
| Endocrine & metabolic | Emergency medicine & intensive care |
| Renal & Urology | Ear, nose & throat |
| Infection | Child health |
| Dermatology | Mental health |
| | Obstetrics & gynaecology |
| | Sexual health |
| | Social/population health & research methods |
| | Medical ethics & law |
Acute medicine, primary care, surgery and clinical imaging will be covered in both papers.
What is the MLA content map?
The MLA content map is based on situations typically faced by doctors working in the UK Foundation Programme (FP). The AKT is designed to assess how you would respond and apply your medical knowledge to these types of situations.
You'll find practice questions for all of these topics in our UKMLA AKT question bank to help you prepare effectively for the exam.
Below is an example of our dashboard, so you know what to expect when you subscribe.
What do I need to know about the MLA AKT?
If you're a UK medical student, your MLA AKT exam will be run by your medical school, while the GMC will administer the exam for international medical graduates. Regardless of where you complete your medical degree, and whether your AKT is set by your UK medical school or the GMC, the MLA aims to ensure that you will be assessed against the same standards for safe practice.
UK medical schools will work together, through the Medical Schools Council (MSC), to set and administer the MLA AKT. The exam will be constructed centrally, with the collaboration of medical schools, and delivered locally. The exam will have a common format, test standard, process for delivery and policy framework.
The central design and development will be overseen, regulated and quality assured by the GMC, to ensure quality, consistency and fairness.
What does this mean for you? It should ensure that you're assessed against the same standard of proficiency as all other UK medical graduates and are prepared to practise medicine as a Foundation Year doctor following graduation.
Is the AKT similar to previous years' medical school final exams?
The MLA content map sets out the core knowledge, skills and behaviours needed for UK practice. These are the topics which could be assessed within the AKT (and CPSA exams). The content map is based on the GMC's Outcomes for Graduates, which outlines what newly qualified UK medical graduates must know and be able to do. This is already in place and every UK medical school needs to ensure that their graduates are meeting these outcomes; therefore, the topics covered at your medical school should be similar to those in the UKMLA content map. When you are revising, be sure to plan your preparation based on the MLA content map only, as medicine is so vast, you don't want to spend time revising topics that will not come up.
UKMLA AKT Exam Dates 2024
UK medical students who plan to graduate in the academic year 2024-25 and onwards will take the MLA in the penultimate or final year of their medical degree.
The dates for the exams will be set by your individual medical school; this will likely be in line with when your medical school currently sets finals, although it doesn't have to be.
Bear in mind, you could undertake the MLA before the academic year 2024-25, as some universities are participating in the academic year 2023/2024.
Likewise, if your medical school is involved in the phased introduction and piloting scheme for the MLA, then you may also find that you need to take the MLA before the academic year 2024-25.
UKMLA AKT Preparation
The MLA content map outlines the possible topics and areas which may be assessed in the MLA. These are the required knowledge, skills and behaviours necessary to practise medicine in the UK.
As mentioned previously, the MLA content map is based on the GMC's Outcomes for Graduates, and as UK medical schools already work towards ensuring their graduates meet these outcomes, they should already be covering this and preparing you for the MLA.
The GMC states that your degree is the best preparation for the MLA. What's more, you don't need to learn anything beyond what is covered in your medical school's curriculum.
You can find more information about the MLA content map, including the 3 overarching themes and 6 sections, in our guide to the UKMLA.
We recommending starting your revision early, for example answering select number of questions every evening, to start familiarising yourself with the types of questions that will come up, so you aren't overwhelmed in the weeks and months before your exam.
UKMLA AKT Question Bank
The MLA content map – which includes an 'A-Z of presentations' that may be assessed in the exam – is useful for identifying topics which you may need to revise. However, it's then up to you to revise these topics and ensure that you're prepared for any questions you may have to answer about them. This is where a UKMLA question bank can help!
A high-quality UKMLA question bank will be mapped against the MLA content map and cover all possible topics to fully support your exam revision. Our comprehensive UKMLA question bank does just that, with over 4000 questions covering every MLA presentation and condition, it is specifically designed to make revising for the MLA simple and effective.
With detailed explanations linked to each question and available in our library for every UKMLA AKT topic, our question bank is more than just questions and answers. It has been created to assess your understanding and develop your knowledge across all areas of the UKMLA AKT. Focused entirely on the content map, we don't include 'extra questions'; medicine is vast, and you must ensure your revision is as targeted as possible.
What's more, our UKMLA question bank uses artificial intelligence to personalise your learning and ensure that each question you're given is tailored to your individual learning needs. How does this work? Our state-of-the-art algorithms continually assess you as you're answering questions to identify your strengths and weaknesses and provide you with questions and topics aimed specifically at your areas for development. This means you're given the right questions at the right time, making the most effective use of your revision time, and helping you to improve more!
Is there a MLA AKT Pass Mark?
The MLA AKT is a pass/fail assessment. You will be given a score for the AKT exam but no pass mark has been provided at this stage.
The standard will be set nationally – by a panel of experts from different UK medical schools – and must meet the GMC requirements. Additionally, your individual medical school will need to ensure that their approach to scoring enables fair and consistent pass/fail decisions on candidate performance.
We'll continue to provide updates on the AKT scoring system as more information becomes available.
Will my MLA AKT score affect my foundation score ranking?
There's a lot of guesswork going on – and some incorrect information floating around – as people try to figure out how foundation score rankings may be affected by the introduction of the MLA.
The simple answer is: No, your AKT score will not affect your foundation school ranking.
A lot of confusion stems from people trying to understand how the AKT will fit with the current model of calculating your Foundation Programme Application System (FPAS) points, which is achieved by combining your Educational Performance Measure (EPM) and your Situational Judgement Test (SJT) Score. Your EPM is a measure of your clinical and non-clinical skills, knowledge and performance, and is determined by your medical school, so understandably there was speculation that your AKT score may be incorporated into this.
However, the UK Foundation Programme (FP) announced a major change to the FP allocation process from the 2024 recruitment window onwards. This sees the removal of the EPM and SJT for the purpose of ranking. You can find more information in our complete guide to foundation job ranking.
We understand you may be feeling stressed or anxious about the introduction of the MLA, particularly if you're due to be the first cohort of students undertaking the exam, and trying to wade through the information out there. We'll continue to share more information as it becomes available.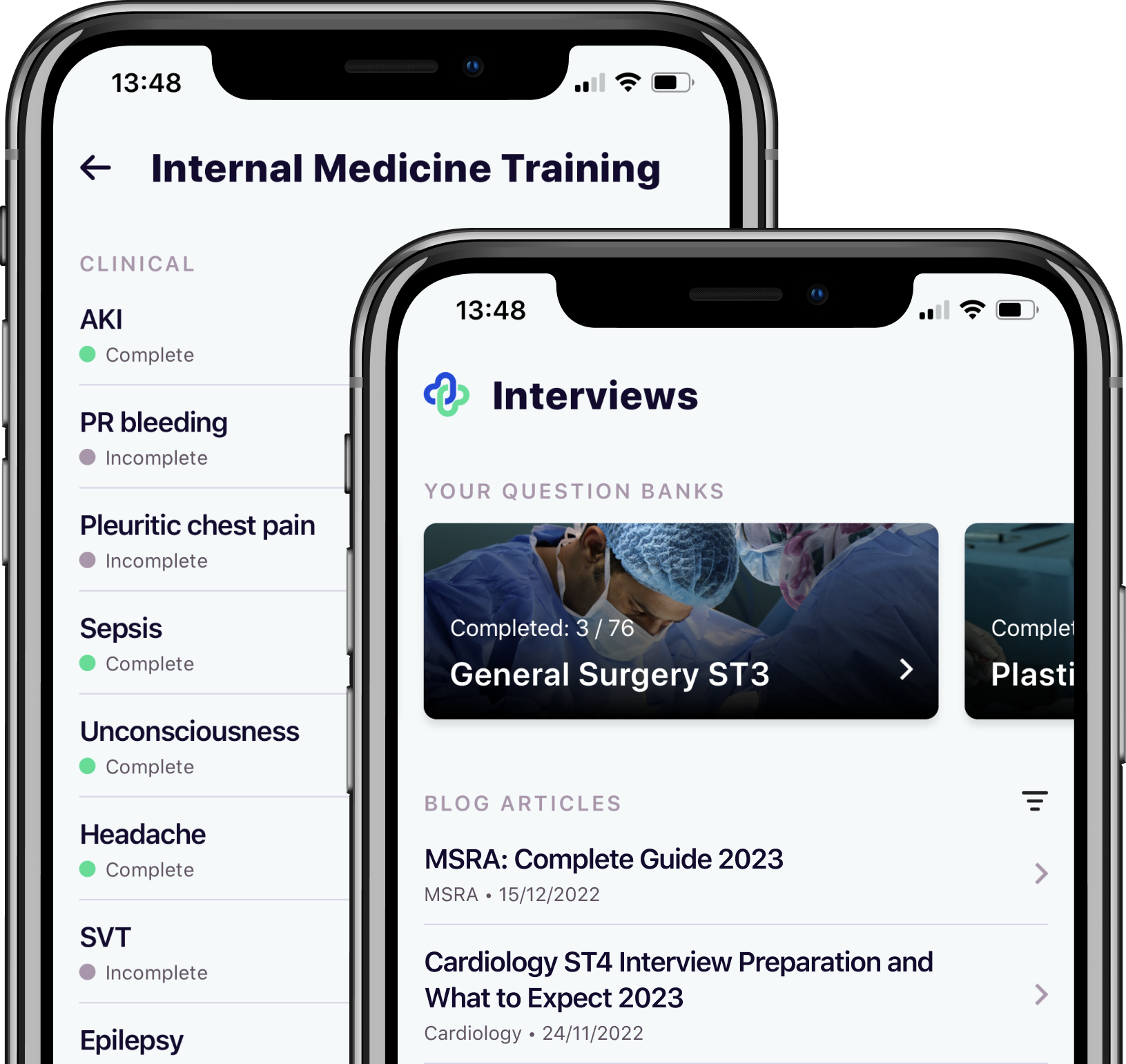 Take your subscriptions with you
Our mobile app allows you to access your interview and exam question banks wherever you are.