Core Surgical Training (CST) interviews are usually held between mid-January to mid-February. Whether you are a foundation year doctor, medical student or taking a year out of training, if you are serious about applying for surgical training, it is important to review the portfolio points early in order to put yourself in the strongest position, within your time scale. You can also checkout our Core Surgical Training Interview Question Bank to help you prepare.
Guaranteed points
The portfolio station is worth 33% of the overall score in the interview and is only station for which you can guarantee points prior to the day of the interview.
The 2019 portfolio points guide is attached, please read it carefully. Total points = 72 but each interviewer will give a score, which is then divided by 2.
With only a few points between candidates an extra point can make a significant difference to the outcome of your interview.
Please note the points have had similar themes and criteria for the last few years but may change slightly for 2020.
The remaining 66% of interview points come from the management and clinical stations for which performance also relies on good preparation but all points are determined on the day – please see our core surgery interview question bank for preparation in these areas.
Degrees
This section covers additional degrees. There are no easy ways to maximize the points in this section in a short time scale. If you are an applicant for 2020, you either have them or you don't.
If still at medical school or in a position where you would like to take an additional degree the shortest option to max out points in this section would be a MSc or intercalated BSc (with 1stclass honors). However gaining points in this area is certainly the most expensive and time consuming, and you may be better of focusing on other areas of your portfolio.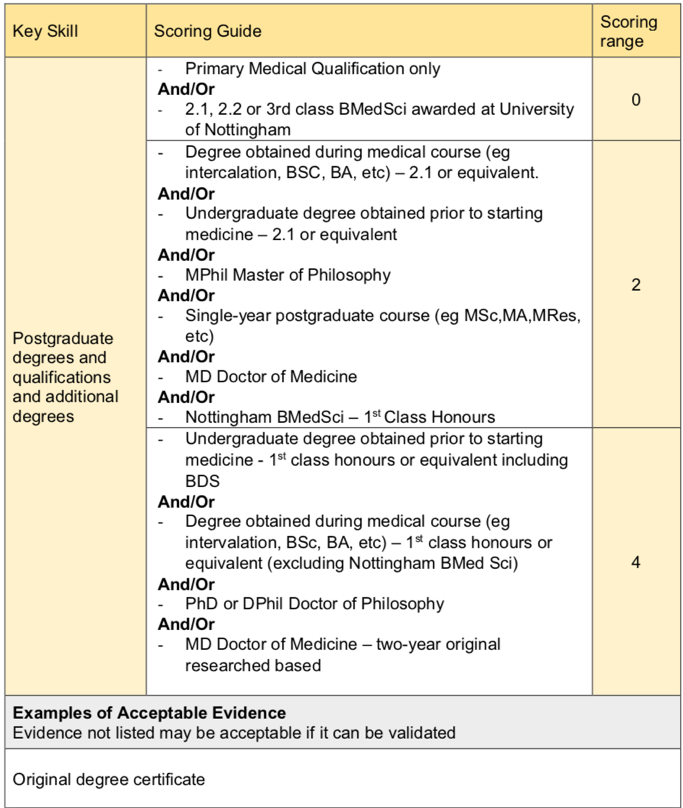 CPD Courses
There are a wide range of CPD courses other than the examples given. These should be relatively easy points as you can book such courses within a short time scale. In addition to gaining you vital points, these course which will benefit your clinical skills and knowledge for your surgical career.
BSS and ATLS are the courses most commonly undertaken and most trainees find them very useful. A number of other surgical introductory courses with CPD points are run by the RCS, RSM and surgical societies e.g. ASIT offering a range of surgical skills.
It is useful to identify courses which interest you and book early as courses often fill up. Do not worry too much if courses such as ATLS are overfilled prior to the interview, as interviewers acknowledge this problem and usually understand. However try to find other CPD courses in areas of interest so you do not miss out on these points.
The study budget will usually only cover one extra-curricular surgical course, so use this to cover one of the more expensive courses (ATLS/BSS/CCrisp). There are also plenty of other courses which are much cheaper (some are even free/ covered by local hospitals) – so check the approved list several months in advance! Ask your local hospital if they have any courses running which you could sign up to.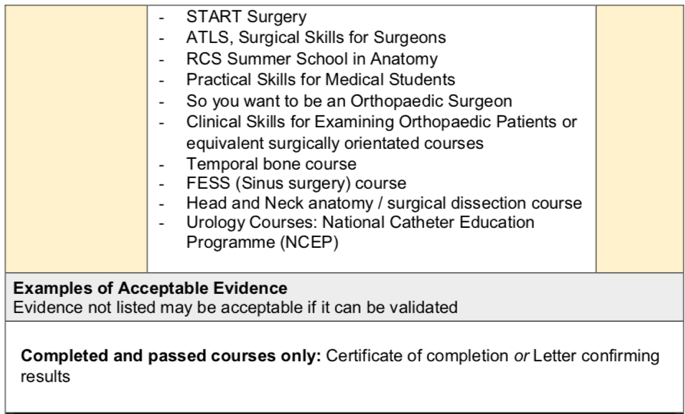 Additional Achievements
Undergraduate or postgraduate distinctions, prizes or awards: these can be challenging to achieve in a short space of time if you do not have them already. Potential areas include:
Essay competitions from surgical societies. These often have poor submission figures with less competition than you may think.
Conference poster or presentation prizes – try to submit to as many as you can but consider:
Small conferences or regional meetings may be less competitive to win prizes while larger meeting e.g. RSM may offer a range of prizes
Prizes related to Quality improvement projects/ audits (can score points in multiple categories with one project!).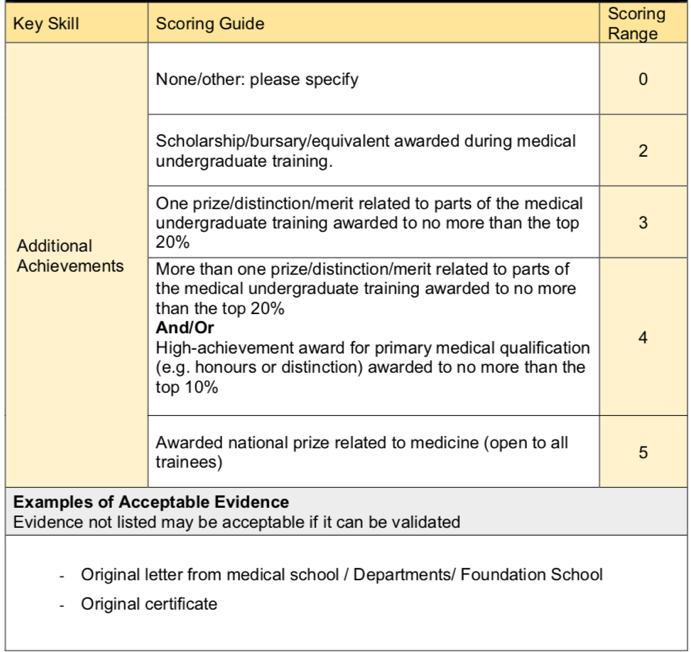 Quality Improvement (Clinical Audit)
Full marks in this section requires you to have "designed, led and implemented change using QI methodology through a QI project; and have presented the results at a Regional or National meeting." This should be achievable if you choose a project early (ideally FY1 year), and identify regional/ national conferences/ meeting that allow submissions.
Notes:
Benefits of a high quality surgical audit or quality improvement with significant changes to clinical practice:
Impress interviewers who may give you the benefit of the doubt with some other marks
Present the results in conferences – poster or oral – extra points
Win a prize locally or in a meeting – extra points
If very good project it may be publishable – extra points
As you can see, with a well designed QI project, it is possible to score across multiple domains of the portfolio station (NB – it is appropriate to put the same evidence in several sections of your portfolio).
However these projects can often take 6-12 months and in many cases not be completed due to changing trainees or problems implementing change.
If time limited there are a number of more straightforward, important but less interesting audit subjects which trainees can complete in short spaces of time. For examples:
Low molecular weight heparin e.g. VTE checklist, prescription in GI malignancy post discharge, correct dose for weight
Surgical documentation: based on royal college guidelines
Antimicrobial prescription
Consent forms
Theatre booking forms
Hydration – IV and oral fluids
Oxygen prescription
Remember to register the audit with the audit department and keep evidence of presentation at the local audit meeting.
Beware of consultants asking you to do an 'audit' which involves reviewing a significant number of cases (I've heard of >500 patients) which may just be a means of reviewing their operative figures. Frequently these are not audits, with no standards or way to implement change. This may be a poor use of your time and you may wish to find a way to tactfully decline such a request if you do not think it will be worthwhile. If it is not an audit it will not count in this section.
Teaching Experience
2 points – Teaching medical students or other healthcare professionals occasionally: All applicants should have this and it can be done as volunteering to do a departmental teaching session or a teaching session for medical students. Many hospitals also offer twilight teaching sessions for students, which you can get involved with.
4 points – Teaching medical students or other healthcare professionals regularly > 3 months. As above – this is a very achievable goal.
6 points – Organised a local teaching programme & provided teaching for 3 months or longer. Requires you to be very proactive and consider the hospital which you work in, looking for areas where medical student teaching is lacking. Ask the students if you are unsure. If you are aiming for this category, it would not require much extra effort to go for the maximum marks.
8 points – Worked with local tutors to design and organise a teaching programme (a series of sessions) to enhance locally organised teaching & provided teaching for 3 months. As above, but liaise with other tutors to implement new changes into a teaching programme.
Examples of teaching programmes include:
Structured bedside teaching
Clinical skills in early years
OSCE preparation +/- examination
Surgical teaching delivery e.g. set up a 'Surgical Series' of core subjects taught by Junior Doctors
Communication skills
How to set up program
Start as early as possible e.g. in induction week
Briefly plan a program e.g. session titles, audience, setting, teaching style, teachers e.g. others colleagues/ junior doctors.
Discuss the plan with your education supervisor during first meeting as they may be able to assist.
Discuss with the medical education department and arrange meetings with the head of medical education to discuss your proposal.
If approved you will need to plan the program in more detail
Following this the medical education department will usually email junior doctors asking for volunteers to prepare and deliver teaching based on your topics, offering certificates and formal feedback.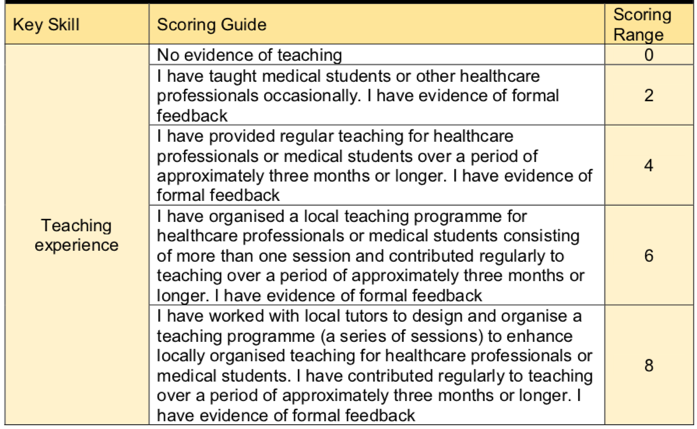 Training in Teaching
Whilst it may not be feasible to achieve higher qualifications in teaching before the interviews (maximum), it is definitely achievable  to score 2 points for brief training in teaching (online modules or in person). There are plenty of online course available, from institutions such as the Open University. Many of these courses are free, so don't feel you have to spend lots of money just for a few extra points!
Another tip is to look at what was covered in medical school. Some Undergraduate MBBS courses provide dedicated training in teaching – which can get you 3 out of 4 points it this section, with no extra work. Try and find your certificates/ proof of attendance.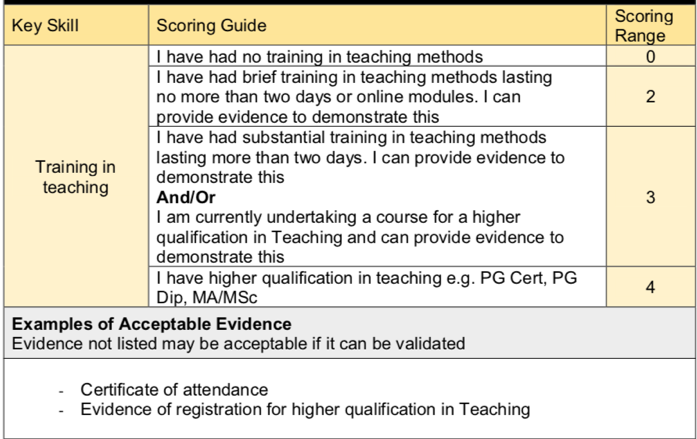 Presentations
These include regional, national and international conferences where you may present poster or oral presentations. Many applicants are unaware of the low rejection rates for posters in small conferences, particularly regional and national. It can be much easier to get accepted than most people think!
Review forthcoming conference deadlines with colleagues including smaller meetings in surgery (and areas such as radiology, pathology and anatomy).
Write abstracts appropriate for the meetings. They do not need to involve ground breaking research and can include: audits, case reports, reviews and even the history of a procedure.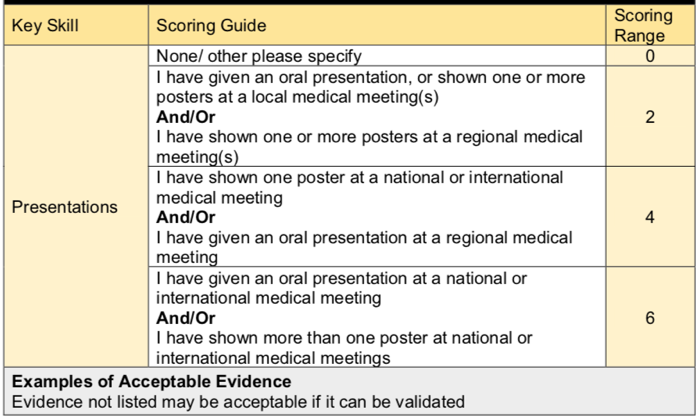 Publications
Case reports are usually the fastest turn around for quick points but larger projects will be useful for specialty applications. See if you can get your QI project published aswell. Larger research projects are definitely achievable, however give plenty of time for finding a supervisor, collecting data, writing up, waiting for peer review etc (>1year).
Leadership and management
This can be quite a difficult section to score on in short notice. It is certainly very achievable to take up a local role, as there will be several positions available at your local hospital. E.g.
Trainee rep: This is potentially an easy point. Consider applying for this position if available at your trust during induction
FY2 representative: If not available you may suggest this should be a position.
Role in the doctor's mess: Probably the easiest point in the portfolio and something to apply for during induction. You may just organise drinks once a month but this is worth the same number of points as an international prize or 1stauthor publication
Rota Coordinator
Monthly mortality and morbidity meeting
Organizing a journal club
Organising teaching
Regional/ national leadership positions require application and preparation well in advance, so think about this in FY1 year.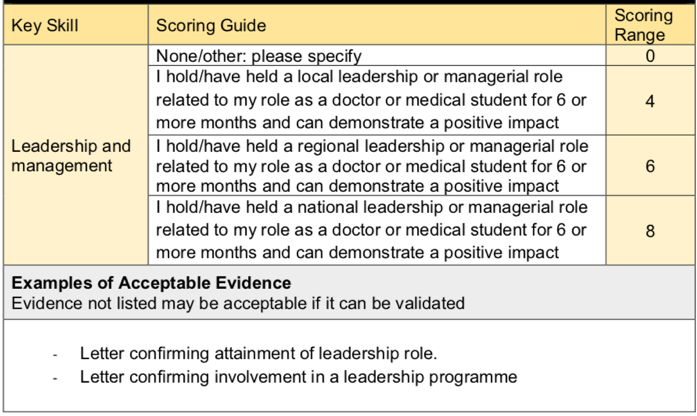 Commitment to surgery
This is a broad section with points from a variety of sections (see scoring sheet). On top of duplicated points from previous sections consider:
Booking and working towards Part A MRCS
Join a surgical society for example ASIT
Undertake a surgical taster week in an area of interest
Attend intro to specialty course (as above)
Keep an up-to-date elogbook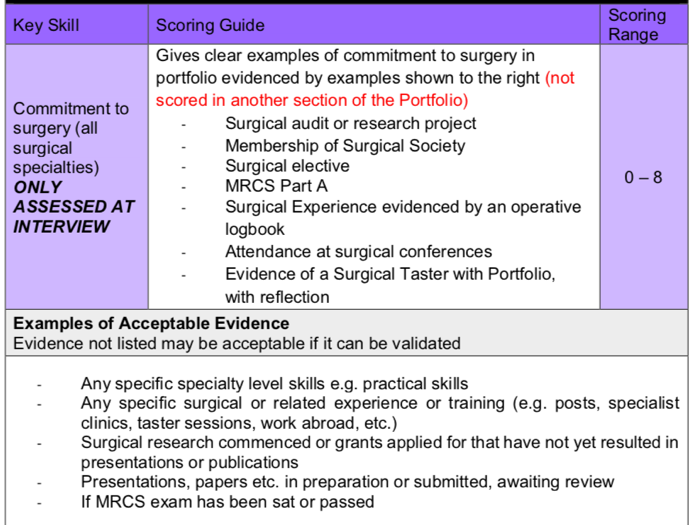 Clinical and procedural experience
To help achieve a good score in this section it is important to:
Sign off WBAs of surgical procedures e.g. closures, drain insertion, any parts of or procedures performed.
Take every opportunity to get involved in procedures. This may include staying late and coming in on zero days.
To get full marks you need to show you are performing beyond the level expected of you. The best way to show this is a signed letter from a consultant/ clinical or educational supervisor stating your performance beyond expected level.
To get this you will have to impress them which will include coming in early, regularly reviewing patient notes, volunteering to stay late, reading up on anatomy and the procedures prior to being in theatre with them.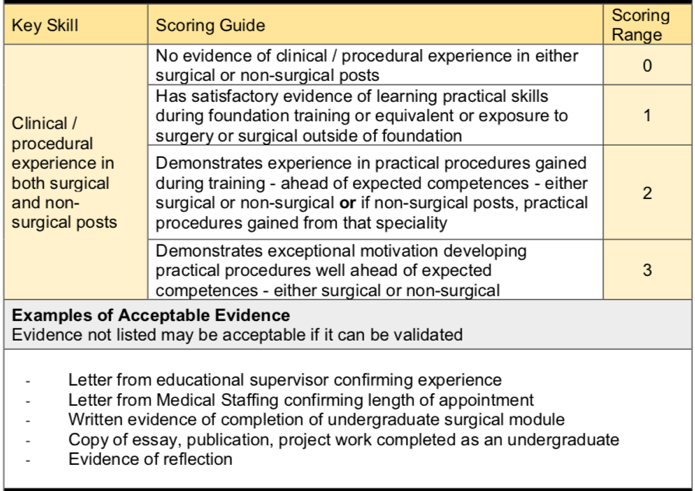 Organisation of portfolio
As you collate evidence you will need to organise it appropriately. It is suggested to use a folder with A4 plastic wallets to hold certificates. Divide the folder into sections corresponding to the scoresheet section, with tab dividers on the side. As long as it is neat and easy to read through, you should get all the marks here.

Evidence
Ensure you look at what evidence is required (e.g. letters, audit presentation etc.) early enough in the process, to give yourself time to gather it.
Further Reading
https://medibuddy.co.uk/core-surgical/core-surgical-training-interview-preparation-and-essential-reading/
You can access our other interview resources in the Core Surgical Interview section of the website
Personal background
I am a core surgical trainee currently working in a top ranked rotation in London, which includes plastic surgery (my chosen specialty). I was not top ranked at medical school; in fact I was in the 8th decile academically on my foundation application. I was definitely daunted when I first reviewed the points required for CST and did not think I would be able to achieve enough points to obtain a job which included my chosen specialty, let alone in my chosen region. Please do not be put off by the points sheet and note that medical school academic performance is worth a minority of points on the interview application. The majority coming from other work in areas such as audits, teaching, clinical performance and projects work (presentations and publications).
I would suggest you read carefully the previous interview points specifications and set your own objectives on how you can achieve them. I would also recommend that you work with others, find mentors, form groups and share the workload involved in teaching, doing audits and research projects. There is a lot of work (and unfortunately expense) involved in scoring highly on the application and collaborating with peers makes this much more manageable. Please feel free to get in touch if you have any specific questions regarding the portfolio.
Mr Peter Macneal MBChB BSc PGCert (Clin Ed) MRCS (Eng)
Current CT2 North West London