Obs and Gynae ST1
17th October 2023
O&G ST1 Multi-Specialty Recruitment Assessment (MSRA Exam) and Essential Reading
All applicants to Obstetrics and Gynaecology ST1 are required to sit the Multi-Specialty Recruitment Assessment (MSRA). The 75 highest scoring candidates will also be bypassed to the offer stage and not have to do an interview, sounds great right!?
The key to doing well in your MSRA is practice! In this blog, we give guidance on how to start preparing for this exam, including useful links for further information. Information about other aspects of the application process such as the interview can be found on our O&G ST1 Interview Format page and we have also developed an O&G ST1 Interview Question Bank to help you prepare in more detail.
Here is some general information about the MSRA exam that is important to note at the beginning of your revision and preparation:
How do Obstetrics and Gynaecology use the MSRA exam during the ST1 application process?
The

MSRA

is used for shortlisting candidates for offers, or interviews. 

The highest scoring applicants in the MSRA (75 applicants) will bypass the interview and get an automatic offer.

The pass mark for bypassing is not readily available and can vary each year. 

The lowest scoring applications in the MSRA will not proceed further in the selection process.

Those of you that pass the MSRA but do not reach the bypass score, will be invited to an online interview. The scores from the MSRA and interview are combined to decide who is offered a place on the specialty training programme. 

The MSRA counts for 33.33% of your overall interview score.

Where there are tied MSRA scores for bypass applicants, they are then split using the following order of priority: i) Clinical Problem Solving and ii) Professional Dilemmas paper
Where is the exam held?
Pearson VUE test centres.
Do you have to pay for the exam?
There is no charge for the exam, however you may incur travel and/or accommodation costs which will not be reimbursed.
Which specialties have to sit the exam?
Core Psychiatry Training CT1
Anaesthetics CT1
Nuclear Medicine ST3
This is useful to know as you can find revision buddies for this exam, even if you aren't applying for Obs & Gynae ST1.
What is the structure of the exam?
There are two parts to the exam that are based on the Foundation Programme curriculum. The most up-to-date information on the curriculum can be found on the UK Foundation Programme website.
The two parts of the exam are below, along with the details:
| MSRA Paper | Number of Questions | Test Time |
| --- | --- | --- |
| Professional Dilemmas (PD) | 50 scenarios | 95 minutes |
| Clinical Problem Solving (CPS) | 86 questions | 75 minutes |
Is there anything more I should know about the Professional Dilemmas Paper?
The Professional Dilemmas paper is split into two parts. Part 1 is ranking, where you are asked to rank actions to a scenario in order from most to least appropriate. Part 2 is multiple choice, where you are asked to choose the three most appropriate actions from a choice of eight.
Below is an example of a question from the Professional Dilemmas section of our MSRA question bank to give you an idea of what to expect in this part.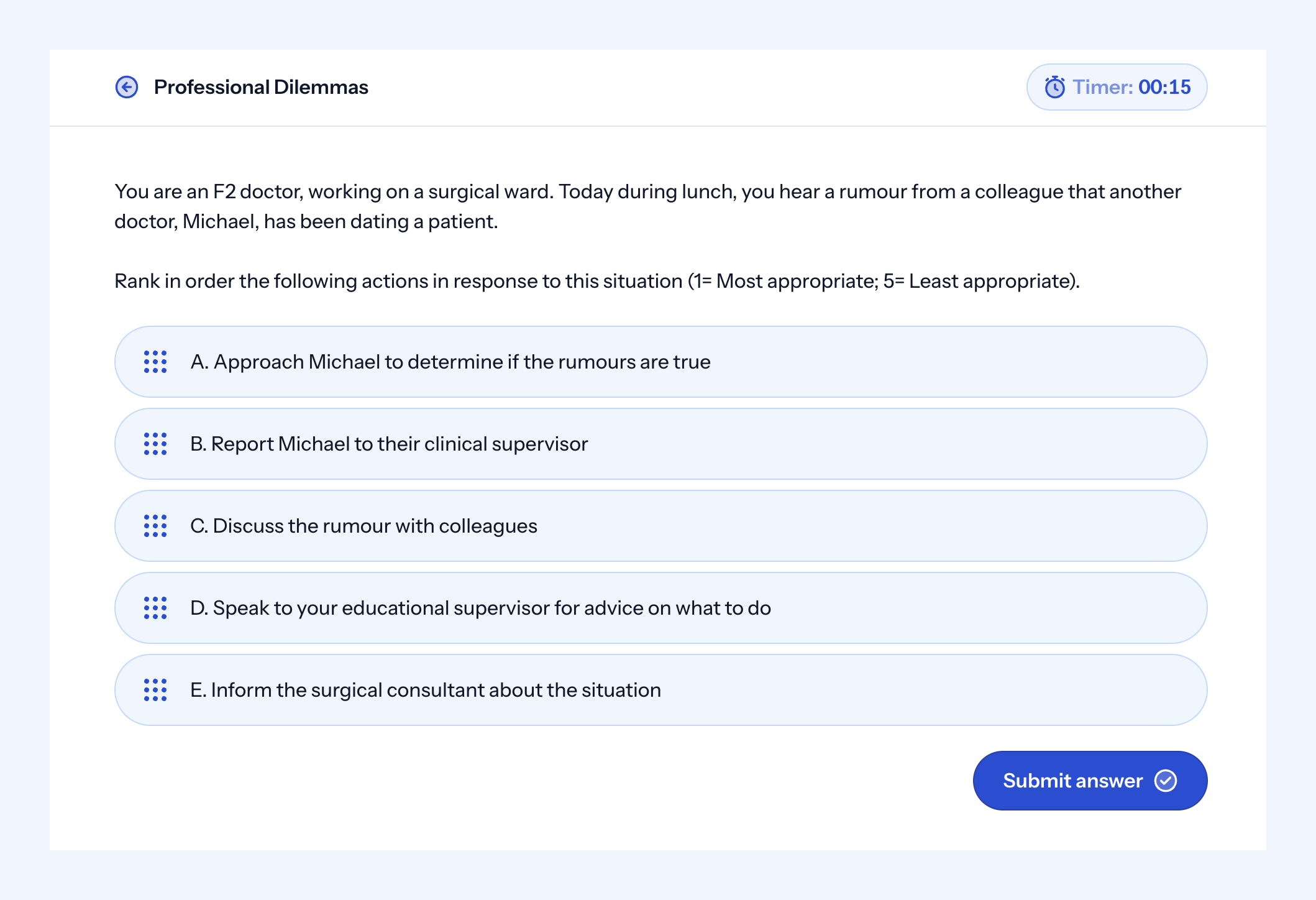 Is there anything more I should know about the Clinical Problem Solving Paper?
Of the 86 questions, there are usually around 43 extended matching questions and 43 single best answers. The questions will cover the whole of medicine and surgery and focuses on core competencies.

The core competencies are:

Diagnosis

Investigation

Emergency

Prescribing

Management (non-prescribing)
How should I prepare for the MSRA?
We recommend allocating as much time as possible to prepare. Our MSRA guide provides further information about the MSRA. with tips and advice on structuring your preparation.
There are several MSRA question banks on the market, and you should consider the following when deciding which MSRA question bank to use:
The

cost

of the question bank and

value

for money, including the number and quality of questions. The

Medibuddy adaptive question bank

has over 4,000 questions covering Clinical Problem Solving and Professional Dilemmas, making it the largest on the market. We have two price points, depending when you are taking your exam, so you only pay for what you need.
Does the question bank provide

explanations

to questions? Most question banks should provide explanations for questions and answers, which is particularly useful if you are unsure about a question and wish to learn more. These explanations will help enhance your knowledge and understanding of each part of the syllabus.

How you learn

. Everyone has a different learning style, so it is important to choose an MSRA resource that fits your learning style the best. Some people may prefer to read textbooks and use sticky notes to flag areas that they need to work on, others may spend time answering questions in a question bank and writing notes of the areas they should come back to. Our

adaptive question bank

provides a personalised learning experience, meaning no two users are treated the same. Sophisticated algorithms will carefully select questions for you based on your strengths and weaknesses, so you no longer spend time flicking through questions you already know and can spend more time getting to grips with the topics you don't. The image below shows the dashboard for the Clinical Problem Solving section of our

MSRA question bank.

You can see that it has been broken down into sections and the "mastery" shows you what % of the syllabus you know based on the questions you have answered, making it easy to see which topics to dedicate your time to.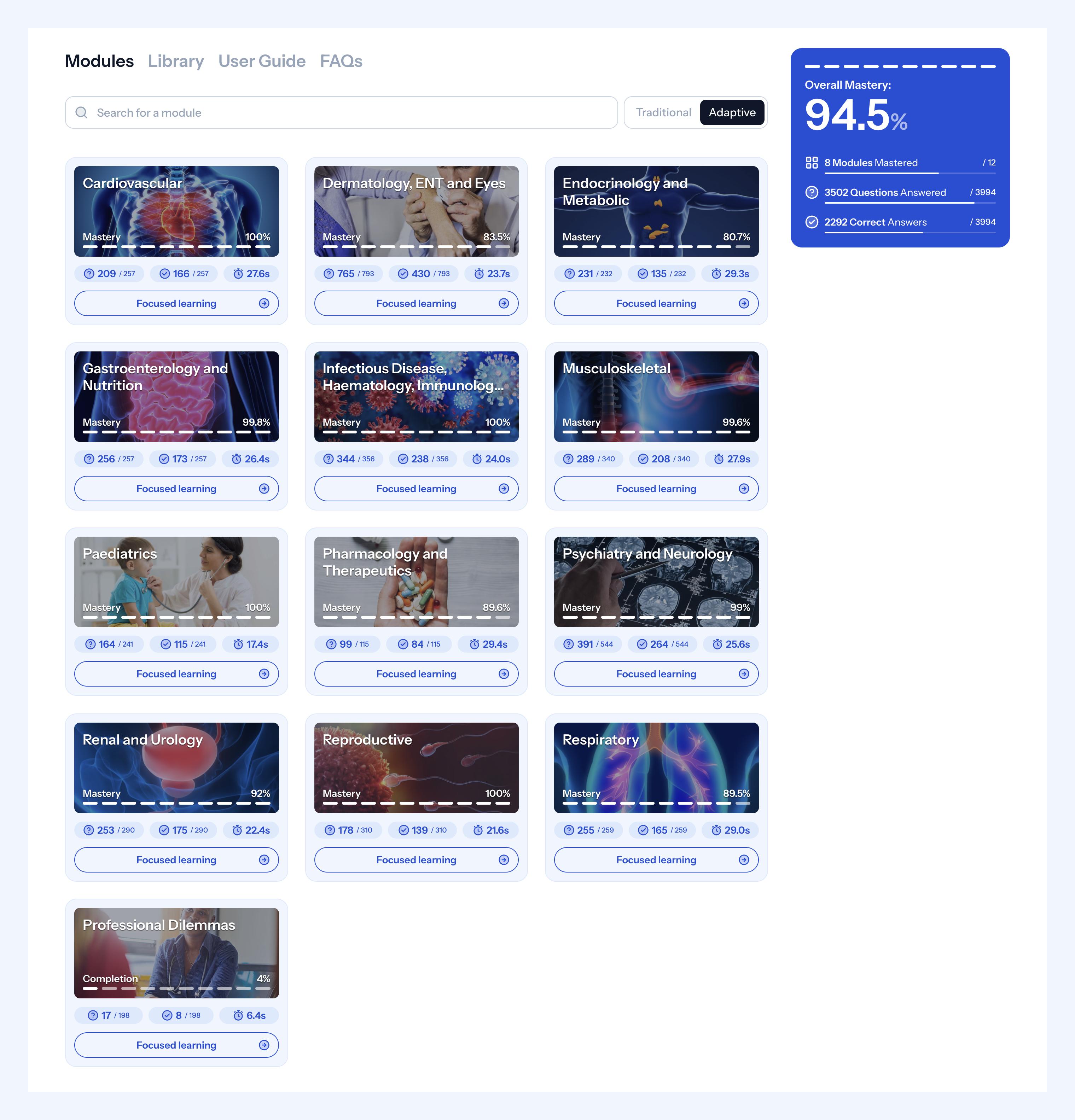 How is the MSRA exam scored?
There is no negative marking.

There is one mark for each correct response.
If you pass the MSRA but do not reach the bypass score, you will be invited for interview. Remember to check out our Interview Format blog post, which gives you an insight into what to expect, as well as our Interview Question Bank, written by high scoring Obs & Gynae trainees, it will help you structure your answers. 
Good luck!
Useful Resources
OG ST1 – Day in the life of a trainee
Try our Obs and Gynae ST1 Interview Question Bank, providing worked examples to help you ace the interview.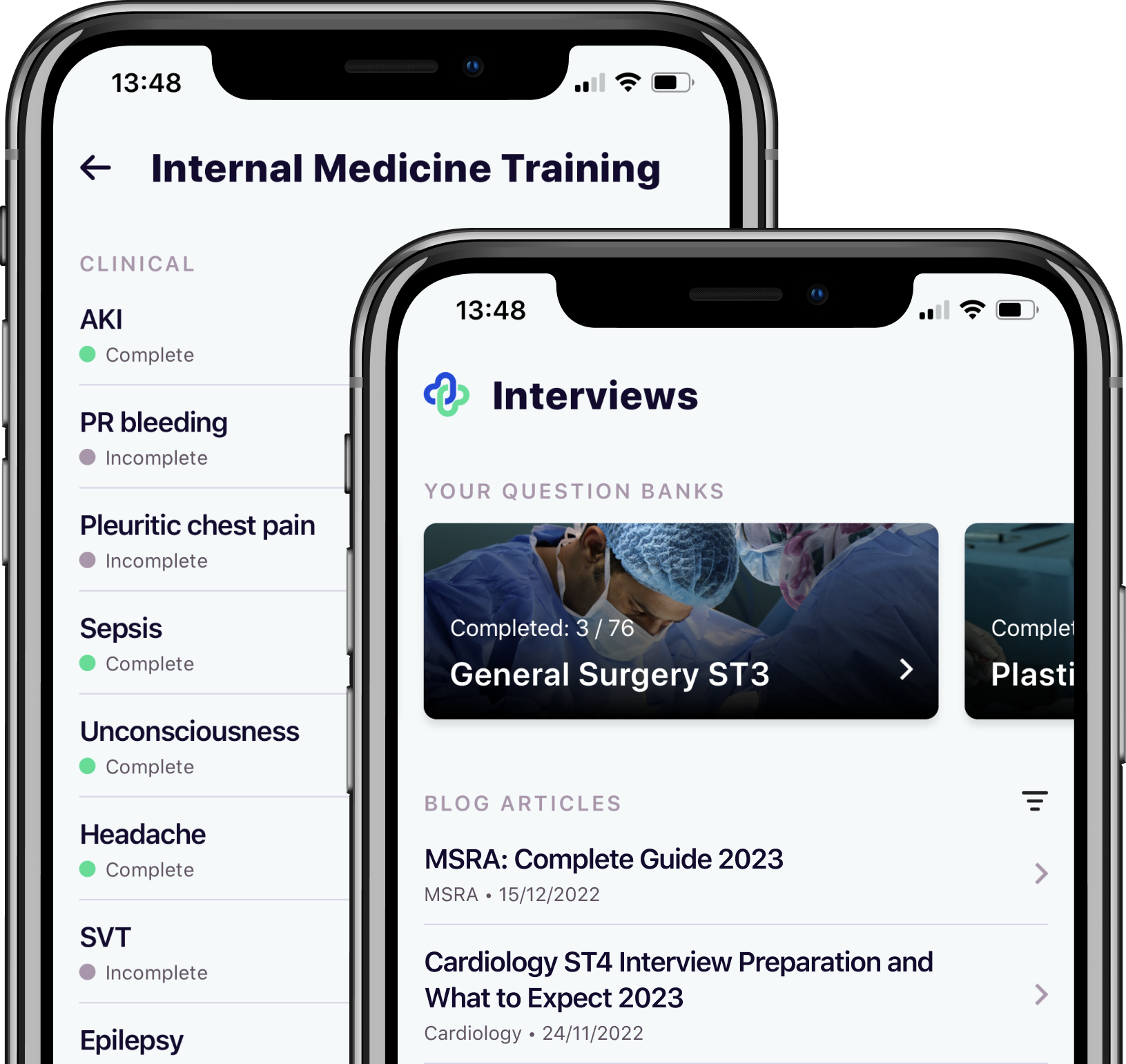 Take your subscriptions with you
Our mobile app allows you to access your interview and exam question banks wherever you are.