If you are considering applying for the Obs and Gynae ST1 interview or have already applied, it's useful to know what your life will be like if you actually get the job! Here is a flavour of what is it like to be an SHO (ST1-ST2)….
Example Working Week: ST1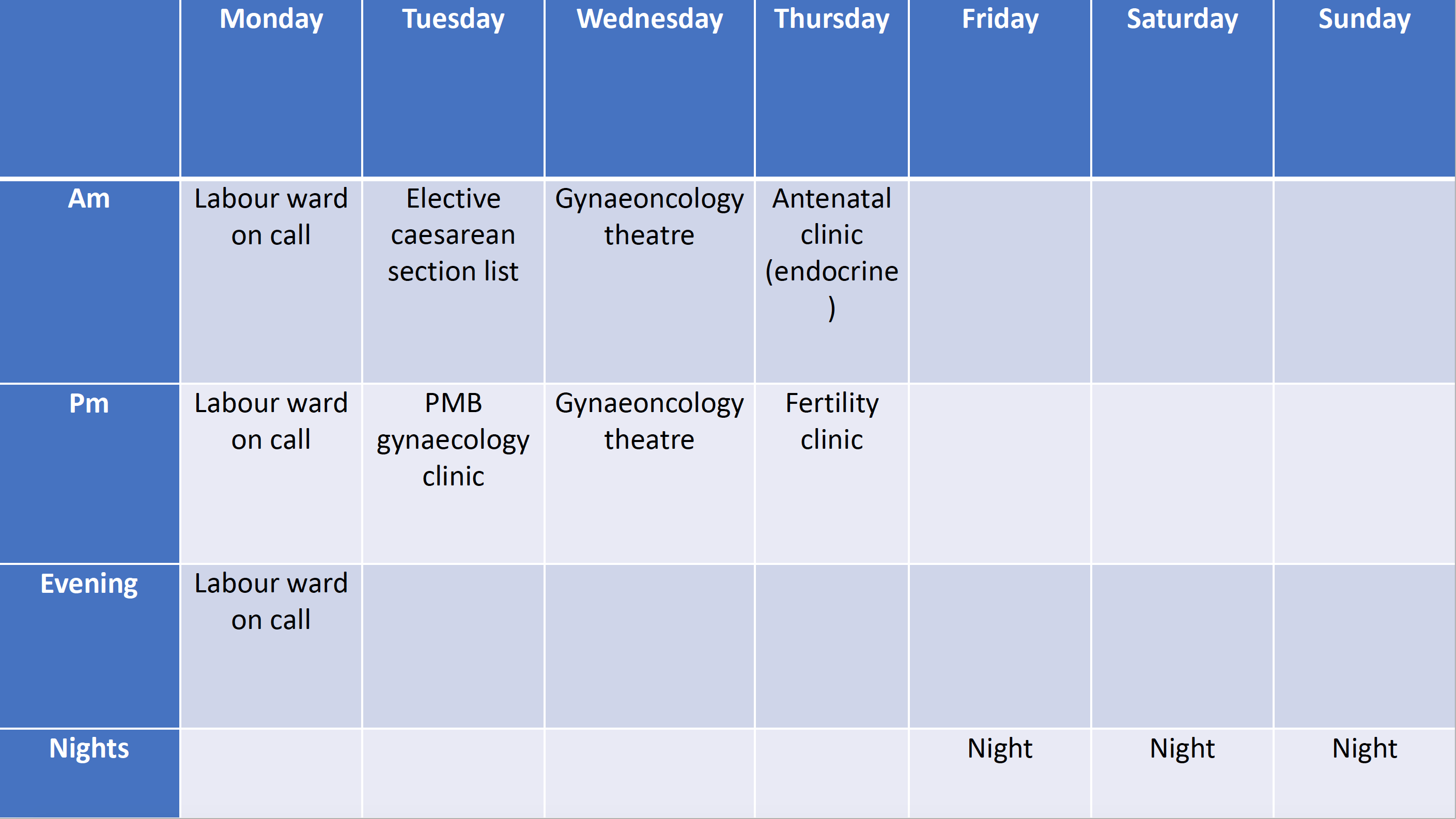 Lets have a look at Monday and Tuesday…
Monday
8am: get into work and make a large cup of tea!
11am: the morning has flown by; we have done the ward round and seen all the antenatal patients on the ward. Labour ward is fairly 'alright' at the moment; never say the 'Q' word.
12am: the registrar and I have just done a forceps delivery on a patient in theatre. I'm feeling more confident. The registrar placed the forceps on and I perform the delivery with her help. Such an amazing feeling.
2pm: should have eaten lunch earlier. We have just come out of theatre following an emergency caesarean section. The patient had an infection and the baby's CTG was pathological so we had to deliver it. I assisted the registrar; it's brilliant to see the seniors operate. They can deliver a baby in less than 1 minute from knife-to-skin sometimes!
2.30pm: following a sandwich and several biscuits that were on labour ward I feel a lot better! Currently no one waiting to be seen…
4pm: I have just assessed several women on labour ward, one in labour, some worried about their baby's movements and the remainder here for BP checks or blood tests. There is always a diverse mix of presentations.
6.15pm: the emergency buzzer has just gone. A cord prolapse has been diagnosed. She went straight to theatre and is now in recovery with her happy, healthy baby. Time to review the septic mum from earlier, I hope she can go to the postnatal ward soon.
7.30pm: time for a quick cup of tea before breaking the waters of a patient who is having induction of labour.
8.30pm: handover and then home time.
Tuesday
8am: get into work, make a large cup of coffee and eat some breakfast. Then time to meet the patients and their birthing partners on this morning's list.
8.30am: Team meeting. We go through the morning's lists (only two patients) and ensure the whole team is happy. Today I am leading both caesarean sections with a senior registrar there to assist and supervise me! Exciting!
11.30am: Operations both done, amazing to think that several months ago I had never performed a caesarean section before.
12.30pm: Have just checked on both women, they are doing well. Now to get changed and have lunch before clinic.
2pm: Had a long lunch break so managed to update my e-portfolio and reply to some emails!  There are three of us in clinic this afternoon so likely I'll get some supervised scanning.
4.45pm: Clinic finished, very interesting. Was able to do some transvaginal scanning under supervision of the Consultant…now for home!
The Training Pathway: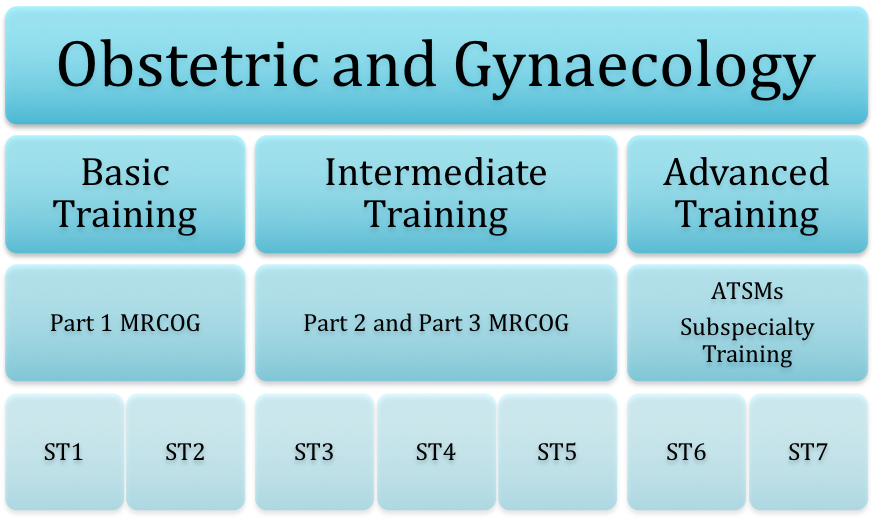 Subspecialties within O&G:
Gynaecological oncology
Maternal and fetal medicine
Reproductive medicine
Urogynaecology
ATSMs (Advanced Training Skills Modules) are the modules that develop high-level skills in a particular aspect of O&G. This reflects the wide range of curriculum within O&G and you will be exposed to most of them during your training. Current ATMs are:
Abortion care
Acute gynaecology and early pregnancy
High risk pregnancy
Advanced labour ward practice
Advanced laparoscopic surgery for the excision of benign disease
Benign abdominal surgery: open and laparoscopic
Benign gynaecological surgery: hysteroscopy
Colposcopy
Fetal medicine
Forensic gynaecology
Labour ward lead
Obstetric medicine
Medical education
Menopause
Oncology
Paediatric and adolescent gynaecology
Sexual health
Subfertility and reproductive health
Urogynaecology and vaginal surgery
Vulval disease
Try our other articles:
Obs & Gynae ST1 Interview Tips
Obs & Gynae  ST1 Interview Preparation and Essential Reading
Obs and Gynae ST1 Interview Format
Obs and Gynae ST1 Interview Question Bank
Check out all our Obs & Gynae ST1 Interview resources