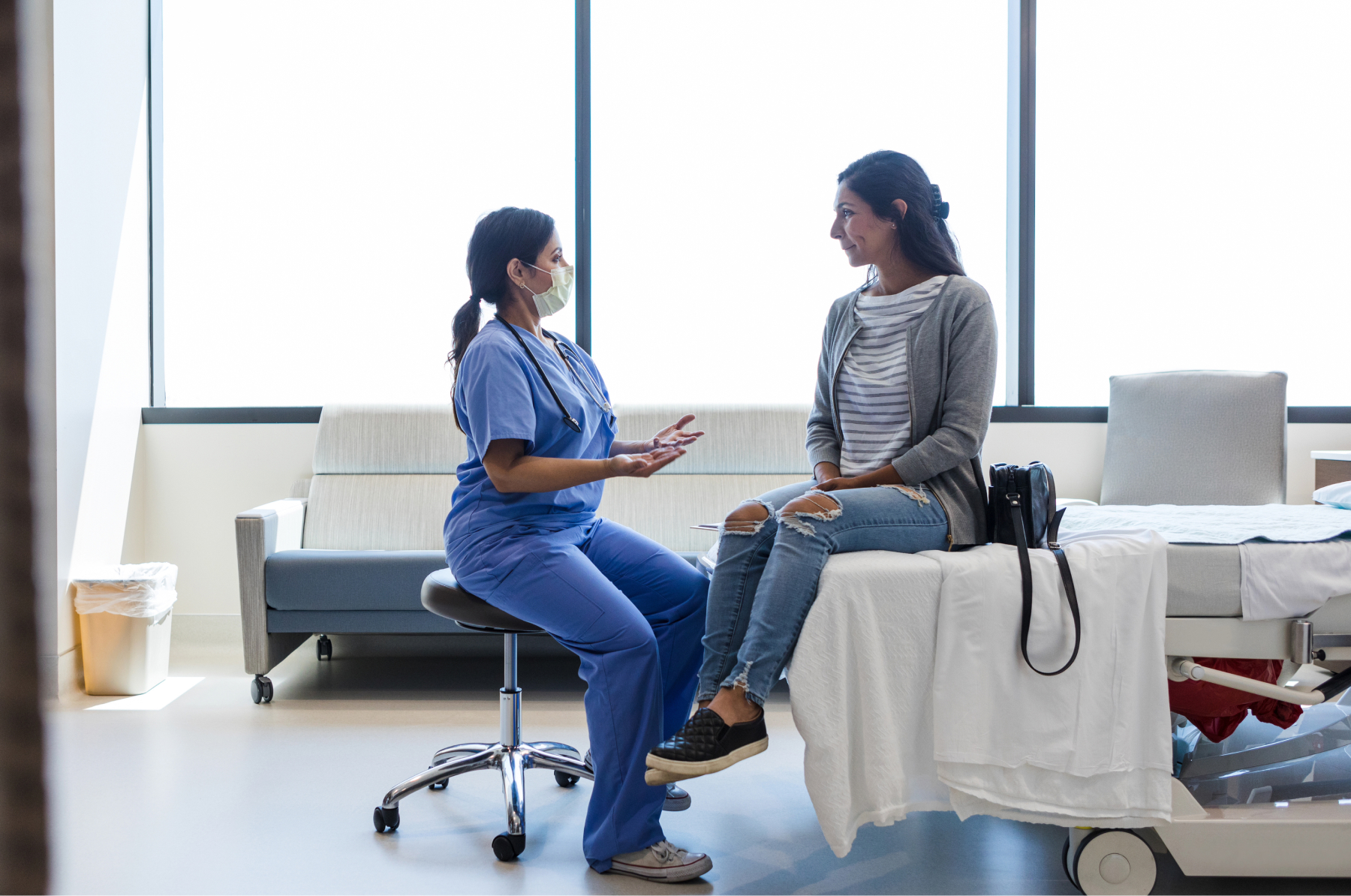 Obs and Gynae ST1
2nd November 2023
Obs and Gynae ST1 Interview Format 2024
The Obstetrics and Gynaecology ST1 interview format has changed over the last few years. Historically, deaneries would interview their own candidates locally, modifying the stations to fit with their preferences. Now, there is a national selection system (which is standard for other competitive run-through specialties like ophthalmology and radiology).  
Once you have completed your MSRA and been shortlisted for interview you'll need to start preparing, and understanding the interview structure is the first step. In this blog, we outline the online format for 2024, this is the same as it was for 2023, and there is no longer a communication station as there was in previous years. 
The Obs and Gynae ST1 Interview Stations
This year there are TWO stations, lasting approximately 25-30 minutes in total. You will be assessed and scored at each station by at least two Consultants. There is likely to be a layperson present too; it is their job to ensure that the interview process is conducted fairly to all candidates.
1. Clinical Prioritisation Station
The Clinical Prioritisation station is first. You will be given 5 minutes to read a scenario, including descriptions of 4 patients requiring your care. Use the reading time wisely and do not panic, think about the scenario and apply everything you know in terms of how you would approach this situation. 

You will then be asked questions, and this will take roughly 6 minutes.

This station reflects real-life working. The content will not always be specific to O&G as the scenarios are intended to assess knowledge at FY2 level and not that of a specialty trainee. 

Scenarios are there to assess: problem solving; decision making; managing others; organisation as well as clinical knowledge and patient safety. 

Below is an example of a Clinical Prioritisation question from our

interview question bank

, so you can get an idea of what to expect.

You will be scored on your ability to prioritise these patients.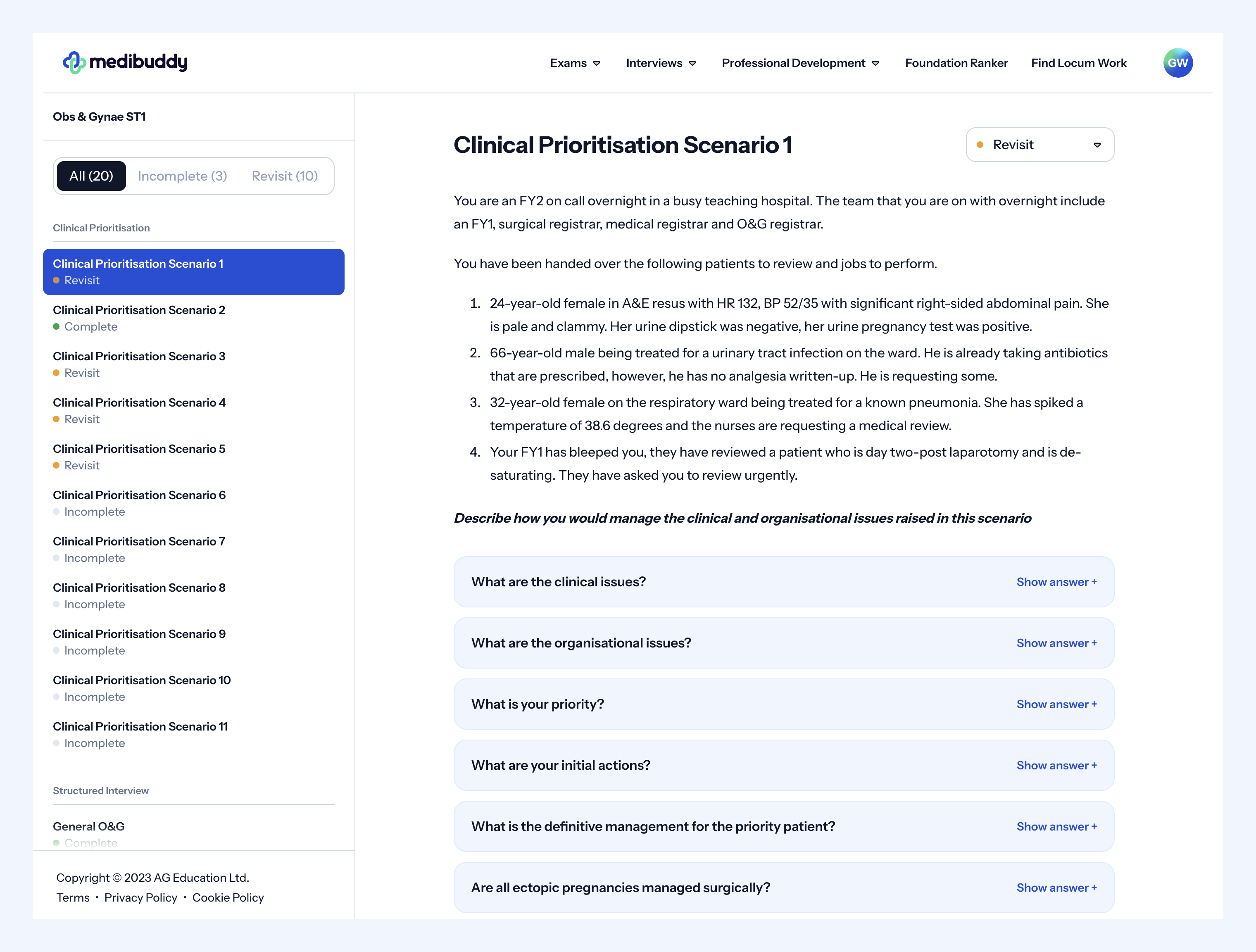 2. Structured Interview Station
You will then move onto the structured interview station, which lasts approximately 9 minutes. 

This includes a quick fire round of questions, and it is important that you practise your answers for the common questions that are likely to arise. 

Use this station to outline to the examiners your key selling points, your positive attributes and why they should employ you. 

You are likely to be asked questions that demonstrate your achievements (teaching/research/academic/quality improvement) as well as key attributes such as communication and team working.

The scoring for the structured interview station is broken down as follows:

Commitment to the speciality

Quality improvement measures 

Research and teaching 

Experience outside of medicine, leadership and teamworking 

Each area has a maximum score of 5 per panel member, and carries 10 points in total. 

Below is an example of a structured interview question from our interview question bank.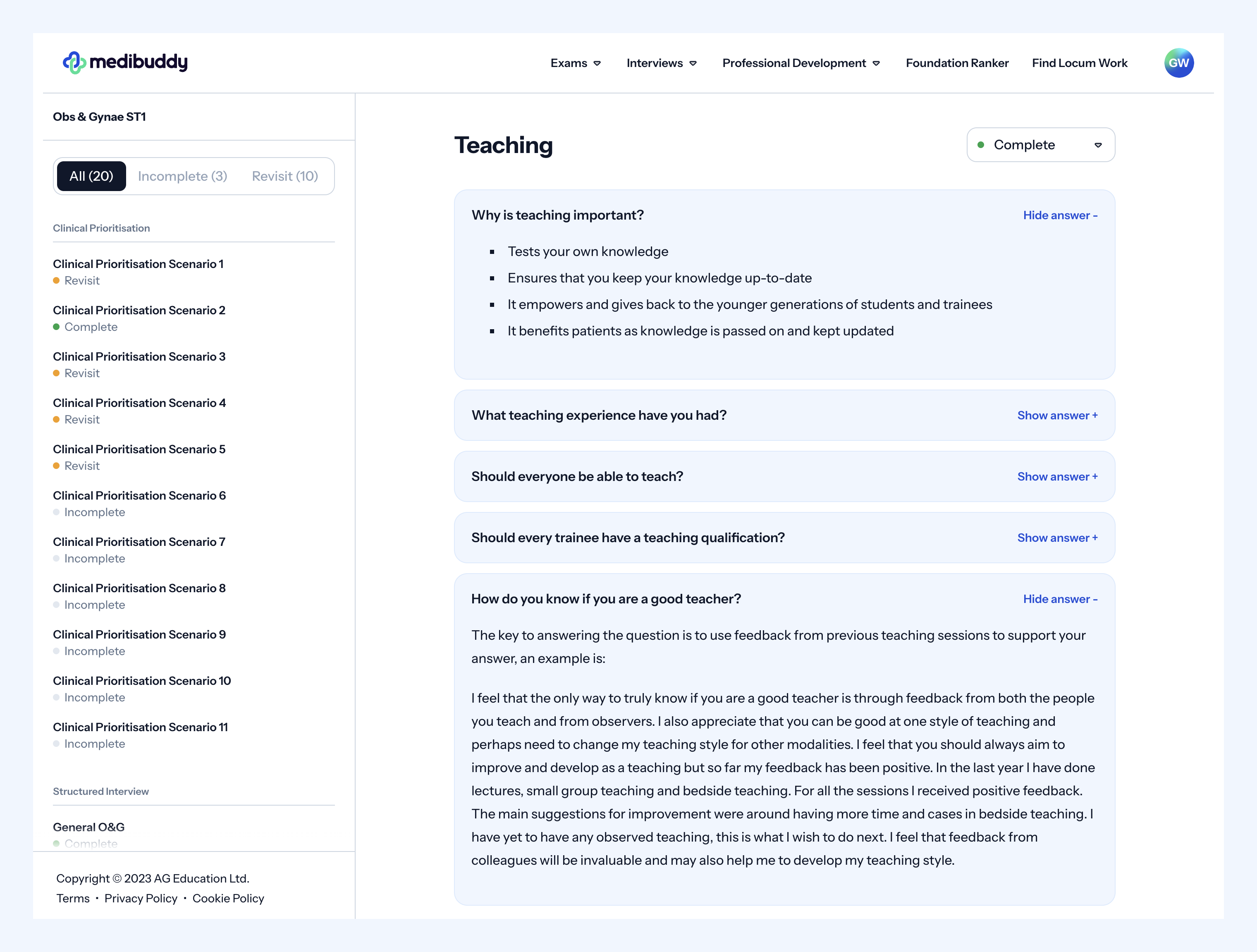 Global Performance Score
This is a score of the overall interview and how the candidate comes across to the examiners. They look for patient safety, passion for the specialty and knowledge.
The overall interview score is broken down as follows:
| Section | Raw Marks from Examiner |
| --- | --- |
| Clinical Prioritisation | 20 |
| Structured Interview | 20 |
| Global Performance Score | 10 |
| Total Score | 50 |
As there are two panel members, the total scores for clinical prioritisation and structured interview are 80 in total, 40 for each section, and the maximum score for global performance is 20, making the points on offer from both panel members 100. 
If scores are tied, your scores for each section of the MSRA will be looked at, prioritising the Clinical Problem Solving paper, followed by your interview scores, with the structured interview questions being prioritised here.
Feedback
All candidates who attended an interview will receive assessor feedback generated from the digital scoring interview. You will be able to see your rank, as well as your MSRA score. 
Further Information
Where are the interviews held?
Since the COVID-19 pandemic, interviews are held online. 
Do I need to provide a portfolio?
No. This is no longer required and was removed prior to the 2016/2017 recruitment. This means that candidates need to interview well. Practice is everything! 
Do I need to sit the Part 1 MRCOG during my foundation training?
No. Passing the Part 1 MRCOG exam is not required for specialty application and it does not give you any extra points. It could, however, be used to demonstrate commitment to specialty.
Is there anything else I need to do?
The Multi-Specialty Recruitment Assessment (MSRA) was introduced in 2017 and is an essential component of the recruitment process. The MSRA is a written situational judgement test that is now used across a multitude of specialities. The exam counts for 33.33% of the overall interview score and by scoring well in your MSRA, you could bypass interview and head straight to the offer stage. Therefore, it's essential that you perform well in the exam. 
The MSRA is not a difficult exam, but it is advisable to practise as much as possible before taking it. In fact, most applicants will begin preparing months in advance! We've designed our adaptive MSRA question bank to make preparing for the exam straightforward and effective.
Take your MSRA revision to the next level with our artificial intelligence powered, adaptive question bank
Our state of the art algorithms will help you progress faster than ever.
Find out more
You can find out more information about the MSRA for the O&G ST1 interview here.
Time is always short in interviews. The key is to try and plan what you would ideally like to get across to the examiners during each station. Hopefully, you have found this post useful and remember, you can also use our O&G ST1 Interview Question Bank to prepare for each individual station!
Good luck!
Try our other articles:
Obs & Gynae ST1 Interview Tips
OG ST1 – Day in the life of a trainee
Obs & Gynae ST1 Interview Preparation and Essential Reading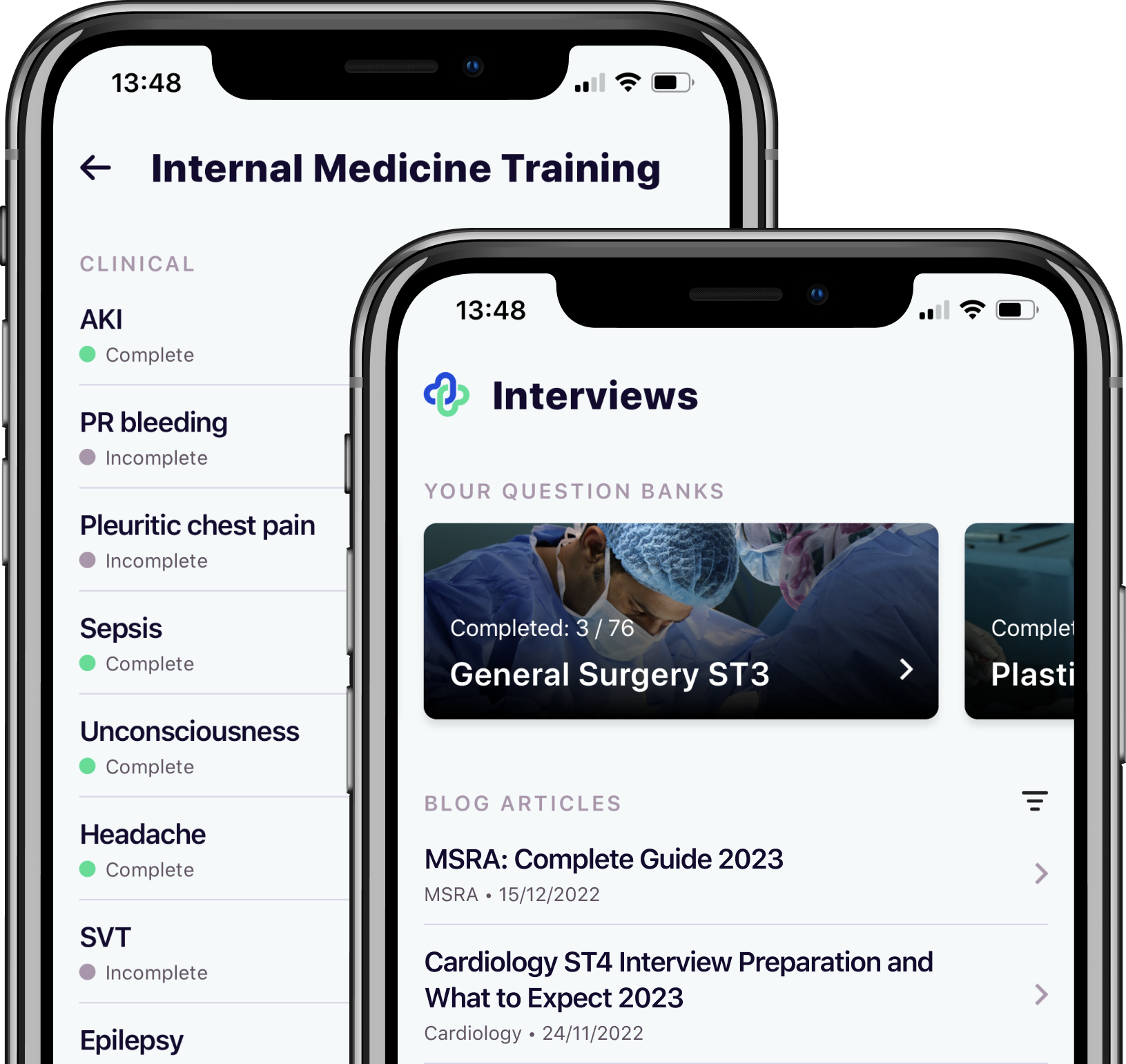 Take your subscriptions with you
Our mobile app allows you to access your interview and exam question banks wherever you are.